The supreme court is considering overturning an appeal that ruled people in wheelchairs don't have legal priority over pushchairs when it comes to "first come, first served" seating policies on buses.
The case hinges on Doug Paulley, 38, who alleges the current practice used by FirstGroup buses of "requesting, not requiring" space for wheelchairs amounts to discrimination.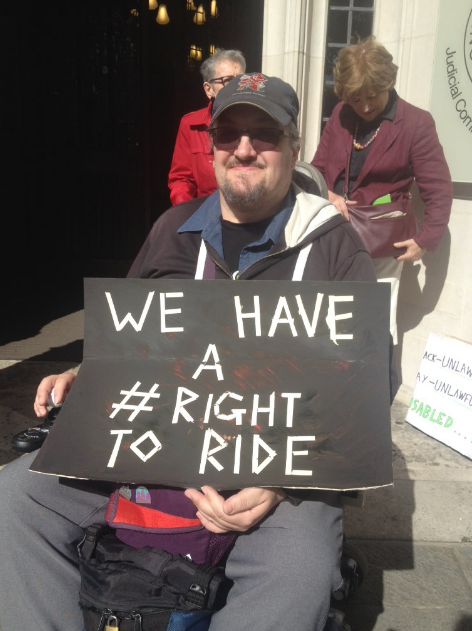 In 2012 he successfully sued FirstGroup for unlawful discrimination after he was unable to board a bus to Leeds when a mother with a sleeping child refused to leave the area reserved for wheelchairs and pushchairs.
However, Leeds county court's decision was later overturned. The court of appeal ruled it would be a "step too far" to require bus drivers to eject passengers should there not be room for a wheelchair.
The case has now come to the attention of the UK's supreme court after ardent campaigning from Paulley, supported by the Equality and Human Rights Commission.
"It's not right that I, and other wheelchair users, should be nervously looking to see if anybody is in the wheelchair space and wondering what will happen," Paulley said in a statement to BuzzFeed News.
The campaigner, who is renowned for his activism and is currently fighting several cases through the small claims court, is calling for clearer policies from bus companies to tackle the issue.
Campaigners say if the supreme court overturns FirstGroup's appeal it will represent a landmark victory for people with disabilities.
David Isaac, chair of the Equality and Human Rights Commission, emphasised the case was not about pushchairs versus wheelchairs. He said: "Bus companies have a duty to allow wheelchair users to travel given how vital this is to disabled people being able to live independent lives."
Unity Law, which has represented Paulley from the outset, said it was hopeful the court would find in Paulley's favour and support its "overriding objective of social inclusion for disabled people".
The outcome of the case, which is being heard in London, is expected in a few months' time. It is the first time the British supreme court will have considered travel provisions.

Companies are legally obliged to make reasonable adjustments to accommodate people with disabilities under the 2010 Equality Act.
There are 1.2million wheelchair users in the UK, with approximately 28% under 60 years old. Although around 88% of buses have now been equipped with low floor access for disabled people, according to government data, more than a fifth of people with a disability reported having trouble accessing or using public transport in 2011.
Outside the court, campaigners gathered to support Paulley, although one disabled man – who had reportedly travelled for three and half hours to be there – was turned away from the courtroom itself.
Many people with disabilities gathered outside the court in a show of solidarity.
Giles Fearnley, managing director of First Bus, said he hoped the supreme court ruling would maintain the "clarity" established by the last appeal.

He defended the company's current policy and in a statement said: "We recognise how important it is that bus services are accessible for all customers – indeed we have been leading the industry in improving bus travel for customers with a disability."