Students In London, Scotland, And Cambridge Have Found The Same Anti-Semitic Leaflets On Campus
"It is ironic and ridiculous that universities, of all places, should be targeted in this Holocaust denial campaign."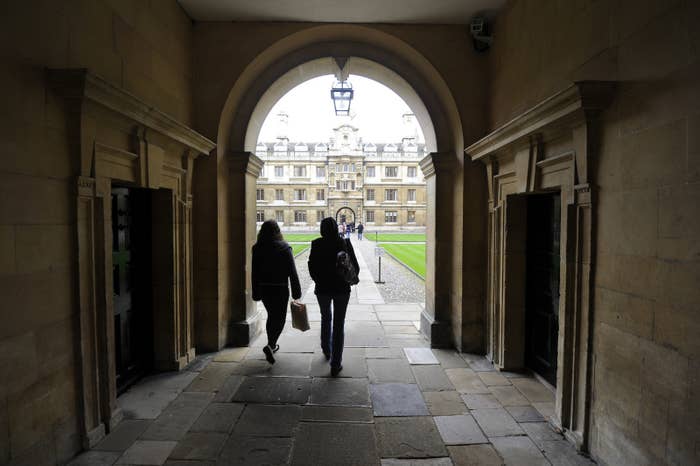 Identical anti-Semitic flyers denying the Holocaust have been found on at least four university campuses across the country in the space of a few days.
In Cambridge, at least 20 leaflets, tucked underneath car windshield wipers, were found on 2 February outside the university's Institute of Criminology. More leaflets were later discovered inside a history common room, and in the centre of town.
A day later, identical leaflets were spotted in Glasgow University's science centre, University College London's (UCL) student café, and Edinburgh University's science centre. Leaflets were also found in Oxford. It is not known who is responsible for distributing the flyers.
The flyers all contained a link to a website detailing the "Chemtrail" conspiracy, but the website's latest post is entitled: "The Denial of Common Sense: Hollywood Jewry in Damage Control".
All of the leaflets reference the new film Denial, starring Rachael Weisz, which depicts the High Court case between Holocaust-denying historian David Irving and university professor Deborah E Lipstadt.
UCL student Laura Katan, whose friend found the leaflets in London, called them "abnormal and frightening".
Cambridge fellow Edward Anderson, who has studied at the university since 2009, said he had "never" encountered anything like the "deeply disturbing and unpleasant" leaflets before.
"I imagine I must have found them very shortly after they had been left," the 33-year-old told BuzzFeed News. "Holocaust denial is not new, but it's hard to see this outside of the context of the recent rise of the far right."
Harry Peto, a philosophy master's student, told BuzzFeed News he had found more leaflets in the common room of Cambridge's history faculty on Friday evening. One of the historians currently teaching at Cambridge is Sir Richard Evans, who took part in the 2000 libel trial that Denial is based upon.
Translator Claire Debenham also found one of the leaflets on Friday, later tweeting an image of an identical flyer, on her car windscreen on the far side of Cambridge. She confirmed to BuzzFeed News there were a number still on cars along the road on Sunday evening.
A spokesperson for the charity Community Security Trust (CST), which works to protect Jewish people from anti-Semitism, condemned the leaflets, which it called a "Holocaust denial campaign".
"It is ironic and ridiculous that universities, of all places, should be targeted in this Holocaust denial campaign, which does not even seem to come from the type of neo-Nazi source that we might expect," CST told BuzzFeed News. "They should be reported to campus security, and then binned."

UCL confirmed to BuzzFeed News that "illegal and offensive literature" had been distributed on campus, and condemned the material. A spokesperson said the Metropolitan police had been made aware of the incident.
Glasgow University confirmed to BuzzFeed News it was aware of flyers being found. "The University of Glasgow has a zero tolerance policy on racism, anti-Semitism and the distribution and display of materials that are likely to cause offence," a spokesperson said in a statement. They said it was impossible to determine where the leaflets had come from, but that security remained "vigilant".

A spokesperson for Edinburgh University also confirmed to BuzzFeed News the discovery of the leaflets earlier this month. In a statement the university said it was investigating, as well as "taking steps to identify the distributor".
"We have informed the police of our concerns about these posters," a spokesperson added.
It is not the first time anti-Semitic leaflets have been found on campuses in Glasgow and Edinburgh. In April last year similar flyers were also discovered in Glasgow's Boyd Orr building, and in Edinburgh University's King's Buildings. The leaflets distributed last year also linked to the same website.
A Cambridge University spokesperson confirmed to BuzzFeed News that they were "aware of several reports of offensive and anti-Semitic materials ".
They said the leaflets had been immediately removed by staff, adding in a statement: "The University of Cambridge does not tolerate discrimination in any form. We are an inclusive community that welcomes staff, students, alumni, collaborators and visitors from a wide variety of backgrounds, including people of all faiths and none."
Meanwhile, a fews days after Anderson discovered the leaflets in Cambridge, swastikas were found graffitied on to a map in Jesus Green, a 20-minute walk away.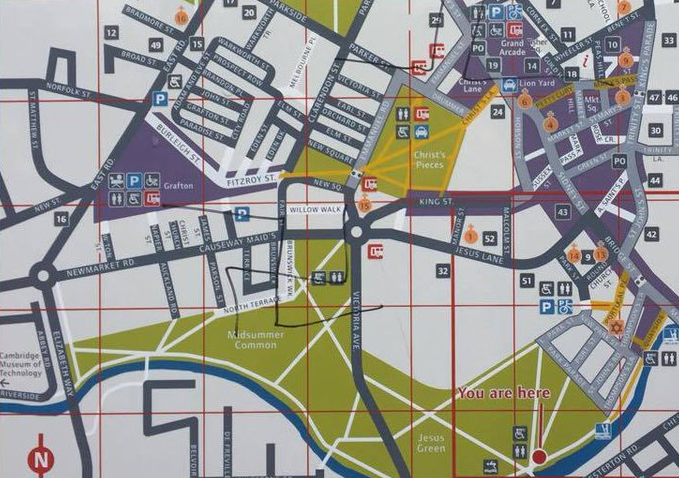 Jewish student leaders expressed shock at the incidents. Adam Goott and Alex Szlezinger, co-presidents of the university's Jewish Society, condemned the "abhorrent ideas" of the leaflets.
"We are deeply concerned by the recent escalation in the number of anti-Semitic incidents," the pair told student newspaper Varsity.
Cambridgeshire police confirmed to BuzzFeed News that they were aware of the swastika graffiti and had contacted the local council to ask for it to be removed.