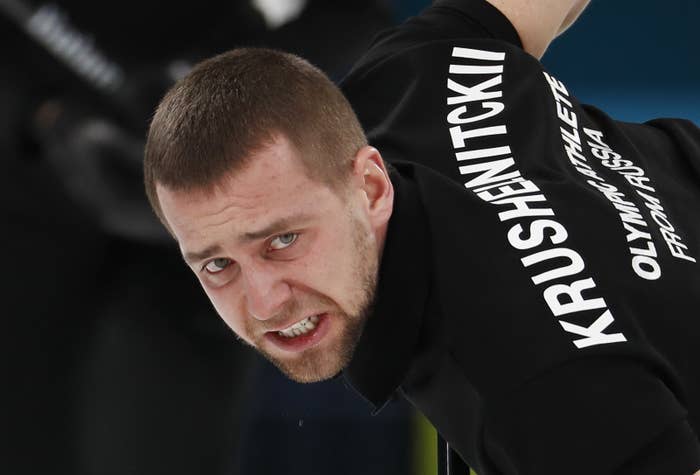 A Russian curler who won bronze in the Pyeongchang Winter Olympics had illegal substances in his system when he competed, the Russian Olympic Committee has confirmed.
The Court of Arbitration for Sport said in a statement online Monday that it had "initiated a procedure involving the athlete Aleksandr Krushelnitckii", who competed with his wife, Anastasia Bryzgalova, in the mixed curling doubles.

According to Reuters he tested positive for the banned substance meldonium in the first, "A" sample.
International Olympic Committee spokesperson Mark Adams told the Associated Press that a failed test could mean that Russian athletes would be banned from marching under their country's flag at the closing ceremony.
Krushelnitckii's "A sample" tested positive, as did a second sample, released Tuesday.

Krushelnitckii and his wife could lose their bronze medal – which would instead go to the Norwegian pair who placed fourth in the competition. Yesterday, the pair told AP that if confirmed the Russian athletes robbed Norway of their "moment of glory".
Following the results of the second sample, the Olympic Athletes of Russia said the amount of the meldonium would be "absolutely useless and ineffective", had Krushelnitckii intended to improve his performance.
They also said the second sample's results indicated he had only consumed the substance once.
Russian Curling Federation president Dmitry Svishchev told AP Monday that Krushelnitckii was clean on Jan. 22, and suggested he could have been spiked by rivals. "There's a possibility of it being something within the team, that something happened during training camp, or as a political means to achieve some goal."

And Russian delegation spokesperson Konstantin Vybornov told the Guardian: "I spoke to a person who previously headed the anti-doping laboratory, and he said that curlers don't need meldonium. In his opinion, this is some kind of political act."
The 168 Russian athletes in Pyeongchang are competing as "Olympic Athletes from Russia", and are not allowed to wear their country's flag or colors as a result of the 2014 Sochi Olympics doping scandal.