Scousers Are Definitely Not Happy With A Morrisons Casting Call
The advert said characters should "skew towards northern accents" – just not Scouse ones.
A casting company has been forced to apologise after it posted an audition advert calling for actors with northern accents, but specifying "nobody from Liverpool please".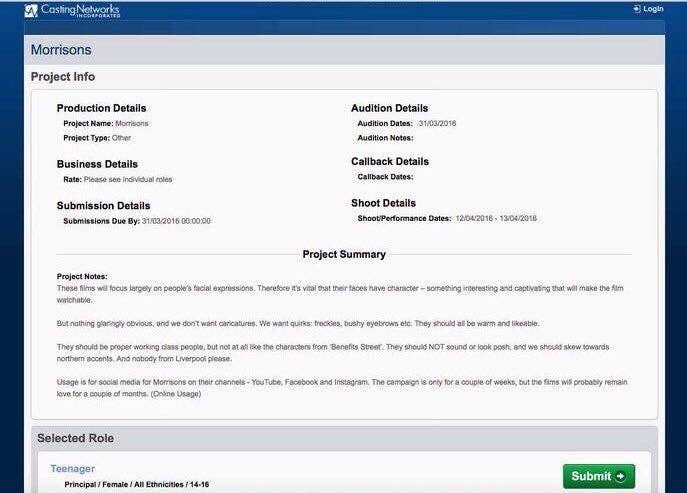 The advert, posted on Casting Networks International for a "Morrisons project" last week, read:

These films will focus largely on people's facial expressions. There it's vital that their faces have character - something interesting and captivating that will make the film watchable.

But nothing glaringly obvious, and we don't want caricatures. We want quirks: freckles, bushy eyebrows etc. They should all be warm and likeable.

They should be proper working class people, but not at all like the characters from 'Benefits Street'. They should NOT sound or look posh, and we should skew towards northern accents.

And nobody from Liverpool please.
Morrisons was quick to distance itself from the outcry.
"We are angry and we apologise that a third party has published a statement using our name without our knowledge. Everyone is welcome at Morrisons and we work really hard to ensure our marketing represents the whole of the nation," a spokesperson said in a statement to BuzzFeed News.

Not that that helped them online. Unsurprisingly, the advert did not go down well with Liverpool's residents.
People remained calm.


And were in no way reactionary towards the supermarket.
Many also appeared sceptical.
Casting Networks International later released a statement on its website apologising for the "unverified posting".
"We are not the authors of these postings, nor are we an agency," the statement from CEO Glenn Ward read. "The unfortunate views expressed in this instance are not what CNI stands for."

The advert has now been withdrawn from the website.