Catalonia's off-duty firefighters are working to protect people trying to vote in the independence referendum.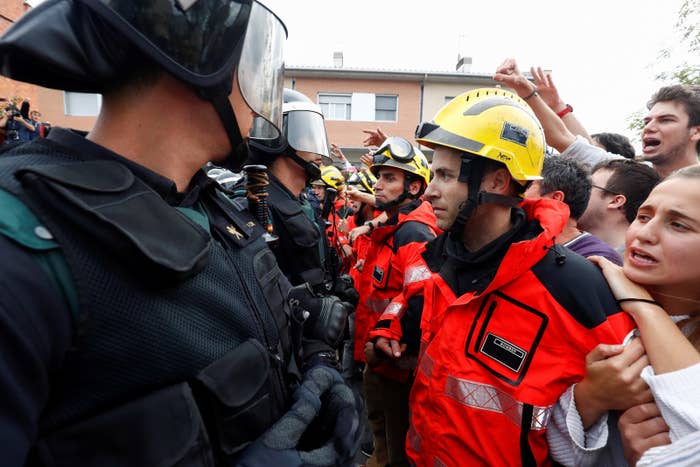 Raquel Santiago, who has been a firefighter for 13 years and also a member of the Assemblea Nacional Catalana (Catalan National Assembly or ANC), said she was angry but determined to help protect people who wanted to vote.
Santiago, speaking to BuzzFeed News over the phone from a northern district of Barcelona, said the situation was "surreal" but that she and other firefighters who are part of the pro-Independence movement were determined to help people vote. "They see us and they feel protected," she added.
Since the polls opened at 9am this morning, voters and police have clashed across the region. The Spanish government has criticised the decision to hold a referendum – which was declared illegal by the country's constitutional court – and moved thousands of riot police and additional officers into the northeastern region ahead of Sunday's vote.
"If 13 years ago today you told me i would standing in front of a school to protect people who wanted to vote I would have said you were pulling my leg," Santiago said, emphasising that all of the firefighters standing up to the riot police were off-duty.
"I couldn't believe what is happening. You cannot believe that they are going to charge. At the end of the day we are not terrorists, we are not robbing a bank, we are just voting."
"What the hell is going on, and why is this happening here and now in [the] 21st century in a democratic country? It is really unbelievable but it is happening."
Santiago added: "It is really nasty. I am speechless."
In one video posted to Twitter, firefighters are shown holding back Spanish riot police.
Prior to the vote, the firefighters had made it clear they supported the right of people to vote in the referendum.
As violence continued, with at least 38 people admitted to hospital following clashes with the police, many in the region expressed their thanks for the work of the firefighters.