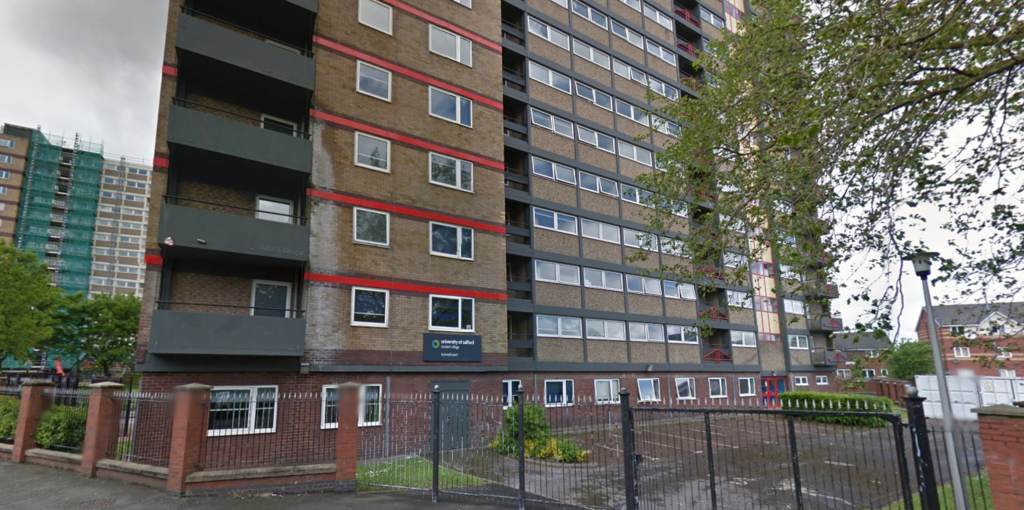 A 36-year-old man has been charged with murder after a man's body was discovered in a University of Salford hall of residence.
The 30-year-old victim, named as William Lound, was discovered after a man approached a police community support officer at around 1pm yesterday to say he had killed a man, Greater Manchester police said in a statement.
Officers discovered the body, which appeared to have suffered multiple stab wounds, in a student block of flats on Cannon Street, Salford.
A postmortem confirmed Lound died after suffering stab wounds to the back and neck. Specially trained officers are currently with his family.
Students in the block, which houses up to 346 students, wrote on social media last night that the building's lift had been cordoned off.
A University of Salford spokesperson told BuzzFeed News that "some students had been moved out of the block" while police conduct their investigation.
Lee Arnold, 36, has been charged with murder and is due to appear in Manchester Magistrates' Court on Wednesday.
Will Whitby, a student at the University of Salford, told BuzzFeed News that Bramall Court was usually "quite quiet" and "usually full of mature or performing arts students".
The 20-year-old continued: "It's a massive shock that it's happened here at uni and my thoughts are with those who knew the person who died."
In a statement, Superintendent Kenny said: "This is a tragic incident in which a young man has lost his life and we are doing everything we can to found out exactly what happened."
He added: "I can't speculate on the motive for this crime, but at this early stage there is nothing to suggest there is a threat to the wider student population."
Marina Hristova, president of the University of Salford's student union, told BuzzFeed News the union was aware of the situation and would offer support to any student seeking it.
UPDATE
The victim is believed to have been a student at the university, superintendent Kenny told a press conference. He added there were no signs of forced entry and that the 36-year-old, arrested on suspicion of murder, is not a student.