The Daily Mail Has Told Critics Of Its Sexist #LegsIt Front Page To "Get A Life"
People were pretty angry about the paper's front page, but the Daily Mail was not bothered.
by
,
The Daily Mail chose to run this front-page image of the leaders, along with this caption: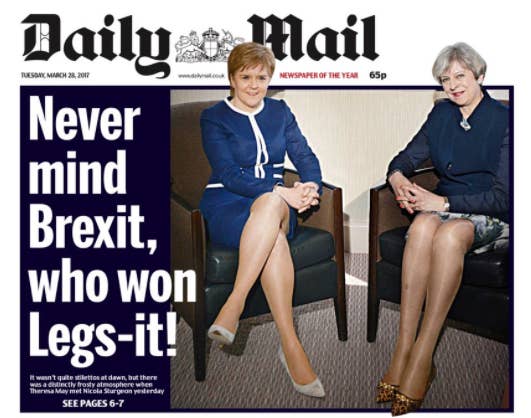 People were irritated.
It was pointed out it's hardly the first time the Daily Mail has been...somewhat problematic.
Still, the #Legsit hashtag was in full swing.
Politicians also criticised the coverage.
MP Nicholas Soames, responding to an Independent tweet saying David Davis had said Northern Ireland could remain in EU if it united with the south, had this to say...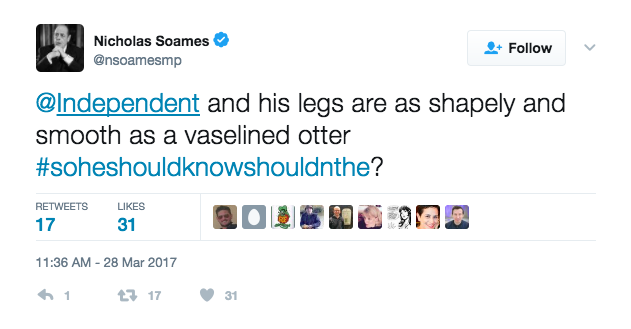 The second edition ran with a clarification that the headline captioning the photograph was from Sarah Vine's column. Meanwhile, the Scottish Daily Mail ran with a different front.
Some felt the paper just wanted the attention.
A newspaper in Mali was even forced into the whole mess.
Following the online outcry, the Daily Mail released a statement telling critics to "get a life!".
For goodness sake, get a life! Sarah Vine's piece, which was flagged as light-hearted, was a side-bar alongside a serious political story. It appeared in an 84-page paper packed with important news and analysis, a front page exclusive on cost-cutting in the NHS and a health supplement devoted to women's death issues.

For the record, the Mail was the paper which, more than any other, backed Theresa May for the top job. Again for the record, we often comment on the appearance of male politicians including Cameron's waistline, Osborne's hair, Corbyn's clothes – and even Boris's legs. Is there a rule that says political coverage must be dull or has a po-faced BBC and left-wing commentariat, so obsessed by the Daily Mail, lost all sense of humour… and proportion?
Following the outcry, May responded to the front page, laughing off suggestions of sexism to the Express and Star .
"You will notice that I am wearing trousers today!
"As a woman in politics throughout my whole career I have found that very often, what I wear - particularly my shoes - has been an issue that has been looked at rather closely by people," she told the newspaper.
The PM went on to say that "what we do as politicians is what makes a difference to people's lives" and that "most people" concentrated on that. "But if people want to have a bit of fun about how we dress, then so be it."
And if things weren't dramatic enough, somehow a wire story accusing the paper of sexism ended up on the MailOnline website.