Iran's state TV has said that the UK foreign secretary's remarks about a British-Iranian mother detained in Iran are "proof" the Iranian authorities' allegations about her are true.
Boris Johnson claimed last week that detained UK citizen Nazanin Zaghari-Ratcliffe was "teaching people journalism" in Iran, before claiming his words were "taken out of context".
His initial remarks were later posted on the Iranian judiciary's website. Her family and a number of international humanitarian organisations have all stated that Zaghari-Ratcliffe was on holiday and visiting relatives. "She's an innocent mum on holiday," her husband told BuzzFeed News on Monday.
Now a short state TV segment, aired in Iran on Wednesday night and titled "confession", has said Johnson's remarks were an "unintended confession of the UK government about the real plot".

"Mr Johnson's inadvertent confession meant that [she] was teaching some Iranian journalists – it was a gaffe that can not be covered up. The sole sentence uttered from the mouth of the UK foreign secretary put the efforts of the British media [propaganda] in vain," the segment claimed.

It will stoke fears that Zaghari-Ratcliffe, who was arrested while on holiday in Iran last year, may have her five-year jail term extended as a result of the foreign secretary's words.
After the TV clip was aired, her husband said their family watched last night's news reports with horror. Although Ratcliffe said he welcomed Johnson's apology in parliament, he called for the British embassy in Tehran to issue a statement in Farsi, clarifying Johnson's remarks.
He continued that the government's assurances so far were not "sufficient" and said: "The UK government should not be in denial about the gravity of the situation or the abuse Nazanin is suffering at the hands of the Iranian authorities."
Ratcliffe again reiterated his request to meet Johnson – the family having not met with the foreign secretary, previously Phillip Hammond, for the duration of her detention.
Johnson, asked by Sky News if he was concerned about his remarks being used on Iranian state TV, responded: "We have some difficult consular cases in Iran and we are working on all of them."

Zaghari-Ratcliffe's local MP Tulip Siddiq again condemned Johnson following the clip being aired, calling the segment "chilling" in a statement to BuzzFeed News.
She said: "I have repeatedly raised the importance of details and words with Boris Johnson, who seems unwilling or unable to deal with a case of this importance. The country has put up with blunder after blunder from Boris Johnson over the years, but the joke has stopped."
Siddiq called Johnson a "laughing stock", and said: "His role is to protect British citizens abroad, and he has failed in the gravest way. This is about a young mother's life, and he must now resign."
Zaghari-Ratcliffe's husband Richard Ratcliffe has expressed concern about his wife appearing on state TV and on the front page of a number of Iranian newspapers.

"They repeated the earlier mistakes – quoting the foreign secretary as saying she was in fact working in Iran, but also noted that foreign minister Zarif had called the judiciary to ask for Nazanin's release," he said, adding that he hoped that the intense media attention would help secure her release.
Earlier this week, Siddiq called on the foreign secretary to fly out to Iran – where the mother of one has been detained for 18 months – and bring her home.
Shadow foreign secretary Emily Thornberry said Johnson had created the crisis and "had a moral duty to resolve it".
In a statement to BuzzFeed News, she said Johnson needed to "stop pretending that his words have had no impact in Tehran, when they clearly have".
"He must do what he has refused to do for the past two days, and say plainly: 'I got my facts wrong. Nazanin should not be punished for my mistake. And I apologise unreservedly to her and her family.' If he does not have the basic gumption to do that, he deserves to lose his job immediately."

A spokesperson for the Foreign Office said that the Iranian foreign minister had "assured" Johnson his remarks did not have any bearing on her case.
Iran's foreign secretary remains "committed to working with the UK government to secure her release on humanitarian grounds," the statement said.
Under mounting pressure to apologise and withdraw the remarks, Johnson eventually told the House of Commons Wednesday: "I'm sorry if any words of mine have been so taken out of context or so misconstrued as to cause any kind of anxiety to the family of Nazanin Zaghari-Ratcliffe, of course I am.
"But the most important thing is that I don't believe – and I have this from the Iranians themselves – that those words had any impact on the judicial process, and we are going to work flat-out to secure the release of Nazanin Zaghari-Ratcliffe."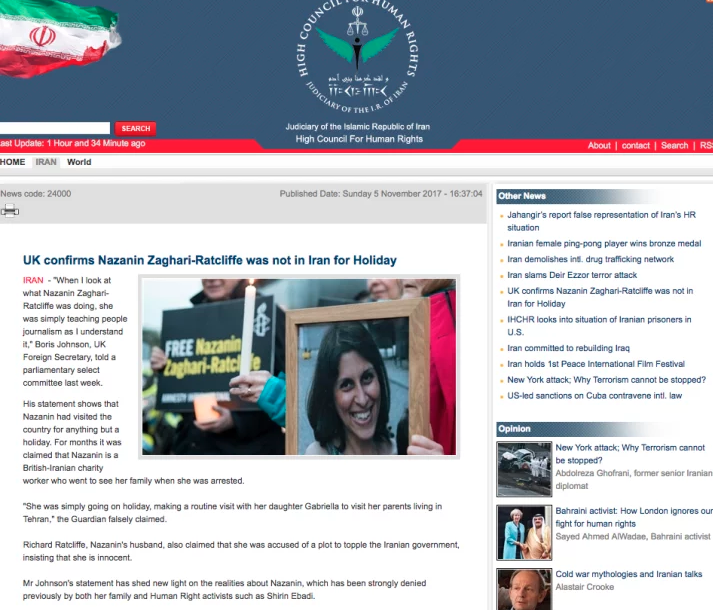 On Wednesday last week Johnson, speaking to a Foreign Office select committee, condemned Zaghari-Ratcliffe's imprisonment and said she was "simply teaching people journalism, as I understand it, at the very limit".

Following Johnson's remarks, the charity worker unexpectedly appeared before a court and accused of "spreading propaganda against the regime" on Saturday.

Yesterday, speaking to reporters in Washington, DC, Johnson said that he would attempt to meet Ratcliffe before his scheduled visited to Iran in the coming weeks.

A Foreign Office spokesperson, responding to Ratcliffe's request that he accompany Johnson to his scheduled visit to Iran, said the foreign secretary was hoping to meet with Zaghari-Ratcliffe's husband prior to the trip.

"In terms of the trip itself, our approach will be guided by what is most likely to secure progress in this case because ultimately we want to secure Mrs Zaghari-Ratcliffe's release so that a family reunion can be a permanent one not a temporary one," they said.