Hannah Taaffe started to develop anxiety when she was studying French and Italian at University College London (UCL). In her own words, she "muddled along" and relied on friends and family for support, rather than turning to the university for help.

"I just didn't really feel that I needed support from the university psychological services until February when a friend of mine took his life," the 23-year-old explained.
After that, Taaffe was advised by friends to contact UCL's psychological support network, and even though she had heard about a long wait time, Taaffe realised she needed help.
She says she filled out a series of forms to describe what had happened and how she was feeling. "I just got an automatic response saying 'thanks for signing up and we'll be back in touch in about six weeks or so'.
"I just never heard from them again."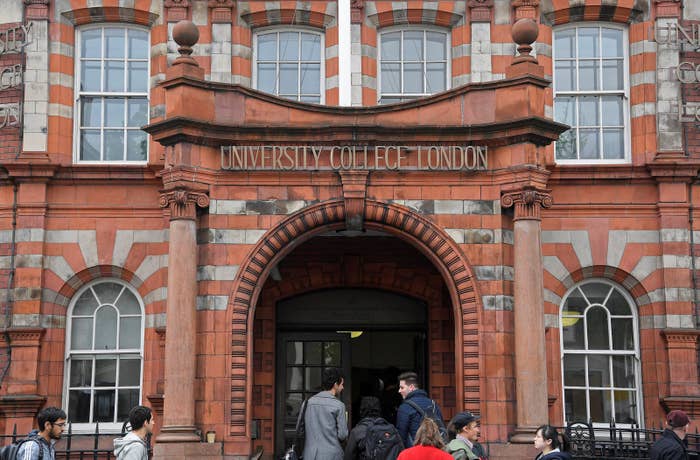 She tried to raise her issues with academic staff too. While she described her personal tutor as "lovely", she felt faculty members higher up the chain just didn't get it. She made an appointment with her head of department to push back an essay deadline, due only a few days after her friend killed himself. "He'd got so many emails requesting extensions he said, 'Oh ok, ummm, so, Hannah, Hannah,' and you could see he was trying to go back in his mind to remember who I was. 'Hannah, you're the one with the friend that died, right?'
"And that was the way he was trying to identify who I was," she said.
Taaffe says she was able to deal with her grief over her the loss of her friend personally, mentioning that she doesn't have any underlying mental health conditions. But she believes that as she wasn't predisposed to harming herself, she was "lucky" to have been able to cope. "If I was someone who was in danger of harming themselves that would have been a terrible case on their hands."
Responding to Taaffe's story, Denise Long, director of UCL Student Support and Wellbeing, said she was sorry to hear that a student did not feel adequately supported during their time at UCL.
Long continued that the university was "committed to ensuring the safety, health and wellbeing of all students – a commitment which fully extends to mental health."
She said that all students had access to a telephone and online counselling service, run 365 days a year, in addition to face-to-face counselling. "UCL student support and wellbeing services is continuously reviewing its student welfare provision, working closely with all parts of the university, with students and with the Student's Union."

Taaffe is not alone in asking her university for help, or in feeling that the response she got was inadequate. In 2016, The Guardian reported that universities were seeing a 50% increase in students asking for counselling services.

BuzzFeed News has spoken to students from different universities who say the communication and delivery of university support fell short of what they'd expect.
Their stories come as more and more students are prepared to stand up to their universities, some by taking them to court. "The generation that are coming to university now are a generation that essentially grew up with more enforceable rights," says Chris Fry, a lawyer who has handled education cases for years.
He said that students challenging their universities was nothing new. "Society has changed generally to the extent that, eight [or] nine years ago, it was about the basics," such as cases over wheelchair access and accommodation provision, he said, but he was now handling more and more cases around mental health and "hidden" disabilities.
While more and more students are bringing such cases, education specialist lawyers told BuzzFeed News there is confusion over what rights they have and "no blueprint" for legal action thanks to strict confidentiality clauses that stop the majority of cases being reported.
Taaffe, who has now graduated, feels students "definitely" have a right to sue their universities if they feel they're failing to care for them, especially given increased tuition fees.
"I think we are paying so much money for the supposed privilege of going to university, you'd think that the universities themselves would invest a little bit more in the wellbeing of their students because they are nothing without the ratings that they get from students, and the research that students provide," she said. "The uni should really be doing something to give a little back, and to make sure that they are ok."
Whether it's a communication slip-up or a lack of understanding, mistakes matter. Suicides at British universities are at record levels, having increased by 79% in eight years, according to a study by the IPPR (Institute for Public Policy Research) published in September. The most recent survey on the issue from the National Union of Students (NUS), conducted in 2015, states that 78% of students experienced mental health issues during the previous year.

Universities have a duty of care to their students, and are legally required under the 1995 Disability Discrimination Act and the 2010 Equality Act to make "reasonable adjustments" for students classed as disabled, Miriam Chappell of UMHAN (University Mental Health Advisers Network) told BuzzFeed News.
She said there was a "growing understanding" within the student community that disability rights were an "umbrella term" that covered mental health. However, "a large number of students are going through their university years without accessing the support they are legally entitled to".
Solicitor Michael Charles, chief executive of Sinclairslaw, who has practised and specialised in education for 20 years, told BuzzFeed News that while universities were not precisely required to care for their students' health, they had to have "regard" for reasonable adjustments. He cautioned though that there were varying stages of responsibility, depending on the course taken.
One student suing her university is Sophie Spector, 25, who has OCD, ADHD, and dyslexia, and has taken Oxford University's Balliol College to court as she believes they mishandled her mental health during her first year.
Spector, who is being represented by Fry, claimed the college – despite being informed about her conditions – never made adequate provisions to help, and piled pressure on her when she started to fail.

"I went from being like, 'I am going to figure this out and I am going to do this', to clinically depressed within a few months. That was the amount of pressure that they put on me," she told BuzzFeed News.
As per standard Oxford requirements, after she failed her first set of exams – mocks, but which students must pass – her grade boundaries were upped from 40% to 55%. "If you were really lazy and drinking all the time, and you screwed up in your exams, you'd be treated in exactly the same way. But the difference is you are struggling with a disability, and that's why you are fucking up," she said. "They treat you like you are lazy, rather than that you need extra help."
And she claims she wasn't given enough help, even after she told them she was struggling with depression. "I honestly think they thought I was more trouble than I was worth because of the disability provisions that I was requesting."
Spector left Oxford in 2014 and is now living and working in London. "I do much better outside university than I ever did in," she explained. She has nothing good left to say about how she was treated by Balliol. "If you have a predisposition to be depressed, then they almost ensure it."
Contacted by BuzzFeed News, a spokesperson for Oxford University – speaking for Balliol – said the college and university took students' mental health "extremely seriously".
The counselling service, run by professionally trained staff, was open to all students in need, they continued. Each college had its own welfare team, working closely with the university's Disability Advisory Service, to ensure students had "appropriate provision so that students can manage their studies successfully and are not disadvantaged by their disability."
The spokesperson continued: "The University and the colleges always act with professionalism and concern when students experience difficulties. The decision to take medical leave is never entered into lightly. It is used as one option within a strong and caring support system, often with the student's agreement, which in many cases helps them to recover and resume their studies successfully."
Both lawyers contacted by BuzzFeed News described a widespread use of confidentiality clauses by universities once cases have concluded, which they said could be used as a way of keeping students in the dark about their rights to bring cases like Spector's.
"I could not even give you a figure, I have lost count," Charles said of the number of cases he's taken on that cannot be spoken about. "All the cases that are resolved legally are resolved with a confidentiality agreement."
Fry agreed, and said the agreements contributed to a "general lack of awareness" over what rights student have, as well as impinging on the legal community. "Solicitors like to know that there is a balance of probability that they will get paid," he said, but without cases going to trial and on public record, there is "no blueprint" to follow.
Charles added that many more students may want to take legal action but are afraid of retribution by universities. While there are legal frameworks that protect people in the working world who seek help for disability or mental health, those frameworks are often ignored by universities, he said. "The consequences [students] face are far more severe because they may be banished for all eternity," he said, "not least because they can't afford to sue."
Ruth Caleb, a wellbeing consultant at Brunel University with 25 years' experience, said most institutions had a "plethora" of ways to help students, from mentors to student support systems to more formalised student counselling services, but these systems could falter due to a lack of networks.
She said there had definitely been an increase in students asking for support – at Brunel alone, demand for counselling services has doubled, she noted – but said universities were trying to do the best they could.
"They truly want to do their best, but there is a resource limit in what can be offered," she told BuzzFeed News.
A Higher Education Policy Institute report last year noted that while many universities have effective support services, "funding is limited" which meant "many students slip through the gaps". It added that students are stymied as GP practices have lower allowances for students than the general population, so, for example, the Bristol Students' Health Service receives only 66% of the average funding. Wider cuts to the NHS also mean a student must demonstrate a higher threshold of mental illness than previously, if they can get NHS help, it found.
Most of the students who spoke to BuzzFeed News cited how "incredibly high achieving" atmospheres at universities led, in the words of one, to a "toxic environment" where they felt embarrassed to fail.
One London student told BuzzFeed News that her problems at university were exacerbated by unsupportive academic staff. "I have been depressed since my pre-teens but anxiety kicked in when I started uni and that combination proved pretty toxic."
The 23-year-old student, who wished to remain anonymous, started university straight from school in 2012 aged 18. Though she was not formally diagnosed with depression until last year, she'd struggled with her mental health since she was 11. By Christmas of her first year, she said, she was facing a breakdown.
"I'd never really failed anything in my life before, and I didn't know where to turn. My [academic] feedback was so incomprehensible and frustrating, so as everyone left I went to talk to the academic staff and just burst into tears because of all the stress and shame. They seemed panicked, and took me off the the advice centre." She was given counselling by the university, but at the same time, her academic tutors told her she would be best to either toughen up or take a medical absence.
"I did feel like I was pressured into taking a year out, which I really didn't want, [as] I knew being at a loose end would exacerbate everything. It felt like a real push to get them to drop that idea, as though because I'm mentally ill I couldn't know myself well enough to make an informed choice."
Caleb, the wellbeing consultant, said there is a critical lack of understanding of these issues from staff whose main role isn't mental health support. "A student might disclose difficulties, upsets, or any issues, to any members of staff. That can include cleaners, groundskeepers, it can include the security services who in many universities – and certainly at Brunel – are the one service that is 24 hours a day, every day of the year. They need training and they need to know that that is part of their remit."
"We need a different way of looking at it. It needs to be a whole university approach and it needs to ensure that it is not just working with the problems reactively," she said, "but it is working proactively to make it a far less stressful environment."
A new mental health campaign launched by Universities UK, which represents all universities in the country, pushes the same idea. StepChange calls on unis to adopt caring for their students' health as a "strategic priority" and advocates a "whole university approach" as well as saying that universities must work in close partnership with parents, schools, and employers and with the NHS.
Caleb noted that university is a "transitional" experience with a range of attendant stresses as many people move from living with their parents to a more self-reliant lifestyle, which universities have a duty to support, but within reason. "I do think that universities have a responsibility, but that does not necessarily mean they have a total responsibility."
She was also wary of the proliferation of mental health issues, carefully noting there was a "real difference" between stress – which can have a serious impact on a student and should be addressed – and more serious mental health issues, like depression. "Unless we are very precise about the language that we use we get information that isn't always very useful to work out what the problem is and how we can address it."
"I think what can be the most helpful is when a university connects with the local NHS service," Caleb said, because "really universities are limited in what they can offer. They can't offer what the NHS should offer. They can't offer that sort of medical support. They can't."
Though she's now left uni, Taaffe remains concerned about her experience, and says while there had been a partial opening up in attitudes around mental health, in her view real change was yet to happen. "It seems to be a whole culture within the university system where they just really have not been educated enough about mental health provision and about the students themselves."

"We can talk about it all we like, but if there's not the provision to help people, there's not the funding [for] the psychological services, and there's not the funding from the government for mental health services, then what is talk going to do? There's no action."
NUS president Shakira Martin told BuzzFeed News she was concerned about the social and financial pressure being placed on students. She urged institutions to "recognise the role they play in creating the conditions" that allow students to thrive – or fail.

"For too long discussions about student mental health have labelled young people as 'unable to cope' or 'bounce back', rather than address the conditions that cause and worsen mental distress," she said. "I urge all institutions to consider their duty to support students across departments, from counselling support to accommodation and academic departments".
"Slowly the climate is changing, and the spotlight is certainly getting a little bit brighter," Charles said. "But sadly, I believe, injustice is very rife in this sector and unfairness is often rife too."