Government Review Into Social Integration Criticised For Focusing Too Much On Muslims
Baroness Warsi said integration was often down to economic, not racial or religious, factors.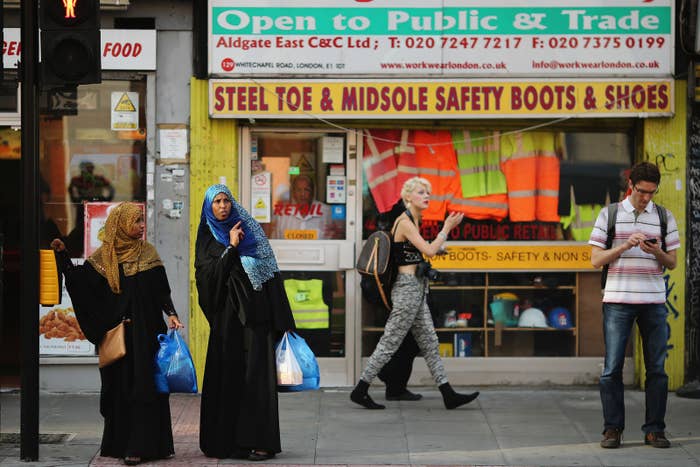 A report into British social cohesion has been welcomed for pointing out longstanding government failings but has also been criticised for failing to take institutional economic issues into proper account and focusing too much on the Muslim community.
The report, which is highly critical of government efforts to promote integration of minorities, was published on Monday following a year-long study into community cohesion across Britain headed by Dame Louise Casey. It was commissioned by the former prime minister David Cameron during Theresa May's tenure as head of the Home Office.

There were questions raised online about the apparent double standards of the report. The word "Muslim" appeared 249 times in the 199-page report, compared with "Christian" 35 times and "Buddhist" just five times. Islam was mentioned 100 times, while Christianity got just a single mention.
It led to suggestions that the report placed the emphasis on marginalised communities – particularly Muslim ones – to integrate, with no reciprocation.
Responding to the report, the Muslim Council of Britain (MCB) said it hoped it could facilitate "robust and active conversations" about the challenges facing British Muslim communities.

"Sadly, however, I fear that this report could be a missed opportunity," said Harun Khan, secretary general of the MCB, in a statement.
Khan quoted Cameron saying "immigration was a two-way street" and said Casey's analysis "has little discussion on white flight, and could have delved deeper into the economic structural barriers to integration".

He also expressed concerns over the report being welcomed by right-wing groups. The report was welcomed by UKIP, whose immigration spokesperson, John Bickley, said it "pulls no punches".
"For years UKIP has been the only political party willing to point out the failings of mass, uncontrolled immigration and multiculturalism," Bickley said in a statement. "For this we have been accused of being racist by a cowardly Establishment. That won't wash any longer."
In a sign of how complicated the issues under discussion are, the report was also welcomed by Labour.
Labour's shadow secretary of state for women and equalities, Sarah Champion, welcomed the report. She said government cuts to social funds promoting integration could not continue "without paying a much higher price in the long term".
Casey laid the blame for the lack of progress at successive governments, noting that attempts at cohesion had been tackled in an often "piecemeal" fashion and had "lacked a clear evidence base or programme of evaluation".
She said that although segregation as a whole had decreased, in some communities it had increased, and that fears of being labelled racist had meant sexist and misogynistic behaviour had not been challenged.
Critics, among them Baroness Warsi, former Tory minister for faith and communities, noted that the report failed to take account of the economic background of those marginalised communities, confused "race, ethnicity, origin and faith", was overly focused on the Muslim community, and relied too heavily on out-of-date statistics.
"If you are poor, live in a deprived neighbourhood, don't have a good education, hold a low paid job, then integration is a low priority," Warsi tweeted following the report's release.

Casey's report did note the importance of some economic factors, recommending that more funding for English-language classes should be made available. ESOL (English for speakers of other languages) funding was cut last year, despite warnings, and then partly reinstated under Cameron in January. Lack of English can have a knock-on effect, the report said, isolating individuals in education, as well as affecting access to housing and welfare support.
Warsi also noted that many of the statistics cited by the report – taken from the last census in 2011 – were now out of date. The report's executive summary addresses those failings, explicitly noting that in many cases the data simply did not exist or was already out of date by the time of publication. It recommended that "better data and research are needed across a range of issues relating to integration".
Warsi pointed out that white British women were more likely to be victims of domestic violence – but were not mentioned in the report. She said women from the black community, followed by the Irish community, were next most likely to be victims.
Henna Rai, director of WARN (Women Against Radicalisation Network) said she welcomed the report's findings on misogyny "coming out into the open, forcing people to admit there was an inherent problem within ethnic communities which remains unaddressed".
Rai said that on a day-to-day basis, WARN helps women in marginalised communities who are facing rampant discrimination and have nowhere to turn. "Women are unaware of their rights," she told BuzzFeed News. "This has been addressed and highlighted in the report, and it is a good thing."
She added: "Let's be clear, there is very little available in regards to resources for these issues. We need to have greater resources made available."