Girls From Low-Income Backgrounds Are Truanting Because They Can't Afford Sanitary Products
Sophie, a 16-year-old pupil in a central Leeds school, told BuzzFeed News she'd missed "weeks" of school because she hadn't been able to afford sanitary products. H/T Metro.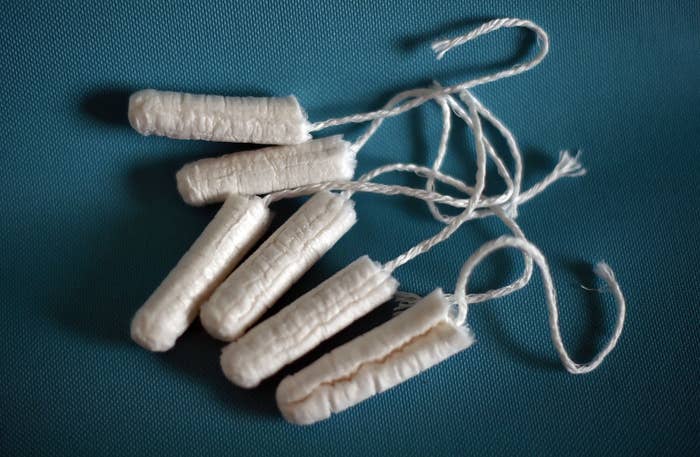 Girls from lower-income backgrounds are missing days of school because they can't afford sanitary products.
A campaigner with Freedom4Girls, a organisation that provides women and girls in Kenya with sanitary products, told BuzzFeed News they were contacted by a concerned police officer working in a school in Leeds who had noticed a pattern in some girls' truancy.
"There is a problem, but we just don't know how big," campaigner Tina Leslie told BuzzFeed News. She was told by the officer, "I've got these girls, and they have no sanitary towels, and they are missing school because they can't afford them."
Sophie, a 16-year-old pupil in a central Leeds school, said she'd missed "weeks" of school because she hadn't been able to afford sanitary products.
"I used to wrap tissue, socks, all sorts around my underwear just to stop the bleeding," she told BuzzFeed News. "I'd support myself without having to ask.
"Sometimes during my period I wouldn't go to school for a week at a time."
Sophie, whose stepmum is single and caring for her and five siblings, said she knew lots of girls who were in a similar situation. "You don't want to be a burden on your parents and say, 'Hey Mum, can you buy some pads,' because you feel like she has other priorities so it's not really something you want to go talk about."
The teen, who started her period when she was 11, also said she had no idea what was happening at the time because she hadn't had any sex education. "I literally had nobody. I didn't feel like I could trust anybody, not even my own mother –because I didn't have that kind of relationship with her."
She added: "It feels really uncomfortable physically and then emotionally it became really difficult because those kinds of things put a strain on you because you don't know what to say."
Leslie, 52, said: "It might be an absolutely huge problem that no one has actually thought about, because it's still such a taboo subject that it's not talked about."
"Are these girls truanting every month because they've not got sanitary protection, because their parents can't afford them because they are on sanctions?

"We need to go back to the schools. They need to look at absentees so they know how big a problem it is."
Leslie added: "It's a policy problem: We can give out free condoms to boys, but we can't give out free tampons to girls. What's that all about?"
Sara Barrie, safer-schools officer with West Yorkshire police, who first flagged the issue, said she first put two and two together when looking at the truancy figures. "I think I've only just scratched the surface, but I'm speaking with other school officers and this is a question we need to start asking," she told BuzzFeed News.
"It's embarrassing, owning up that their mum and dad haven't got any money that they can buy any of these products. It's a personal thing. It's personal to share that 'me mum and dad don't have a penny to run together'.
"If you think about it from the other side, thinking about food, paying the bills, there's more than one kid in the family, and if you've got more than one girl, it's going to be down on the list of priorities."

Paula Sherriff, Labour MP for Dewsbury, Mirfield, Denby Dale, and Kirkburton, who has spearheaded a campaign to end to what has become known as period poverty, called the young girls' situation "horrendous".

"It is something that I have heard is happening all over," she told BuzzFeed News, saying: "I think we need to do more about this. ... This is another symptom of austerity."
She added: "Periods are bad enough, [but] the thought of having to go without sanitary protection ... We know that teachers at schools who are always buying them."
She continued: "In some of these low-income families the mums genuinely have to decide to buy food or tampons or sanitary towels."

Sam Smethers, chief executive of the Fawcett Society, told BuzzFeed News it was another manifestation of poverty and oversight from authorities: "It is extremely worrying to find that some young women cannot attend school for lack of sanitary products. The basics that women and girls need are simply not there."
In Scotland period poverty is already being addressed. On International Women Day, Monica Lennon, Scottish Labour's inequalities spokeswoman, announced a bill in Holyrood to legally require Scottish schools to stock sanitary products.