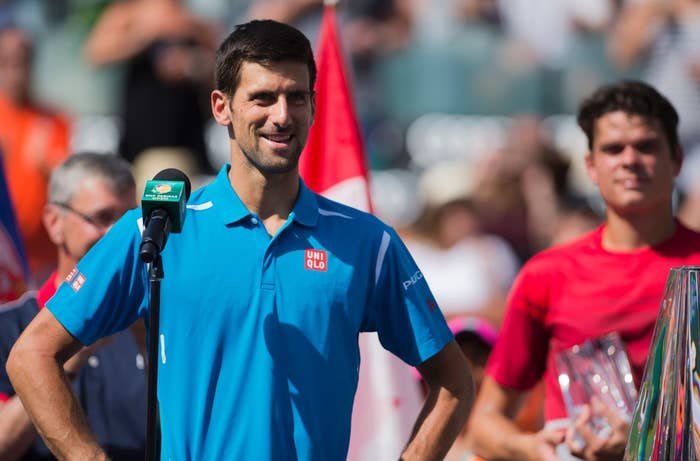 Novak Djokovic believes male tennis players deserve higher pay than women – but insisted he still has enormous respect for female athletes because they have to deal with "hormones".
The world No. 1 tennis player waded into a row sparked by Indian Wells Tennis Garden CEO Raymond Moore on 20 March.
Moore, who later admitted his comments were "in extremely poor taste", said that if he were a female tennis player he would "go down every night on my knees and thank god that Roger Federer and Rafa Nadal were born, because they have carried this sport. They really have."
The CEO did not mention the 21 Grand Slams won by Serena Williams – compared to Roger Federer's 17 and Rafael Nadal's 14.
Now Djokovic's comments have added fuel to the fire.
Speaking after his win over Milos Raonic in the BNP Paribas final, Djokovic said men should continue to be paid more "because the stats are showing that we have much more spectators on the men's tennis matches".
This is despite the fact that last year the women's US Open final sold out before the men's.

But the Serbian player, who has won 11 Grand Slams, said he had "tremendous respect" for women's achievements in tennis.
"Their bodies are much different to men's bodies," he told reporters. "They have to go through a lot of different things that we don't have to go through. You know, the hormones and different stuff, we don't need to go into details. Ladies know what I am talking about."
His comments have not gone down well.
Djokovic continued: "I have great admiration and respect for them to be able to fight on such a high level. Many of them have to sacrifice for certain periods of time, the family time or decisions that they make on their own bodies in order to play tennis and play professional sport.
"I have had a woman that was my coach and that was a huge part of my tennis career. I'm surrounded by women. I'm very happy to be married with one and to have a child."
He added: "I'm completely for women power."
The issue of unequal pay in tennis has been long-running. Advocates of continuing pay disparity have pointed out that men play five sets in their matches while women play three.