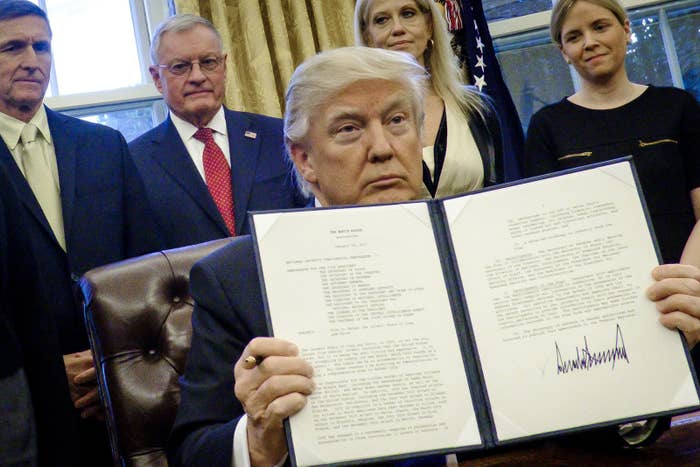 A British charity has said US president Donald Trump's refugee ban will be "incredibly problematic" for its staff and overseas work, while another has said plans to have Syrians speak to the US Congress have had to be shelved.
Trump's controversial executive order, signed on Friday, suspended America's refugee programme for 120 days and banned citizens from Iraq, Somalia, Sudan, Iran, Libya, and Yemen for 90 days. Syrian refugees were banned indefinitely.
A number of charities founded in the UK – among them Amnesty International, Save the Children, Islamic Relief, and Human Appeal – operate in some of the banned nations. Many have employees who were born in those affected nations, although some now hold either dual or British citizenship.
Human Appeal, which has 136 employees operating across the world, told BuzzFeed News that at least 10 members of staff held dual nationality with affected countries.
"It is going to be incredibly problematic," spokesperson Charles Lawley told BuzzFeed News.
He said that while while the charity had no plans for these staff to attend events in the US, it has been a "big concern" for the charity since Trump's inauguration.
Lawley said that Human Appeal, which is based in the UK but supports workers in countries such as Syria and Iraq, might struggle to continue its work: "The reality on the ground in Syria is that unless you are Syria, either born in Syria or at least have dual nationality, you cannot get into Syria.
"To actually get humanitarian aid to Syria while this ban is in place is going to be near impossible," he added, in reference to American NGOs operating there.
Human Appeal employee Samra Said, 34, who holds a British passport but who was born in Somalia, said: "I'm not sure if I'm affected, it's an uneasy time."
Said, based in Manchester and who works on local community projects, told BuzzFeed News it was "crazy" how the conversation had moved from helping refugees to the point where "now a year later we are literally dehumanising and banning them".
"With Brexit, and now this, there is a lot of unease and I just don't know where I fall in those categories," she said. "I work extremely hard, I achieved a lot of success, and I just want to get on with my life. Do the job that I can, help the people that I can.
"I want to travel and I already get interrogated. As long as I get on the plane, and reach my destination I'm fine. But to just feel now that now it's clearly stated and I don't know… I don't understand what's happening."
Michael Klosson, Save the Children's vice president of policy and humanitarian response, said Trump's refugee ban meant its plan to connect Syrian psychosocial experts with members of Congress and think tanks had had to be shelved.
"They are obviously not going to get a visa and so can't come," he told BuzzFeed News from Washington. "The inbound part is just one example and undoubtedly there are others."
Klosson said the charity was still grappling with how to handle Trump's ban and the knock-on effect it may induce. "Where I think there may be an issue, is if some of these countries reciprocate this action," he continued, mentioning the Iraqi parliament voting to ban US citizens from entering the country. "If that happens we are going to have to figure out what's Plan B.
"If we have an American staffer who has, say, health expertise, and he's going to not get a visa, then where do we find that expertise elsewhere?
"Right now it is contingency thinking, opposed to actually having to respond to anything that's happened. [But] for this 90-day period if we have Iraqi staff who want to come to the United States it's a problem. Because they won't be able to."

Oxfam – which was founded in the UK and operates in over 90 countries, including Syria, Yemen, Iraq, Sudan, and Somalia – said it had had to cancel a number of visits to the US by individuals from the affected nations.
The executive order "jeopardizes" its ability to work, as well as to provide information to officials. "Oxfam has already had to cancel upcoming visits from citizens of the listed nations, depriving key officials of a vital source of information," a spokesperson told BuzzFeed News.
"We are also deeply concerned that the discriminatory nature of the Executive Order could increase the safety risk for US nationals working to alleviate the suffering of people abroad," the statement continued.
The order would prevent staff from affected countries receiving training in the US, Oxfam said, adding that the growing "reciprocal measures" taken by nations such as Iraq to block US citizens would "prohibit us from delivering aid, maintaining programs, and working with local governments and local civil society".
It said that as the majority of its staff in affected countries were local, Trump's ban would prevent American staff providing "crucial technical expertise to reinforce the response".