A six-year-old's letter asking everyone to be treated the same has been celebrated online.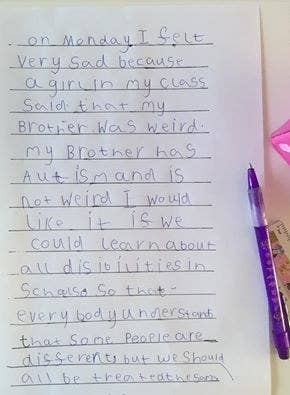 Sophie Camilleri's six-year-old daughter Lex was upset after a girl at school called her nine-year-old brother, Frank, "weird", Camilleri told BuzzFeed News. "She said he's not, he has autism. The girl didn't know what it was...She was confused. Lex said that she had to explain that it was a disability."
Camilleri, who lives in the south of England, said Lex was very upset when she got home that day, but that she had recently been elected to the school council so she decided to write a letter, which was then read out in her class.
"The teacher of Lex's class asked if anyone knew what autism was. Not one child knew what it was," Camilleri said. Afterwards, she decided to put her daughter's letter on Facebook, in a bid to campaign locally for better awareness of autism in schools.
The letter reads:
"On Monday I felt very sad because a girl in my class said that my brother was weird.
"My brother has autism and is not weird and I would like it if could learn about all disabilities in schools so that everybody understand that some people are different but we should all be treated the same."
People on Facebook are celebrating the letter, as well as sharing their own stories about growing up and living with autism.




Camilleri said the reaction to Lex's letter had been "amazing".
"I keep looking at how many times it has been shared on Facebook and I just can't believe it to be honest with you," she said.
So far, the original post has been shared almost 26,000 times, and Camilleri said she had received countless messages of support.
The National Autistic Society (NAS) also shared Lex's "incredible" message.
A spokesperson told BuzzFeed News: "We agree whole heartedly with Lex's message, and it's incredible that, at just 6 years old, she knows that we need better understanding of autism inside and out of our classrooms."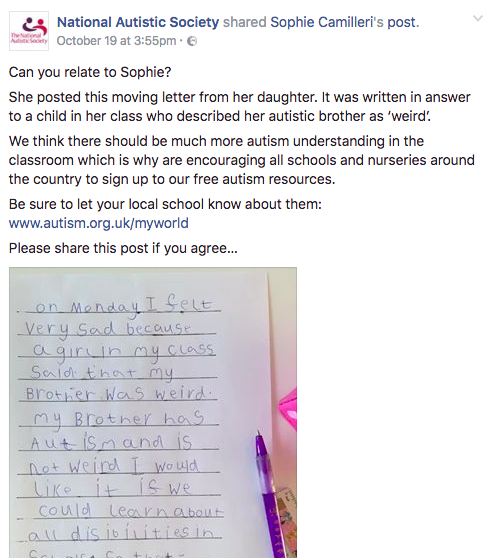 But what does Lex make of the whole experience?
"She loves hearing all of the lovely things that people are saying," Camilleri said.
"I don't think she quite understand how much of an impact her letter had made though," she added. Camilleri continued that although it was great that the issue was getting attention she was "upset" that Lex had had to be put through it.
"It makes me really sad that no-one knows about these disabilities, if they were made aware it would change a lot of things. I think it would help kiddies to know about autism and the symptoms that come along with it," she said. "I suppose it is confusing for them and it might be a bit of fear, because they don't know what's going on with the child."