2.
Only showcase your strengths.
3.
Delete your bad tweets.
4.
Point out flaws in their competitors.
5.
Shave your facial hair.
6.
Avoid talking about your social life.
8.
Ask for reimbursement for your travel.
10.
Accept the job offer.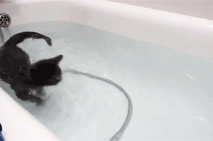 Only kidding, you should totally do this one. Just needed an excuse to show a cat in a bath. Hehehe look at him. He's terrified.