1.
You can't afford a ticket in your teens, so you dodge the fare on a train to Somerset and hope to run into a friendly ticket tout, or stout ladder. In your thirties, however, you buy a family ticket three months in advance, throw your children into your rented Winnebago, and tool across the country for an adventure. 2.
Your teenage festival costume involves tiny skirts, floral crowns and neon boots. This is Glastonbury, after all. You want to look the part.
In your thirties you layer on fleeces and waterproof trousers. This is Glastonbury after all. You don't know what might be lurking in the mud. 3.
Talking of mud, in your teens you just embrace it and have fun. What an amazing festival experience! So real, you know?
In your thirties, the endless vista of constant sucking mud between you and the coffee stall will be the thing that breaks you. 4.
In your teens, you wrestle your way to the front of each stage. In your thirties, you sit at the back – on a foldable chair where possible. 5.
Seeing your favourite old school band reformed is nothing short of a spiritual experience in your teens. Look at them all right in front of you!
In your thirties, you know they've reformed for tax reasons, and are trudging joylessly through a 20-year-old set without cracking a single smile. 6.
In your teens you're pretty much up for anything. Legal highs? Sure! Funny cigarettes from waistcoated men on unicycles? Bring it on. It's all part of the experience! In your thirties you'll indulge in a little craft beer, but you really rejoice when you finally find a decent chai tent. At Glastonbury, too! How civilised. 7.
At some point you'll need to eat something. In your teens this means bulk-buying the cheapest thing you can find, and living off it for three days. In your thirties this means finding the most organic food truck on site, and patronising it loyally all weekend. 8.
Then you'll need to visit the teetering piles of human faeces that are Glastonbury's toilets. Unless you live through a war, this will be the most traumatic thing you will ever experience.
In your thirties, you will remember being traumatised by the toilets in your teens, and assume that you were overreacting. You will soon learn how wrong you were.
9.
In your teens, you'll go straight to a sound system after the bands have finished. By dawn you'll have made at least ten friends with names like "Fingers" and "Buckethead". In your thirties you go straight to bed so you're fresh for morning yoga in the Healing Fields. Everyone you meet there is called Jenny. 10.
In your teens you may have a tent, but it's easier just to pass out where you land. The dream is to befriend someone with a yurt so you can crash on their bed. In your thirties your back has had it with all this sleeping-on-the-floor bullshit. You rent a podpad and sleep on an air mattress. You are not a barbarian.
11.
In your teens you will find yourself dancing at the stone circle at dawn. You will feel indescribably liberated and at one with nature. In your thirties you will stumble blearily into the stone circle and wonder who the hell is going to clear up all this mess.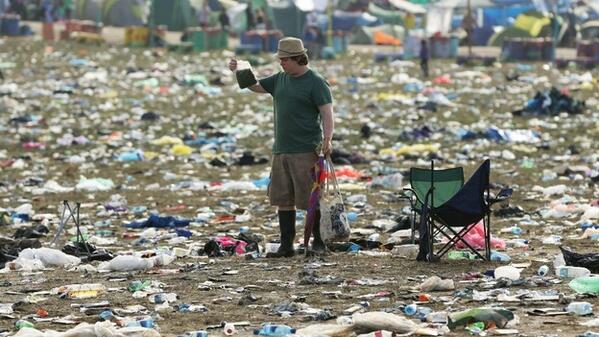 12.
In your teens, you won't want to let go when Monday rolls around. Glastonbury has freed you, changed you, widened your horizons. You will wear your wristband until it falls off. In your thirties, the minute it's all over and you have access to hot water, electricity, and ceilings again, you will almost orgasm with gratitude.