The Weekend Soirée - Wicked & Wonderous Womxn
A few days back, some friends and I talked about the different ways we found tribe back in the day. As we get older, it seems that traditional ways of finding connection don't really work. Especially as lesbians. We want to connect with women who love women like us and, let's face it, most women aren't standing on a corner screaming, "I'm a lesbian! Want to be friends?"
Remember how easy it used to be to? School, college dorms, bars and recreational sports teams. All great ways to make friends when we were younger.
But lately, unless I meet someone volunteering for a common cause, I mostly find new people through work. And, well, that's just not cutting it.
So, imagine the joy I felt when I heard about The Weekend Soirée.
The Weekend Soirée is a 4-day getaway weekend for queer multicultural professional womxn. This year, while attending Clexacon, I learned about its existence. I got so excited! I'm a multicultural, queer professional woman. I like getaways. And 4 days is the perfect amount of time for a refresh. Finally… an opportunity to build my tribe!
Chief Weekenders, Imani Grant and Mary Fuller, met while graduate students at Cornell's business school. Since then, they've become traveling companions, visiting various queer womxn weekends across the country. They always enjoyed the great nighttime experiences that those events offered. But, the daytime experiences left a little more to be desired.
Late last year, they decided to create an event that catered to womxn like them. Queer womxn. Womxn from all races and ethnicities. Womxn who are successful in the arts, law, medicine, business, and all existing industries. Womxn who enjoy dancing at an awesome party just as much as sitting in a great workshop!
The Weekend Soirée was born.
This September, The Weekend Soiree will be held in the Mile High City. Yes! I thought, Denver, is my old hometown! The more I learn, the more I just have to go.
Why Denver for its inaugural year? "It's central enough that you could get direct flights from the east coast and west coast… it would allow us to incorporate fitness, yoga and outdoorsy elements into the weekend. Plus, we couldn't think of a better place for that time of year! When we thought about it…Denver was the ideal city," Mary said.
For Imani, "It's rare when you get that pure good time, like a family BBQ…no pretense. You can be a whole grown-up in this space with other LGBTQ womxn and it just be cool…to be able to do things with a group of interesting and dynamic queer womxn is like manna from heaven."
It's like manna from heaven indeed! I can't wait to be there in mid-September! I hope to see you there too! For More info check out www.theweekendsoiree.com
Chief Weekenders Imani Grant and Mary Fuller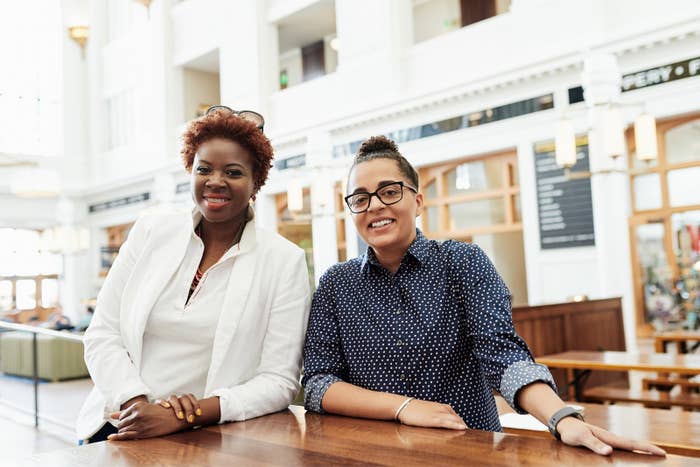 This post was created by a member of BuzzFeed Community, where anyone can post awesome lists and creations.
Learn more
or
post your buzz!