At 5:33p.m. on Monday afternoon, federal Coalition MP George Christensen sent out this tweet.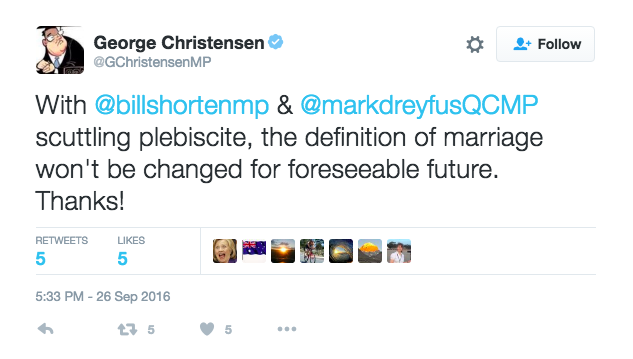 The reasons Christensen, one of the government's most outspoken opponents of same-sex marriage, was so delighted is that the government and opposition spent most of Monday blaming each other for the fact that Australia is unlikely to have marriage equality any time soon.
Earlier, shadow attorney general Mark Dreyfus and shadow equality spokesperson Terri Butler met with attorney general George Brandis and special minister of state Scott Ryan in an attempt to reach some common ground on the plebiscite.
But both sides emerged a short time later saying that the other side wasn't willing to budge, and therefore there couldn't possibly be any agreement.
"[We] came to meet with George Brandis but at times it felt we were talking to George Christensen because no indication was given of any preparedness to change any aspect of the plebiscite package the government has brought forward," Dreyfus said following the meeting.
Meanwhile, Brandis told reporters that Labor had refused to detail what, if any, elements of the plebiscite it would be willing to negotiate.
"By my count, on some nine occasions, I said to them, what do you want?" he said.
"I can't hide my disappointment every time there was refusal to state the Labor party's position. You can't have a negotiation unless one side acquaints the other side of what its conditions are."
The plebiscite was put forward as a circuit breaker last year by the former prime minister Tony Abbott in an effort to appease the right wing of the Liberal party room.
It was then designed by the government with public money for both a "yes" and "no" side and no requirement for MPs to follow the result, to ensure support from the same section of the Liberal party.
As it stands, the government doesn't have the numbers to pass the plebiscite's enabling legislation in the senate, and while Labor hasn't made an official decision, all signs suggest it will vote the plebiscite down.
So with no hint of any agreement on the horizon, it appears increasingly unlikely that a marriage equality plebiscite can be held in this term of parliament, meaning same-sex couples in Australia won't be able to marry for at least the next three years.
And that suits George Christensen just fine.