A cat owner in Hamilton, New Zealand, is desperately searching for the owners of hundreds of pairs of socks and undies that her cat has stolen in recent months.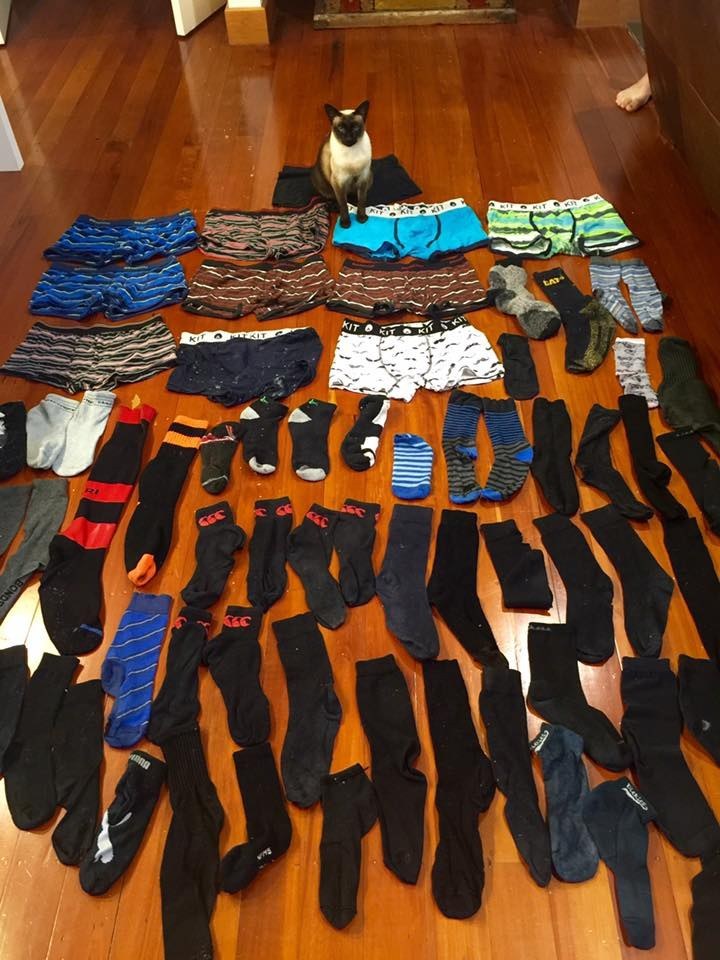 Sarah Nathan uploaded this photo to Facebook last week after her Tonkinese cat, Brigit, came home with yet another pair of men's undies.
"This is Brigit's haul from the last two months," she wrote. "Every morning we wake up to more. I've put notes in every letterbox in the street. Someone must be missing this stuff. Please share if you know someone who lives in the George St. area."
Nathan told BuzzFeed her cat has always had a thing for underwear, but in recent months has only been bringing back men's knickers.
"We are starting to suspect that it's a house of blokes flatting together about a block away, amongst others possibly," she said.
Nathan wants anyone in the Hamilton area to check it they're missing any underwear, because recently Brigit has been bringing some back "every night." She said she has no idea how Brigit gets the underwear, or if she is going into strangers' homes.
Nathan added that she has a message for anyone who finds they're down a few pairs of tighty whities.
"We are very very sorry and I'm hanging onto your undies for when you are ready to collect them," she said.
But the good news is Nathan and Brigit are moving out of the area soon, hopefully to some sort of underwear-filled paradise.