Hello, this happened.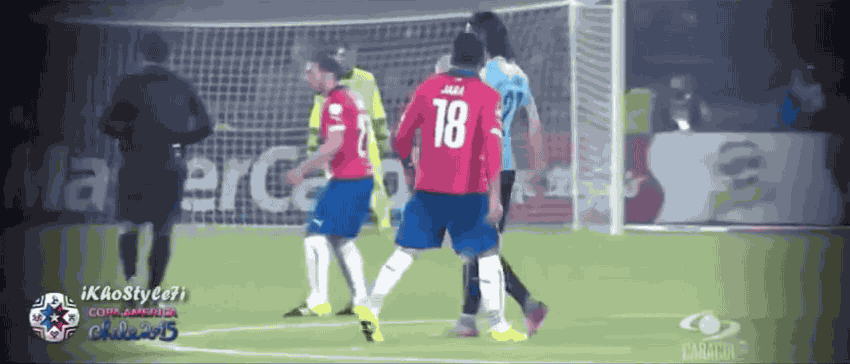 In close up. Now, which one of these guys do you think got red carded?
If you said the guy who copped a finger in the butt, step forward to collect your prize.
This delightful incident occurred in the 63rd minute of a match between Chile and Uruguay at the Copa America.
Chilean defender Gonzalo Jara decided he wanted to get to know Argentina's Edinson Cavani a little better, so he attempted to stick a finger up Cavani's backside.
Cavani reacted by lightly swatting at Jara's face. Then Jara fell over.
For this, Cavani was given a red card.
With Uruguay a man down, Chile scored the match's only goal soon after. They'll now go on to play either Bolivia or Peru in the Copa America semi-finals.
The soccer world is not happy. "There is absolutely no justification for it whatsoever. And on top of all that, Cavani barely touched him," Argentina coach Gerardo Martino said, while Uruguay's coach Oscar Tabarez was furious that his side finished the match a man down.
"There's a bitter taste in our mouths," he told reporters. "I've seen the television and photographs, that's where the truth is."
"I can see that the referee has not seen it, but the linesman had to be able to see it from his position."
Colombian coach Jose Pekerman said the incident was embarrassing for world football.
"We all want to win and there is pressure on everyone to win, but the contest has to be noble."
An investigation has been opened into Jara's actions and it has been reported that he will be suspended for the remainder of the tournament.
Which is probably a good thing, because it seems like this isn't his first offence.