There's Been Another Mass Coral Bleaching Event On The Great Barrier Reef
It's the first time bleaching has been found two years in a row.
A mass coral bleaching event has struck the Great Barrier Reef for the second year in a row - the first time two such events have occurred so closely together.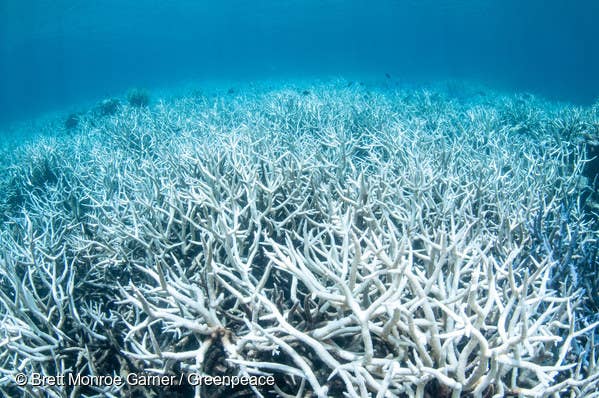 Images released by Greenpeace show another year of above average water temperatures is "cooking the reef alive", according to biologist Brett Monroe Garner.

"I've been photographing this area of the reef for several years now and what we're seeing is unprecedented," Monroe Garner said. "In these photos, nearly 100% of the corals are bleaching, and who knows how many will recover. Algae is already beginning to overgrow many of the corals."

In 2016, scientists confirmed a coral die-off as a result of a sustained period of bleaching was the worst on record, with more than two-thirds of corals killed in some areas.
Coral bleaching occurs when abnormally high sea temperatures cause corals to expel tiny photosynthetic algae called zooxanthellae, turning the coral white, often killing it.
The Greenpeace findings are backed by Terry Hughes from James Cook University's Centre of Excellence for Coral Reef Studies, who called the second bleaching event the "worst kept secret in the world".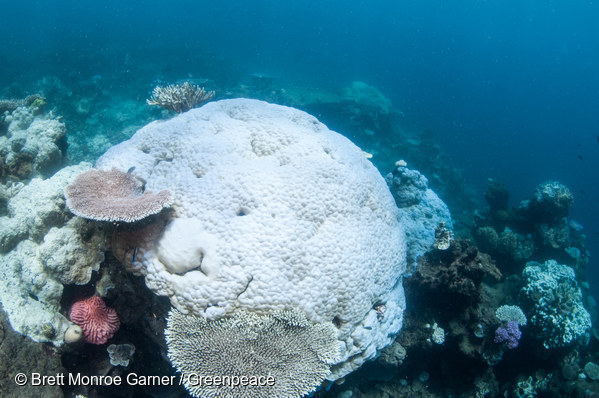 Hughes, who begins his own aerial survey of the reef next week, warns that as bleaching events occur more frequently, affected corals will never be given a chance to fully recover, putting the reef in severe danger.

"What's happening with global warming is that these events are becoming the new normal," he told BuzzFeed News. "The gap between them is becoming shorter and shorter. This is the first time we've had back-to-back bleaching. It's a real wake up call."
Hughes warns that Australia and governments around the world are not doing enough to act on climate change.
"We can no longer expect these things [coral bleaching events] to be future events. They are happening now," Hughes warned.

Environmental groups have heavily criticised the proposed construction of the world's largest coal mine in Queensland's Galilee Basin, which will produce 60 million tonnes of coal a year and significantly contribute to Australia's greenhouse gas emissions.
Adani's Carmichael coal mine has the backing of the federal and Queensland state governments, who say it will create thousands of jobs. But environmental groups say it will destroy the reef, taking millions of tourist dollars with it.
"We have on our doorstep the clearest signal that climate change is happening, and that governments aren't moving fast enough to stop it. We can still stop the Reef's destruction if we dramatically reduce global emissions," Alix Foster Vander Elst, a campaigner for Greenpeace Australia Pacific.

"While the reef is fighting for its life, the Australian government is funding its destruction. Tackling climate change is the only real solution here, and that starts by stopping public funding for climate-killing coal projects."