After two weeks in Lebanon's Baabda prison, the "60 Minutes" crew and Australian mother Sally Faulkner have left the country following a decision to drop kidnapping charges against them.
Journalist Tara Brown along with three crew members, Faulkner, "child recovery specialist" Adam Whittington and two Lebanese men had been in prison since a botched operation to recover Faulkner's children from their father, Ali Elamein.
Kidnapping charges against Faulkner, Brown and her crew were dropped after a deal was struck with Elamein overnight.
News Corp reports a financial settlement, reumoured to be seven figures, was also reached with Elamein. As part of the deal, Faulkner has reportedly given up custody rights with her two children.
An elated Faulkner, Brown and her crew have now touched down in Dubai after they were whisked straight to Beirut airport following their release.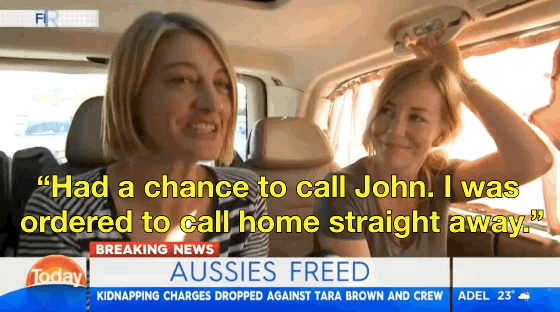 Brown told a Channel 9 news crew she had immediately called her husband, John, but had not yet spoken to her children, who have no idea their mother has been holed up in prison for two weeks.
Faulkner told Channel 9 she was glad to be out of prison.
"I mean they treated us well, I can't complain about that, it's just the uncertainty that sort of kept me awake at night, not knowing if it was going to be a life-long sentence," she said.
The deal did not include child recovery specialist Adam Whittington, or the two Lebanese men who were hired to help with the operation, who remain in Beirut's Baabda prison.
Not all charges against Faulkner and the "60 Minutes" crew have been dropped. Criminal charges against them remain, but the judge said they were being released because the personal charges brought by Elamein had been dropped.
If Faulkner and the crew don't return to Lebanon to face the charges, they will be tried in absentia.
Faulkner, Brown and the crew are expected to touch down in Sydney tonight.