So as you may have heard, prime minister Malcolm Turnbull is well and truly sick of the Senate's shit, so he's recalling parliament, bringing the budget forward and getting ready for a double dissolution election.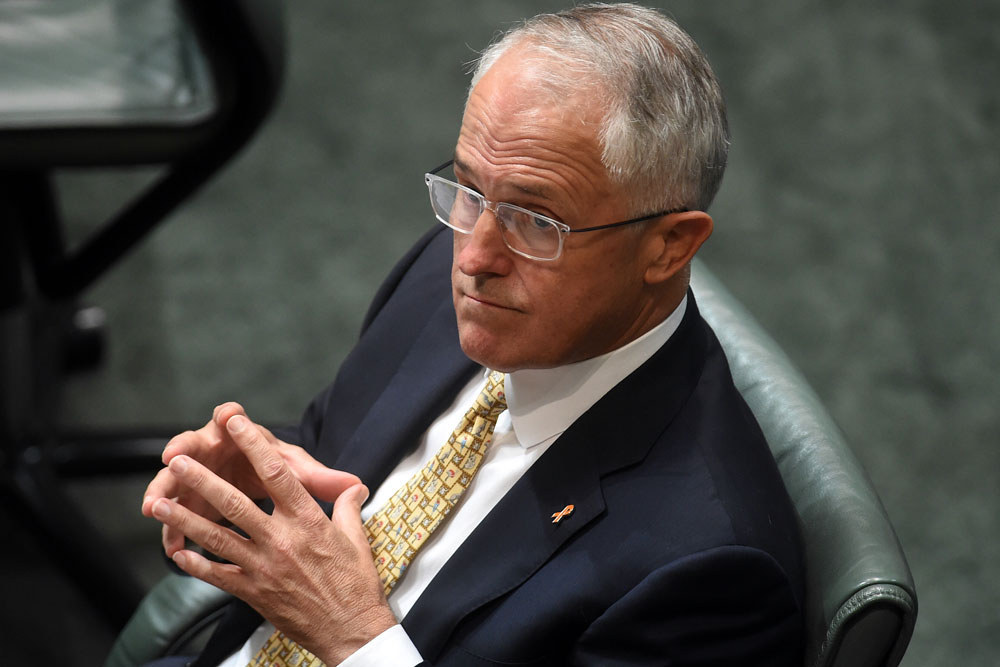 What does that mean?
Ok, so for a while now the government has been trying to pass a bill that would restore the Australian Building and Construction Commission. It has already passed the House of Representatives, where the government has a majority, but it can't pass the senate.
Why not? Well, the Greens and Labor will never support the bill, which weakens union power in the construction industry.
So in order to pass it, the government needs the support of Senate crossbenchers. That's the ragtag group of politicians who former prime minister Tony Abbott once called "feral".
So far they haven't really played ball, meaning the bills have already been rejected a few times. But the PM is giving them one more chance. Today he announced he is recalling parliament early (our politicians were about to enjoy a seven week holiday), to give the senate one more chance to pass the bills.
"The time for playing games is over," Turnbull said on Monday morning. "I make no apology for interrupting senators' seven-week break to bring them back to deal with this legislation. This is an opportunity for the senate to do its job.s
Well, he just did. The PM has asked Governor General Peter Cosgrove to recall parliament on April 18 and the GG agreed (because he has to). That means our Senators have to unpack their sarongs, re-pack their suits and head back to Canberra in four weeks so they can vote on this bill.
They won't be happy. Senator Bob Day this morning called the PM's ploy "too clever by half", and warned it may blow up in the government's face. Another senator, Nick Xenophon, called the PM "nifty and cunning."
Then we're headed to to a double dissolution election on July 2. That means both houses of parliament are dissolved, and we vote in a whole new parliament. (In a normal election, only the House of Representatives and half of the senate are dissolved). This hasn't happened since 1987.
Fortunately for the government, last week the senate passed new rules which make it much harder for those independents to get re-elected. That means, in theory, the new senate will be a little more "reasonable".
This is actually what Malcolm Turnbull wants. He doesn't really want the senate to pass his bills on April 18, he's just pretending because politics is silly like that. What he actually wants is for the Senate to block the bills again, which will allow him to run a campaign against "union corruption".
Deputy prime minister Barnaby Joyce wants everyone to know the government is not fucking around with this.
"They [the senate] must understand our commitment to this. We are not joking. This is not some sort of play. If they don't pass it, we will have a double dissolution," he said.
Traditionally the budget is held on the second Tuesday of each May, but the PM doesn't care for your rules, man. So he's bringing it forward a week to May 3.
This is important because, assuming the senate doesn't pass the ABCC bills, we'll be headed to an election on July 2. By bringing the budget forward a week, it will give the government time to pass important money bills, so that it can keep paying for shit.
It will also give Turnbull a big stage to stand up and tell everyone about all the big plans he has for Australia, so that's nice.
But it also means Treasurer Scott Morrison has less time to put it all together. But he reckons that's fine.
"I am looking forward to it with great excitement because this budget is incredibly important at this point in time," he said this morning.
Well it's risky for the PM. Newspoll today confirmed Turnbull isn't as popular as he used to be. The senate also might call his bluff and pass the bills (unlikely), and there's always a lot of risk that something will go wrong in such a long campaign.
That being said, the most likely scenario is that the senate rejects the bills, we have a budget on May 3, then we get right into official campaign mode for an election on July 2.
So basically, the unofficial campaign starts today and the election is probably 15 weeks away. YAAAAAY POLITICS.