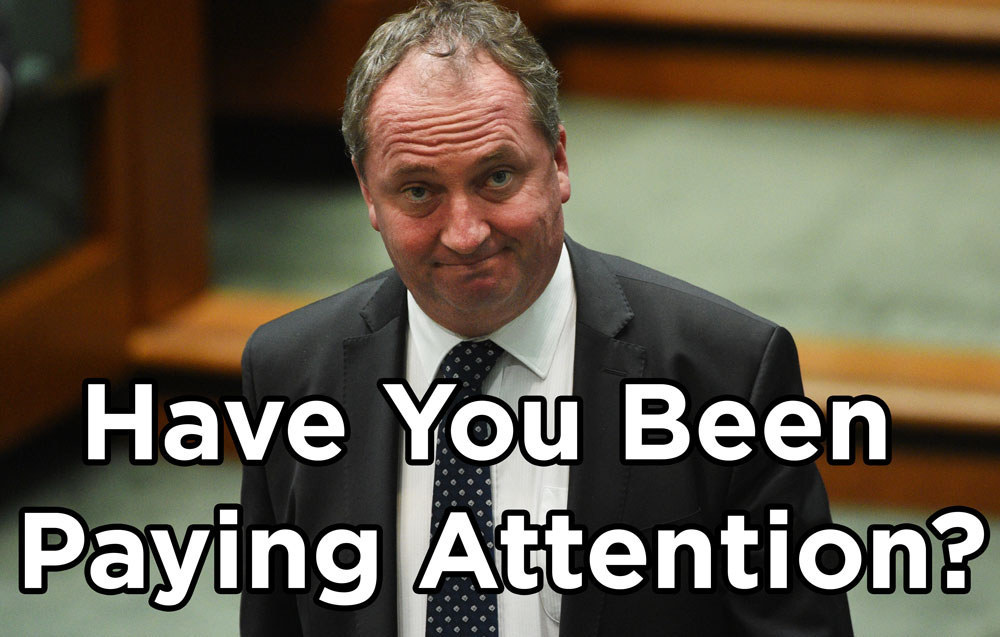 1. Which politician suggested Liberal party members were born with silver spoons up their arses?

Why it's Jacqui Lambie, of course!

Is she wrong? Who can say.

2. Which senior politician was told to "know her place" when she was blanked by the Governor General?

She tried to shake the GG's hand but he wasn't having a bar of it.

3. Which Aussie landmark is better than the Eiffel tower according to one politician?

NT Chief Minister Adam Giles wants an officially sanctioned climb on Uluru, which is sacred to the Anangu people.

4. Amber Heard pleaded guilty to smuggling her dogs in Australia this week. What are their names?

And they're lucky to be alive.

5. In a viral video this week, an Aussie journalist was seen screaming at a man about his...

Disregard for the rule of law

The correct answer is nipple!

Don't ask.

6. Which state's premier announced plans to build Australia's first pride centre?

Good on them.

7. The crew from which Aussie TV show was released from a Lebanese prison?

They had been there for two weeks on kidnapping charges.

8. We got one step closer to an official election date. When will it be?

Only 10 weeks to go...

9. Just how much of the Great Barrier Reef has been affected by coral bleaching?

This is not a fun question.