Meet David Feeney. You've probably never heard of him, but he may just decide the outcome of the upcoming election. And so far things are going badly. Like, comically bad.
Feeney is the MP for the inner-city Melbourne seat of Batman (Yes, Batman), which used to be a safe seat for Labor, but is now under siege from the Greens.
If Labor were to lose the seat to the Greens on 2 July, it would take them one step further away from forming government, and given how tight the polls are, there's a real chance of that.
So considering how important Batman is, you would think the MP in the area would be a well-prepared candidate with no skeletons in the closet and a thorough grasp of the issues at play, right?
Well, let's start at the start ...
David Feeney owns this $2.3 million house in the delightful Melbourne suburb of Northcote. Isn't that nice? Good on him. Unfortunately, he 'forgot' to declare the house on his pecuniary interests register, which is something a politician definitely has to do.

To make matters worse, Feeney had to admit that he didn't know if the house was being negatively geared. Then, after some checking, he had to admit that yes, it is being negatively geared. Which is awkward because one of Labor's key policies this election is a crackdown on negative gearing. (He hasn't broken any rules, it all just looks bad.)
Ok, so that's hardly a fatal error. But here. We. Go.
Some enterprising young wag from Fairfax decided to go and visit the home. And guess what? Feeney's tenants will be voting Green, and they think everyone else should do the same. Awks.
It then emerged that Feeney actually owns three houses around Melbourne, plus there's the unit in Canberra that is owned by his wife's trust, which Feeney stays in when he's in town on parliamentary sitting weeks and then claims travel allowance on. (Again, it's not against the rules, it's just not a great look.)
Wisely, Feeney decided to lay low after these revelations, skipping his weekly appearance on Sky News last Wednesday. But then ...
The prodigal son returned! Feeney was back for his regular gig on Wednesday with host, David Speers, who has a knack for skewering politicians on live TV. And skewer he did.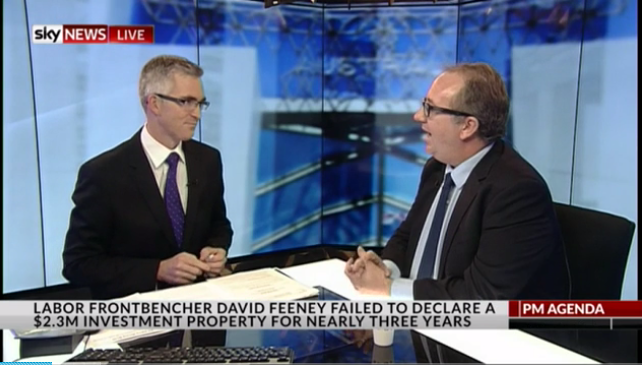 What followed were some of the most awkward moments we're likely to see on TV this year, including:
* Feeney effectively blaming his wife for failing to declare the house, saying she does the family's finances.
* Feeney declaring that no, he did not actually "forget" he owned a $2.3 million house, he just forgot to register it.
* Feeney admitting that so far he had scored Labor's biggest own goal of the campaign. "I think unfortunately that is a trophy I managed to secure last week," he said.
* He couldn't explain Labor's policy on retaining the $4.5 billion Schoolkids bonus. When Speers asked about the bonus, a confused Feeney replied, "The Baby Bonus?".
"The Schoolkids Bonus," Speers said.
Feeney then directed the question to the relevant shadow minister, saying he'd been too distracted by all that house business to pay attention to the election. (For the record, Labor won't be keeping the bonus after it expires on 1 July, nor will the government.)
It was generally agreed that the interview was both a train wreck and a car crash, which is no mean feat.
Still, at least that's over. Back to campaigning, right?
It turns out that after leaving the train wreck/car crash interview, Feeney left some important documents just sitting at Sky News. They were Labor talking points, which are the things MPs use every day to make sure they stay on message and don't say anything silly. (Can you imagine?)
Feeney left them on a couch in a building full of journalists. So naturally, they were all over the news on Thursday morning. Five stars.
And remember, we're less than three weeks into the campaign. There are still five weeks to go before the people of Batman vote. As the prime minister is fond of saying, there's never been a more exciting time.