7 Affordable Housing Numbers That Should Scare The Hell Out Of You
Can't buy, can't rent.
It's almost impossible to find affordable rental housing if you're a low income earner.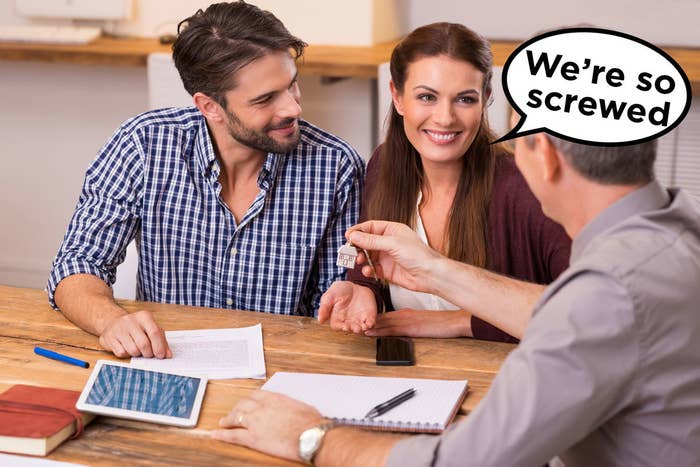 That's according to the latest annual rental affordability snapshot by Anglicare Australia, which surveyed more than 67,000 rental properties over one weekend in early April.

The survey looked at rental properties in rural and metropolitan areas in every state and territory. A rental is considered to be affordable if it takes up less than 30% of net household income.
Here are some of the report's key findings:
1. If you're single and receiving Youth Allowance or Newstart you're basically screwed.
"Consistent with previous years, the survey shows that single people on Youth Allowance and Newstart would find it almost impossible to find an affordable home anywhere in Australia," the report states.
In WA, the ACT, the NT, Sydney and Brisbane there wasn't a single property that could be considered affordable for a single person on Youth Allowance or Newstart.
You have a slightly better chance in central Queensland (eight suitable properties) Tassie and Victoria (six each) South Australia (five) or regional NSW (three).
2. It's even worse if you're a single parent.
Nationally, only 0.03% of properties are suitable for a single parent who is moved from the single parenting payment onto Newstart once their child turns eight.
If you have one kid and you're still on the parenting payment, only 1.5% of properties were suitable. No properties were available for a single
parent on Newstart in Sydney, Canberra, Adelaide, Darwin, Hobart or Brisbane.
3. Things are pretty bad for people on the disability support pension too.
Australia-wide, only 586 properties (0.9%) were affordable for a person on the disability support pension, and that's before you take into account things like accessibility.
4. You're a bit better off if you're on the minimum wage, but not by much.
Only 2.83% of properties were suitable for a single person on the minimum wage, a little over half of last year's result (5.3%).
Households earning the minimum wage but also earning family tax benefits from the government are slightly better off. Nationally, 10.64% of houses are affordable, but in Sydney and Canberra, that drops to less than 4%.
For couples on the minimum wage, with two kids, who also receive Family Tax Benefit A & B, 27.5% of rental houses were affordable. Which still isn't much tbh.
5. It sucks for the oldies too.
For a single person on the age pension, 1.62% of properties were affordable. A couple living on the age pension would have access to 4.28% of properties nationally.
But according to the survey, a lot of those properties deemed suitable on paper are actually for share accommodation, which is usually targeted towards younger people, meaning the reality for aged pensioners is even worse.
6. Regional rental affordability is pretty bad.
A single person in a regional area on Youth Allowance has it toughest of all, with 0.02% of rental properties in their price range, while a single person on Newstart could afford 1.7% of regional properties.
A single person with one child receiving the parenting payment could afford 7.2% of rentals, while a single parent with two children could afford 5.5% of regional properties.
A single age pensioner could access 5% of rental properties, while a couple on the age pension could access 16.75% of properties.
Singles on the minimum wage could afford 8.8% of regional properties. A couple earning the minimum wage who receive parenting payments for two kids might be able to access 28.1% of regional households – the highest percentage in the report.
7. Nationally, it's a shitshow.
Only 6% of the surveyed properties were affordable for low earners receiving government benefits – Newstart, Youth Allowance, the age pension or the disability support pension – which is down from 7% last year.
So out of 67,651 dwellings surveyed, only 3,844 were affordable.
Anglicare Australia executive director Kasy Chambers said the government's welfare policies are creating a "poverty trap" for low income earners nationwide.
"Australians on low incomes are struggling to pay rent and make ends meet," she said. "And people living on income support payments can hardly afford rent anywhere.
"[The payments are] so low that paying rent means you can't then afford to buy food, clothing, transport or go to the doctor."

Anglicare is calling on the government to put housing affordability at the centre of its upcoming budget. It has urged prime minister Malcolm Turnbull to adopt a "housing first" approach to ending homelessness, by getting people into their own homes as soon as possible.
The report also recommends scaling back negative gearing, which the government has ruled out, and scaling back capital gains tax concessions, which it is said to be considering, and funnelling the money raised into public housing.