Forget The Liberals, The Greens Party Is Absolutely Blowing Up Right Now
Things are getting SPICY in the Greens right now.
NSW Greens Senator Lee Rhiannon has taken an extraordinary shot at her own leader, saying she's "disappointed" in Richard Di Natale's leadership, in the latest flare up within the party.
First, some background.
Remember last week when the government was able to pass its huge "Gonski 2.0" school funding reforms through the Senate? Originally, the government's plan was to negotiate with the Greens to get that done.

The Greens had a few demands, but education minister Simon Birmingham was willing to come to the table, and it looked like the deal was done.
But at the same time, NSW Greens Senator Lee Rhiannon was dropping a leaflet to voters, saying the Gonski 2.0 reforms were terrible, and that no one should vote for them because they weren't the "full Gonski" deal that was struck under the Gillard government.
Rhiannon said she had to vote against the government's changes, because that's what NSW Greens members wanted to do, and she's bound to the rank and file of the party, not the parliamentary leadership.
This created a bit of an awkward situation in the Greens, and while its members were arguing amongst themselves, the government struck a deal with the crossbenchers and got the reforms through anyway.
This was pretty embarrassing for the Greens, and left leader Richard Di Natale and education spokesperson Sarah Hanson-Young looking like this.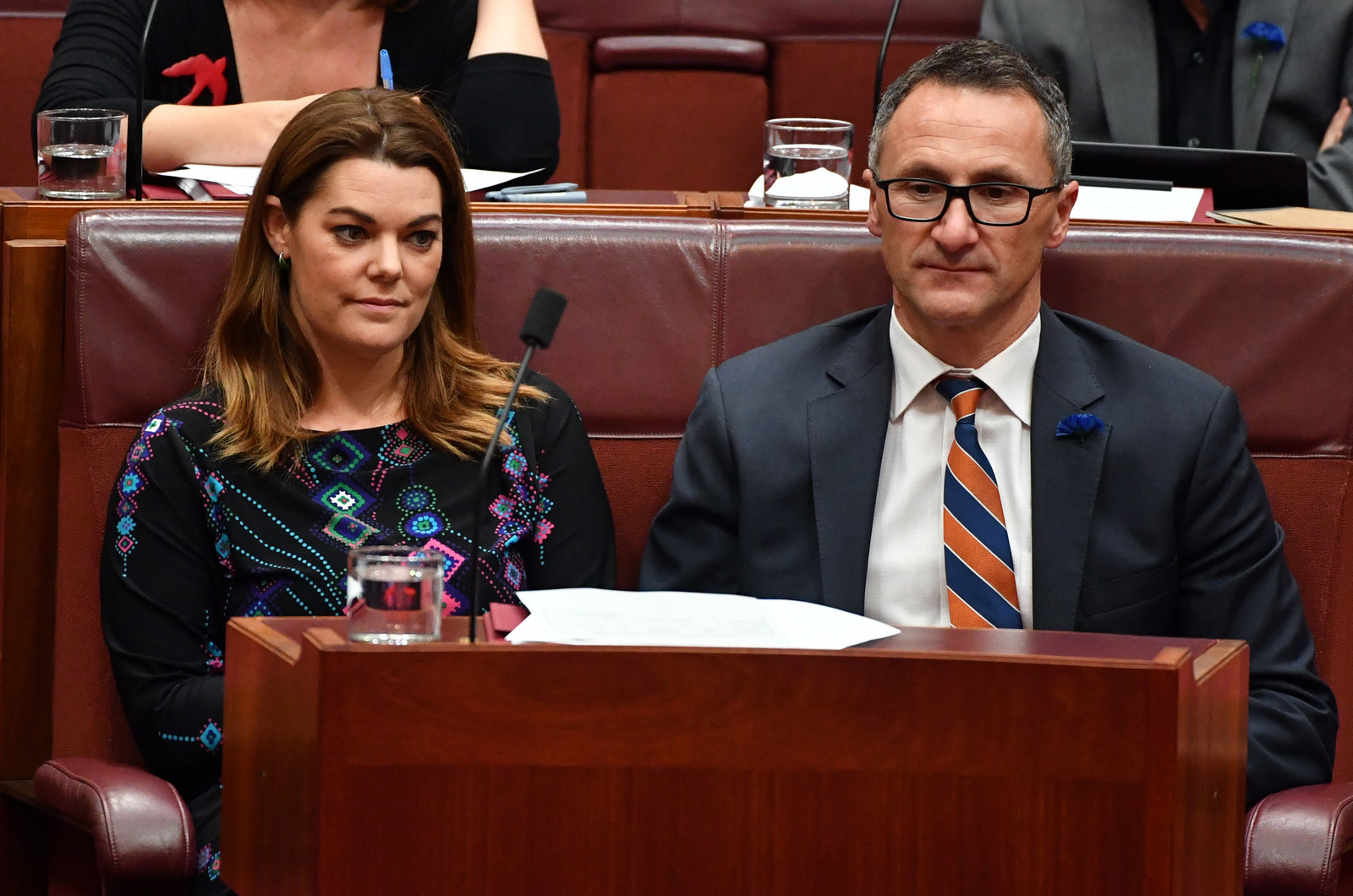 So a few days later, all of Rhiannon's parliamentary colleagues signed a letter of complaint, accusing her of undermining their negotiations.
Greens MPs met a few days later and considered kicking Rhiannon out of the parliamentary party, but instead they decided to just exclude her from making important decisions until the NSW branch of the Greens make some reforms. I could explain those reforms here, but trust me, you don't care.
This is all seen as being part of a wider split within the Greens, because some members (mostly from NSW), think the party isn't left wing enough, while others want the party to act more like ~the grown-up in the room~, and to strike deals with the major parties to actually get shit done.
Another fun fact: Some members of the NSW Greens party are called "watermelons", because while they're green on the outside, they're red (communist) on the inside. I just think that's a really good sledge.
Which brings us to today, and Lee Rhiannon giving a rare TV interview on the ABC.
Rhiannon didn't back down from her previous actions, saying that to vote for the government's version of Gonski would have meant breaking an election promise. She also said the moves against her were an attempt to damage her reputation.

The senator then turned her sights on the Greens Party's parliamentary leadership, saying she's disappointed with Richard Di Natale's leadership.
"You need to lead for everybody and it is not just me, the Greens New South Wales members no longer have a voice," she said on Insiders.

Rhiannon said her stance is reflective of global political changes, with a renewed focus on equality and the failures of capitalism. She also wants the party to focus more on foreign policy issues, such as boycotting Israel.
Then she dropped the big S word. That's right: SOCIALISM.
"It is not just the left, it is many people who see capitalism isn't working and things need to change," Rhiannon said. "Well, there is nothing wrong with those conversations."

Rhiannon cited the recent success of left wing UK opposition leader Jeremy Corbyn.
"A year ago, he was discredited, regarded as a fool, he couldn't win. Then the vote for Labour [was the] biggest swing ever and it was on a platform [of] re-nationalising the railways, free higher education, and it was about workplace democracy and he is talking about socialism.
"I never thought I would see it happen."
So, to sum up this week, Tony Abbott and Malcolm Turnbull can't stop taking shots at each other in the media, the Greens Party is deadset blowing up, and Bill Shorten is just sitting in the middle with a big bag of popcorn.