Australia's sex workers are up in arms after Visa and MasterCard instituted a global ban on classifieds websites Backpage and Cracker, which are frequently used to advertise adult services.

The cut-off was instituted at the request of U.S. authorities, who said the site was used for sex trafficking.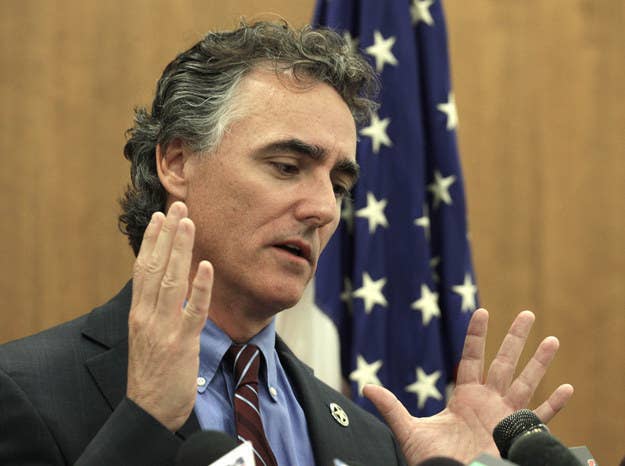 The request came from Cook County Sheriff Tom Dart, who described the credit card companies as "incredible corporate citizens" for quickly responding to his letter.
Sheriff Dart has been waging a years-long battle against prostitution and sex trafficking in the Chicago area. Dart's letters to the two companies said there are 20,000 ads posted on Backpage in the Chicago area each month and that each of the 800 times Dart's office has responded to them, "we have made an arrest for crimes ranging from prostitution to child trafficking."
The two companies responded quickly, instituting a freeze on processing payments on the sites.
Visa said in a statement that it had "taken action to stop processing payments for backpage.com," and that the company's rules "prohibit our network from being used for illegal activity. Visa has a long history of working with law enforcement to safeguard the integrity of the payment system."
The problem, local sex worker advocates say, is that the global ban has affected workers in Australia where the trade is not criminalised, and this may force many female, male and transgender sex workers onto the streets.
Local sex workers have now started the hashtag #ChargeIsDeclined in an attempt to spread the message.
Kathryn Adams is Principal Solicitor at KVA and Associates Lawyers and an advocate for sex workers. She says the shut-out may force sex workers on to the streets.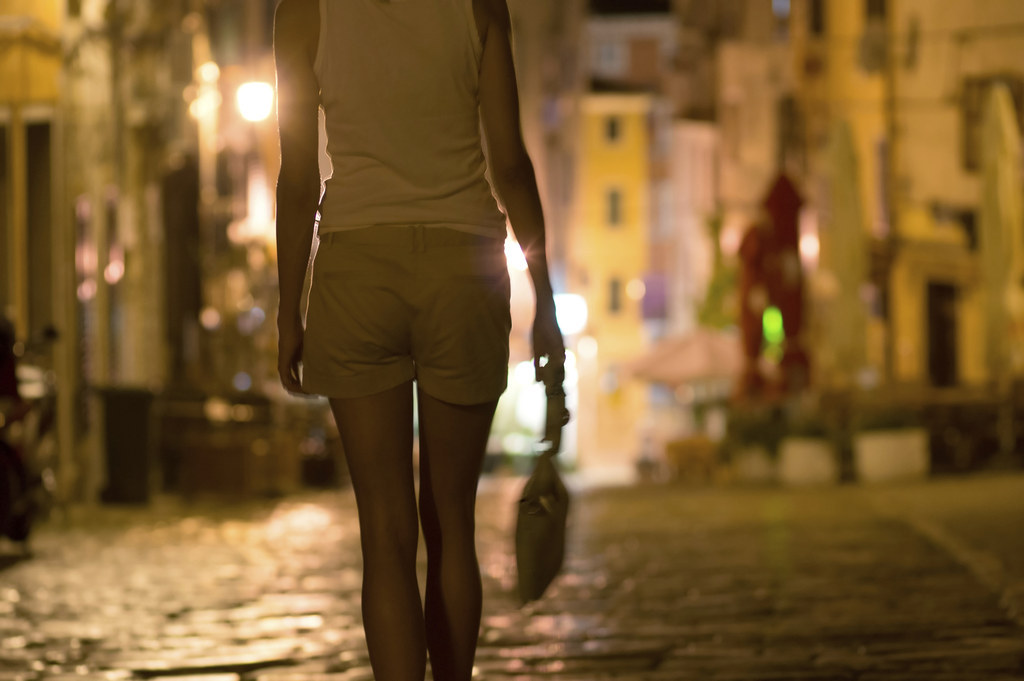 "Sex workers are extremely worried. You can see globally on social media, Twitter is just melting down over it," she told BuzzFeed News.
Adams says sites like Backpage and Cracker give sex workers access to low-cost advertising that would not otherwise be available to them, and this helps to keep them safe.
"No one can advertise sex services using MasterCard or Visa on Backpage or Cracker, which means sex workers may need to do the extreme and begin working on the streets, which is obviously the more unsafe side of selling sex."
She's also critical of the two major credit card companies for instituting a global ban without considering the laws and regulations in different countries.
"They haven't actually thought about the different nuances in global sex work. Depending on the state regulations in Australia you can actually work privately or independently. [This decision] just means that there are workers who are offering sex services legally in Australia who are now getting cut off."
Hayley, 25, works from her own home. Her rent is due on Friday, but thanks to the ban she will struggle to pay it.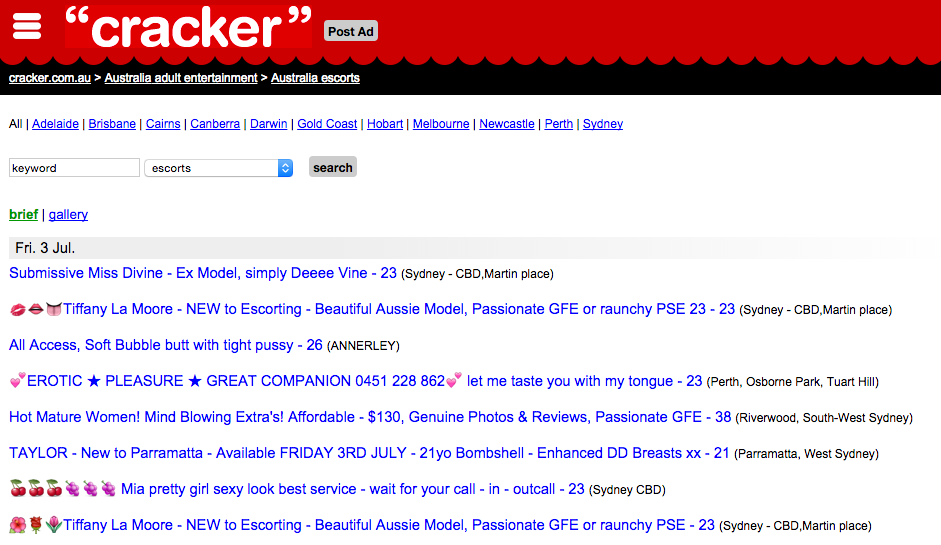 She has spent this week trying to figure out another way to advertise and says she'll now need to see more clients than she otherwise would have.
"I woke up one morning and found that I couldn't put my ads up. I've spent two days trying to figure out how to use Bitcoin. I've been to the bank twice. I've only just figured out how to use it."
For Hayley and many other sex workers, Backpage and Cracker are the best options to advertise their services. Once paid for, ads are posted on the site almost immediately, and workers can post intimate photos that aren't allowed on other sites.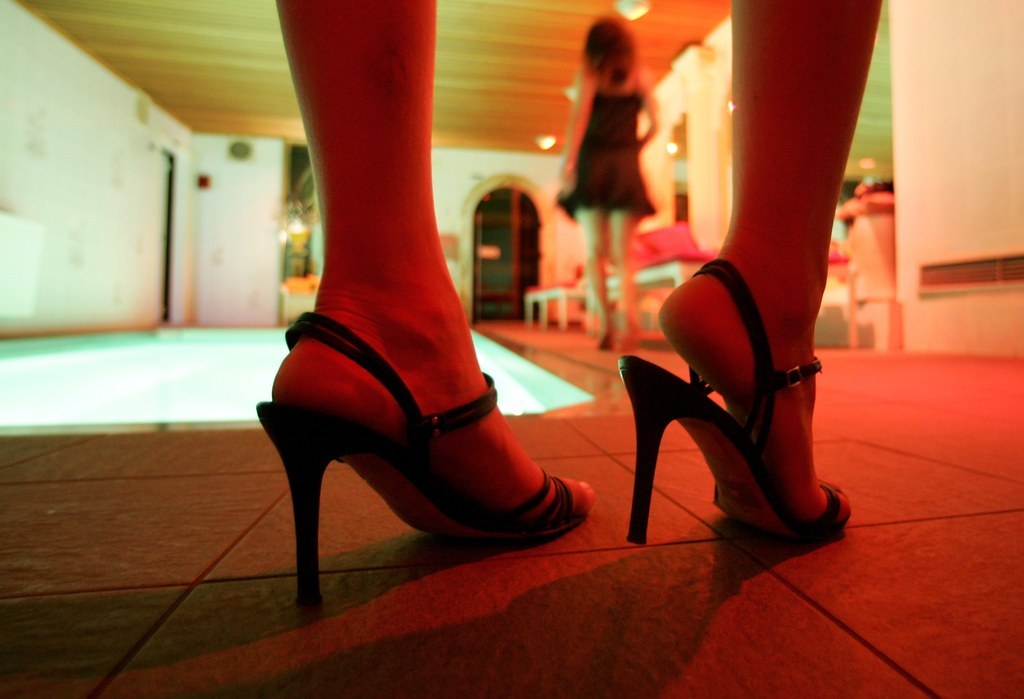 "There are lots of rules and regulations that are more or less arbitrarily applied when it comes to sex work advertising," another sex worker, Ms Fleur, tells BuzzFeed News. "But as a general rule, Backpage allowed sex workers a lot of control and freedom about the kinds of advertising that we want to write."
Ms Fleur travels from city to city around Australia, often working from hotel rooms. She says she complies with all state rules and regulations, but is frustrated that Visa and MasterCard have placed a blanket ban on her work.
"I'm working legally. I pay may taxes. I'm running a legitimate business. And suddenly a credit card company comes in and says that their policy is of more importance than Australian law."
For sex workers, it's not just the financial impact, but the emotional toll that comes with being treated differently than other legitimate businesses.
"It's very frustrating," Ms Fleur says. "For me, the biggest problem in the sex industry is not anything to with the job or our clients, it's the stigma and discrimination that sex workers face on a day-to-day level."
Janelle Fawkes, the CEO of Australia's peak sex worker association the Scarlet Alliance is a sex worker herself, and says the new rules are discriminatory.
"This is just another case where unacceptable discrimination at a structural level is going to disadvantage people who are already not making high incomes."
In Queensland, the ACT and Tasmania, sex work is covered under anti-discrimination legislation, which may open the way for class action lawsuits against the credit card companies.
In the meantime, sex workers will have to find another way to offer their services.
"Right now people are very fearful about what the future holds when it comes to being able to advertise effectively," Fawkes says. "Sex workers are good at identifying other opportunities. We've had to as increasing numbers of barriers are put in our way even as we work in a legitimate occupation. People will identify alternatives."
Visa and MasterCard Australia did not respond to BuzzFeed News' requests for comment.