Andrew Chan, one of two Australian drug smugglers executed in Indonesia, has been laid to rest in Sydney today.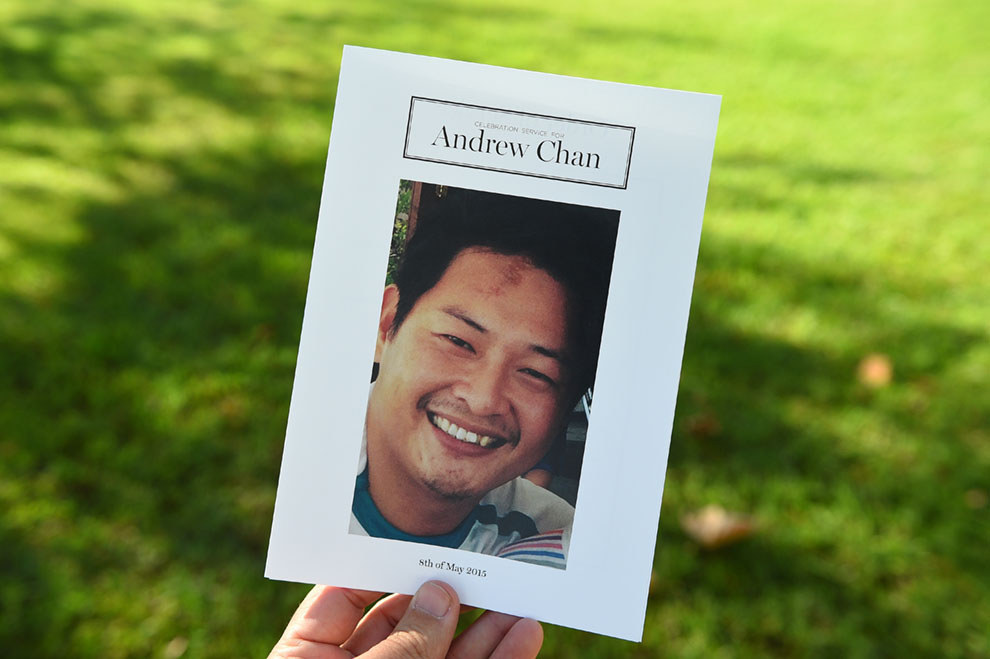 Chan, who was found guilty of smuggling 8.3kg of heroin into Indonesia in 2005, was executed by firing squad alongside fellow drug syndicate ringleader Myuran Sukumaran last week.
This morning, a public funeral was held at the Hillsong Church in Baulkham Hills in Sydney's northwest.
Chan's wife Febyanti (Feby) Herewila-Chan, who married her partner just 48 hours before he was put to death, today read the letter she sent Chan in his final hours, while a childhood friend of Chan's read a eulogy he had written for himself.
More than 1000 people packed the church to farewell Chan in what was called a "Celebration Service."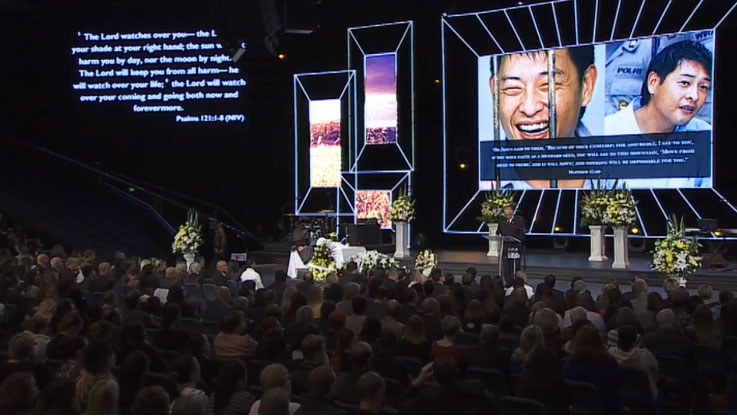 Major David Soper, who officiated Chan's wedding, opened the service, describing Chan's marriage as "a great gift."
Other speakers included close friends of Chan's who had provided religious guidance during Chan's decade in an Indonesian prison. Universally, they all paid tribute to Chan's cheeky nature.
"I just remembered how much Andrew made me laugh," Pastor Soper told the crowd. "How much we laughed and laughed."
Andrew's brother Michael paid tribute to his brother.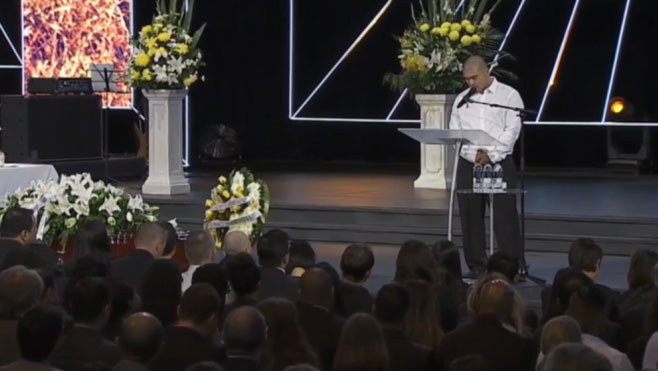 "You have done me and the family proud because you have done so much in such a short space of time," Michael Chan told the packed service.
"Andrew was a great son, brother and uncle. People make mistakes in life and deserve a second chance," Michael said.
"Andrew taught me people deserve second chances in life, people make mistakes in life and deserve a second chance."
"He showed us all even when we have such a heavy burden over our head we can still change into a better human being."
"Andrew used to say he looked up to me. Now little brother, I look up to you."
A friend of Chan's then read out the eulogy that Andrew wrote for himself. It opened with a joke.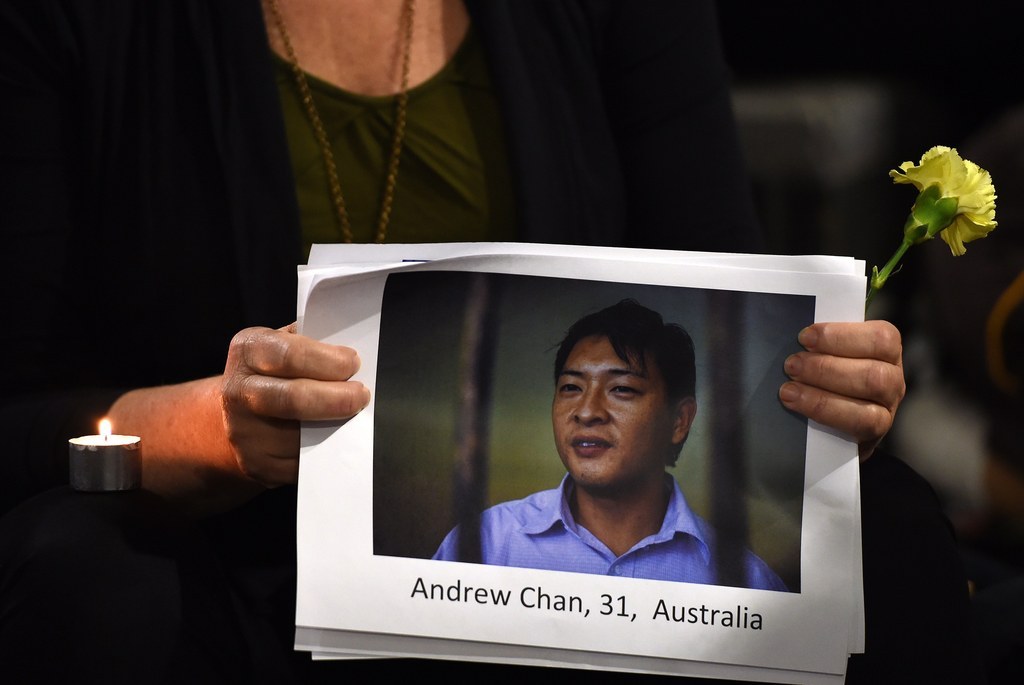 "Thank you all for gathering on this day to witness something great," Chan wrote.
"Today I will arise from my coffin. In Jesus' name, arise! Or… I'm just enjoying it too much in heaven," he said to laughs from the crowd.
"We learn that we don't need to be old to die, nor do we need to have something wrong with us, but we learn that when it's time to go, home has the kitchen sink ready," Chan said.
"My last moments here on Earth I sang out Hallelujah. I ran a good race. I fought the good fight and came out a winner, in God's eyes. I leave now in peace and love. I pray that you will all now how I treasure you."
A choir then took to the stage to sing Amazing Grace, the same song Chan and Sukumaran sang with their fellow prisoners as they faced the firing squad.
Chan's wife Feby then took to the stage to read a letter she had written to her husband in his final hours.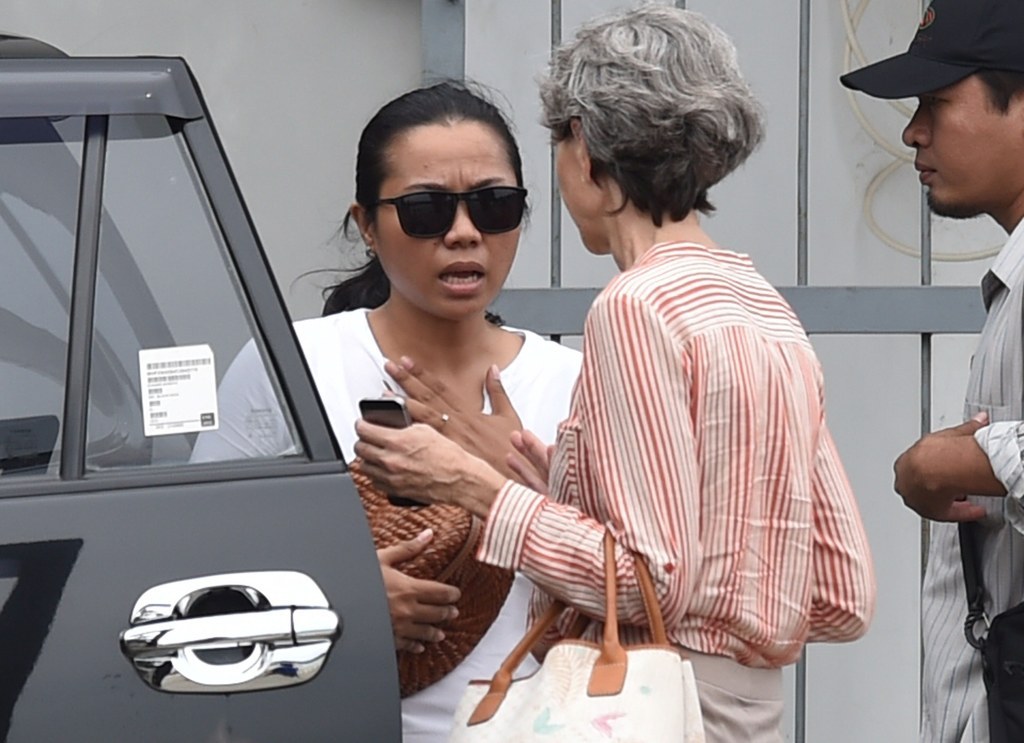 "I was telling my friends that I did more preparations for his funeral than for our own wedding," she joked, before describing Andrew's final hours.
"No one could ever face death like him. When he spent his last day, he prayed, 'Father forgive them [his executioners] for they know not what they do.'"
"Andrew refused to cover his eyes. He even wore his glasses that night. Because he wanted to look them in the eyes. He ended well."
Feby then read out the final letter she sent to her husband.
"I love you so much. Dont worry about me, I'll be fine. I still believe in miracles. Darling, when you see jesus, you can tell Jesus if you want to come back. But if you're happy there, stay. Don't worry about me."
Darling, keep singing when they take you. Angels are with you. Jesus is close to you now more than ever. Rejoice. I love you. I'll see you soon. Death could not separate us."