Pumpkin Ice Cream Pie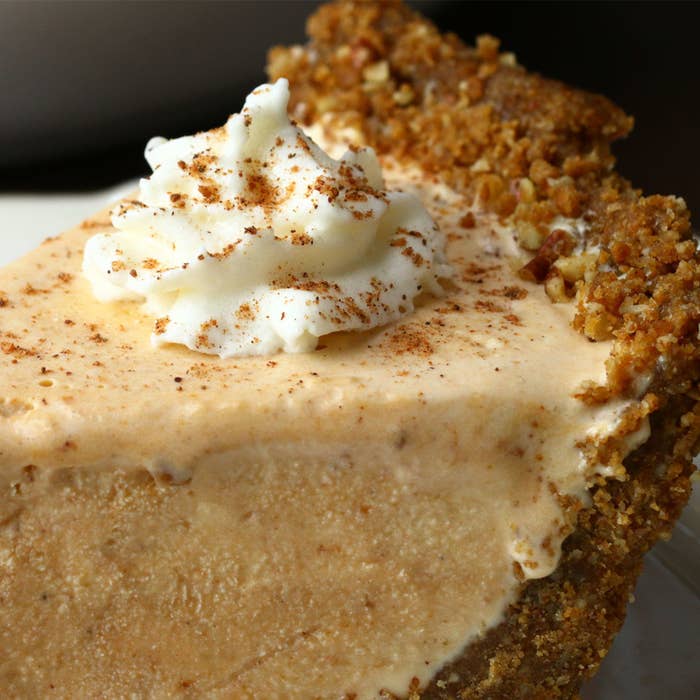 INGREDIENTS
Servings: 8-12, One 9-inch pie
Crust

40 gingersnap cookies (about 2 ⅔ cup) 
2 cups (500ml) pecans
8 tbsp butter, melted
Filling
¾ cup (175 ml) pumpkin puree (not pie filling)
1 can (354 ml) of Carnation® Evaporated Milk
1 can (300 ml) of Eagle Brand® Sweetened Condensed Milk
¾ cup (175 ml) brown sugar
½ tsp (2 ml) vanilla extract
½ tsp (2 ml) ground cinnamon

½ tsp (2 ml) ground ginger

¼ tsp (1 ml) ground cloves

¼ tsp (1 ml) freshly ground nutmeg
1 Cup (250 ml) heavy cream
PREPARATION
1. Combine gingersnaps and pecans in food processor and pulse into a crumble. 

2. Once desired texture is reached, add melted butter and pulse until ingredients are mixed.

3. Pour crust into pie dish and mold, working the crust up the sides of the pan. Set aside. 

4. In a large bowl, combine pumpkin puree, evaporated milk, sweetened condensed milk, brown sugar, vanilla, cinnamon, ginger, cloves, and nutmeg. Set aside.

5. In a separate bowl, whip the heavy cream until stiff peaks form.
6. Fold whipped cream into the pumpkin mixture. 

7. Pour ice cream mixture into crust. (Extra can be poured in other container and frozen for just ice cream.)

8. Place pie in freezer overnight. 

9. Remove from freezer 5-10 minutes before you serve.

10. Enjoy!
©/® Smucker Foods of Canada Corp. or its affiliates: Carnation is a trademark of Société des Products Nestlé S.A., used under license.