Chocolate Banana Oat Bars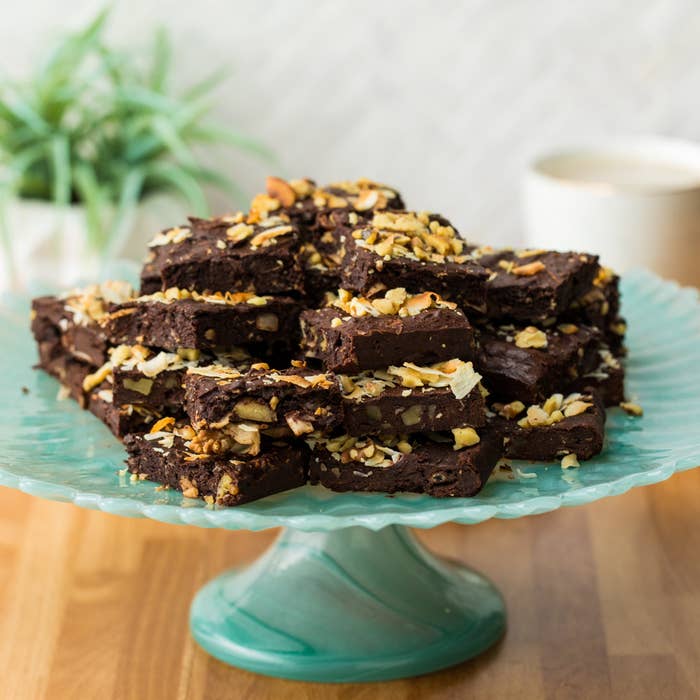 RECIPE
INGREDIENTS
1 ripe banana
½ cup (118 mL) melted butter
1 teaspoon (5 mL) vanilla
2 eggs
½ cup (118 mL) Stevia in the Raw™
½ cup (118 mL) cocoa powder
⅓ cup (78 mL) all purpose flour
¼ teaspoon (4 mL) salt
¼ cup (50ml) + 1 tablespoon (10 ml) of oats
¼ cup (50 mL) + 1 tablespoon (10 ml) unsweetened coconut flakes
¼ cup (50 mL) + 1 tablespoon (10 ml) chopped walnuts
¼ cup (50 mL) dark chocolate, chopped
PREPARATION
Preheat oven to 325°F/165°C
1. Line an 8x8-inch pan with parchment, leaving a small overhang.
2. Mash banana and add to sweetener, cocoa powder, melted butter, vanilla, and eggs. Blend well and add flour, salt, then oats, ¼ cup coconut, ¼ cup walnuts, and chopped chocolate.
3. Scrape batter into pan and bake for 20 minutes, remove and add remaining walnuts and coconut flakes, then continue baking an additional 5–10 minutes or until coconut is golden brown.
4. Cool completely, remove from pan using paper, and cut into 12 squares.
© Smucker Foods of Canada Corp.