This post has not been vetted or endorsed by BuzzFeed's editorial staff. BuzzFeed Community is a place where anyone can create a post or quiz.
Try making your own!
8 Best Moments From Greens Leader Richard Di Natale's Q&A
The freshly minted Greens leader responded to a barrage of questions via Facebook on Friday, with insight, wit, and just a hint of trolling.
1.
Ruthless mocking of Turnbull's fraudband

2.
A one-step plan to stop the votes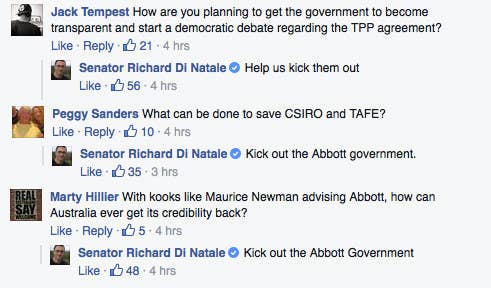 3.
Bastards beware

4.
Time for some "grass"-roots activism

5.
Vaccination? Right on, mate

6.
Light trolling

7.
His allium-shunning ways

8.
His big "ideas"