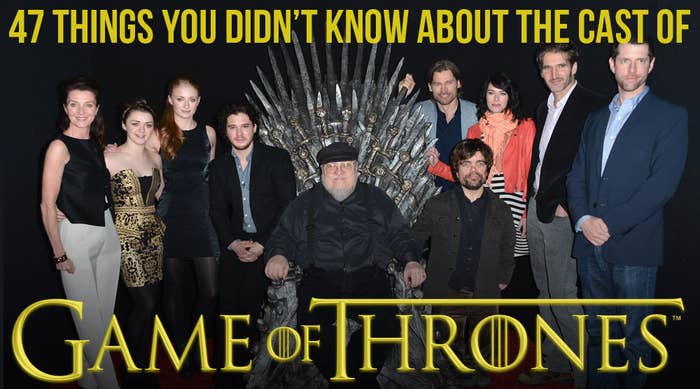 1. Not having read the books because they're too big, Charles Dance (Tywin Lannister) was told his character was going to die by a fan.
2. Dance also appeared in the Ali G movie, Ali G Indahouse, in which he wore a red PVC skirt and a leopard print top. Lovely.
3. Iwan Rheon (Ramsay Snow) made it down to the last two when auditioning for the role of Jon Snow, but lost out to Kit Harington.
4. But Rheon really struggles with some of the scenes he has to film because of how cruel his character is.
5. Emilia Clarke and Michelle Fairley didn't play Daenerys Targaryen and Catelyn Stark in the pilot.
6. While on the subject of the mother of dragons, Clarke was once covered in so much fake blood that she got glued to a toilet seat. As you do.
7. Rory McCann (The Hound) broke an arm, a wrist, and both ankles and fractured his skull in a rock-climbing accident in 1990.
8. And back when The Hound was still hanging out with the Lannisters, punk legend Wilko Johnson (Ilyn Payne) would give McCann guitar-playing advice between takes.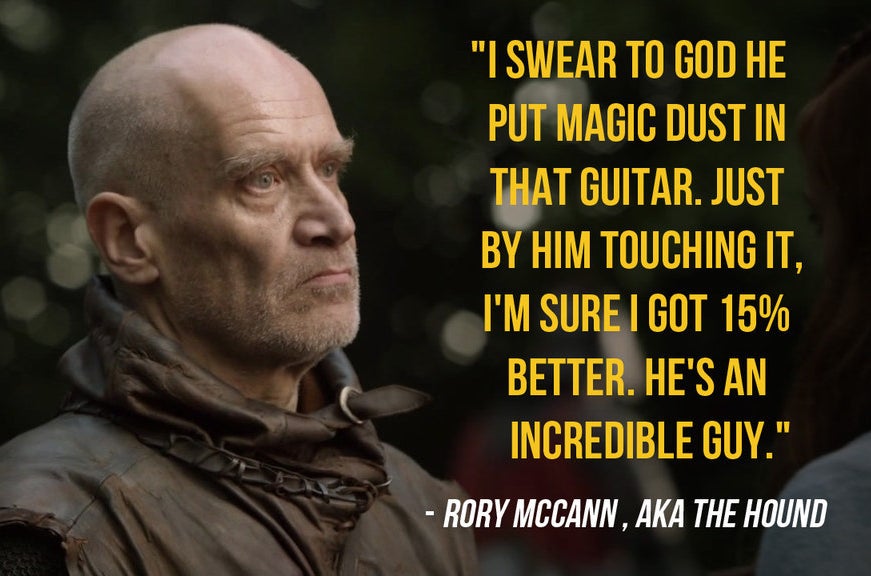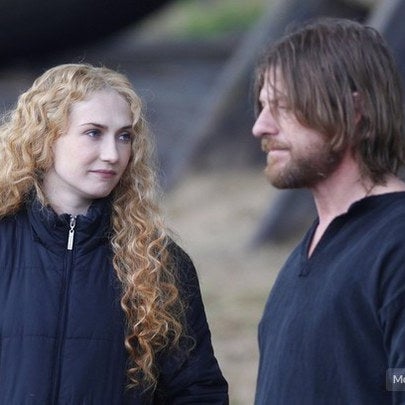 17. Ciarán Hinds, who plays the King-Beyond-the-Wall, Mance Rayder, voices the character of Pabbie in Frozen.
18. However his first acting role was as half of a pantomime horse. He claims he can't remember which end he played.
19. He also plays Aberforth Dumbledore in Harry Potter and the Deathly Hallows: Part II. That's quite a resumé, Mr Hinds.
20. But when it comes to appearing in massive franchises, no one beats Grand Maester Pycelle – real name Julian Glover. As well as GoT, Glover has credits in Harry Potter, Indiana Jones, James Bond, and Star Wars movies, as well as multiple episodes of Doctor Who. Showoff.
21. After his character was beheaded, Sean Bean and members of the cast and crew played football with Ned Stark's head.
22. Like his character, Tywin, Charles Dance was married to a woman named Joanna with whom he had three children.
23. Isaac Hempstead Wright (Bran Stark) intends to go to university once Game of Thrones is over, perhaps to study physics.
24. Olenna Tyrell, aka Dame Diana Rigg, played a Bond girl in On Her Majesty's Secret Service.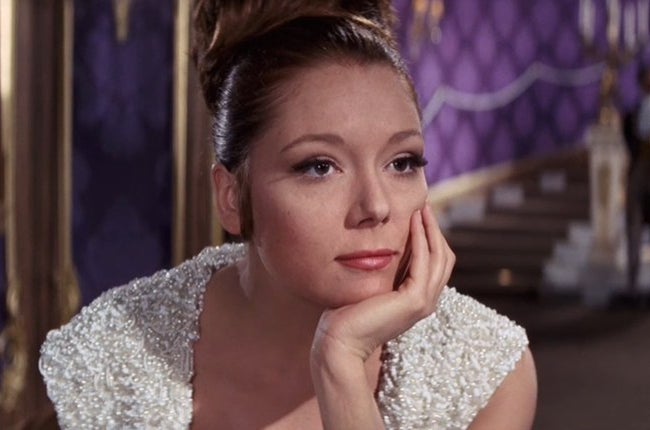 25. Kit Harington (Jon Snow) didn't know that his real name was Christopher until he was 11 years old. Talk about knowing nothing.
26. While his on- and off-screen lover, Rose Leslie (Ygritte), is a descendant of King Charles II and grew up in Lickleyhead Castle (lol), Aberdeen, which dates back to the 16th century.
27. Liam Cunningham (Ser Davos Seaworth) is very good friends with the notoriously well-endowed Hollywood superstar Michael Fassbender.
28. And unlike his character, Cunningham has 10 fully intact fingers and thumbs.
29. Grey Worm – real name Jacob Anderson – is a musician who works under the name Raleigh Ritchie. His much anticipated debut album will be released this summer.
30. Many of the younger cast members, including Bran, Myrcella, Tommen, and Shireen, are good friends in real life. Well, on Twitter, at least...
31. Nathalie Emmanuel (Missandei) played young Nala in the original London cast of the The Lion King.
32. Before famously going on to play Sasha Valentine, a teen heroin addict, in Channel 4 soap opera Hollyoaks.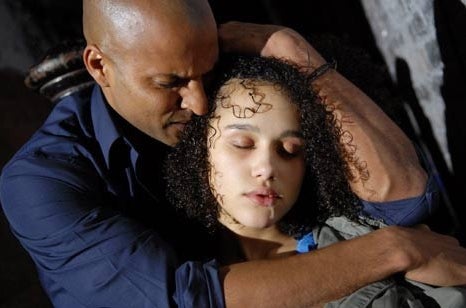 33. Stephen Dillane, who plays Stannis, is the father of Frank Dillane – the actor who plays young Tom Riddle in Harry Potter and the Half-Blood Prince and Harry Potter and the Deathly Hallows.
34. Kristian Nairn, who plays the less-than-charismatic Hodor on the show, is a DJ in real life. He travels the world performing at club nights called Rave of Thrones.
35. Though enemies on the show, Peter Dinklage (Tyrion) and Lena Headey (Cersei) are great friends in real life. It was, in fact, Dinklage who suggested Headey for the role of Cersei.
36. Dominic West – best known as Jimmy McNulty from HBO's The Wire – claims to have been offered a role in Season 3, but says he decided turned it down. A decision he has come to regret. Although he hasn't said which role, many have speculated that it may have been Mance Rayder.
37. The character of Jojen Reed is meant to be 13 years old, but Thomas Brodie-Sangster was 22 when he was cast.
38. Brodie-Sangster is also the second cousin once removed of Hugh Grant.
39. Neither Thomas Brodie-Sangster (Jojen) or Ian McElhinney (Ser Barristan Selmy) knew that their characters were going to die until they read it in the script, as both knew their characters were still alive in George R.R. Martin's books.
40. Both Lena Headey (Cersei) and Emilia Clarke (Daenerys) have played the character of Sarah Connor, Headey in Terminator: The Sarah Connor Chronicles and Clarke more recently in Terminator Genisys.