We Asked People For Their Memories Of The London 2012 Olympics
On 27 July 2012, Bradley Wiggins rang the bell that signalled the start of the opening ceremony of the London Olympics. Three years later, we asked BuzzFeed UK readers for their memories of the games.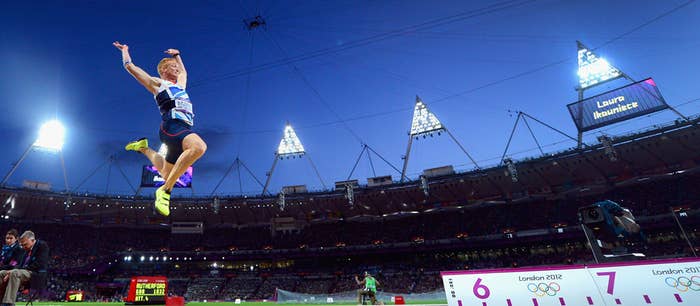 "From the second the kid started singing 'Jerusalem', I was a goner! I loved every bit of it, and cried out of pride throughout the whole thing. It gave me a spark of hope that maybe, just maybe, we might just have a good games!"
Submitted by Joolz
"Just feeling so proud to be British – which I think can be difficult in this country."
Submitted by Jo
"It was SO GOOD! J.K. Rowling reading, massive Voldemort puppet, the Queen jumping out of a helicopter with James Bond, Shakespeare, and Ken Branagh! It was just the epitome of British creative eccentricity!"
Submitted by Anonymous
"The opening ceremony was fantastic, the torch itself was simply stunning. It was a very British ceremony which was understated in a way that knew it couldn't compete with Beijing – however, there was undeniably a feelgood factor provided."
Submitted by Meg
"I was round my boyfriend's house and we had a get-together. There was wine and family and friends. I remember getting emotional when the last Olympic ring was 'crafted' and rose to join the others. But the most emotional moment was Team GB entering the stadium to 'Heroes'. I felt this swell of patriotic happiness. What an entrance!"
Submitted by Alice
"The giant Voldemort was legitimately the best thing I have ever witnessed in my whole life. Also, Rowan Atkinson."
Submitted by Anonymous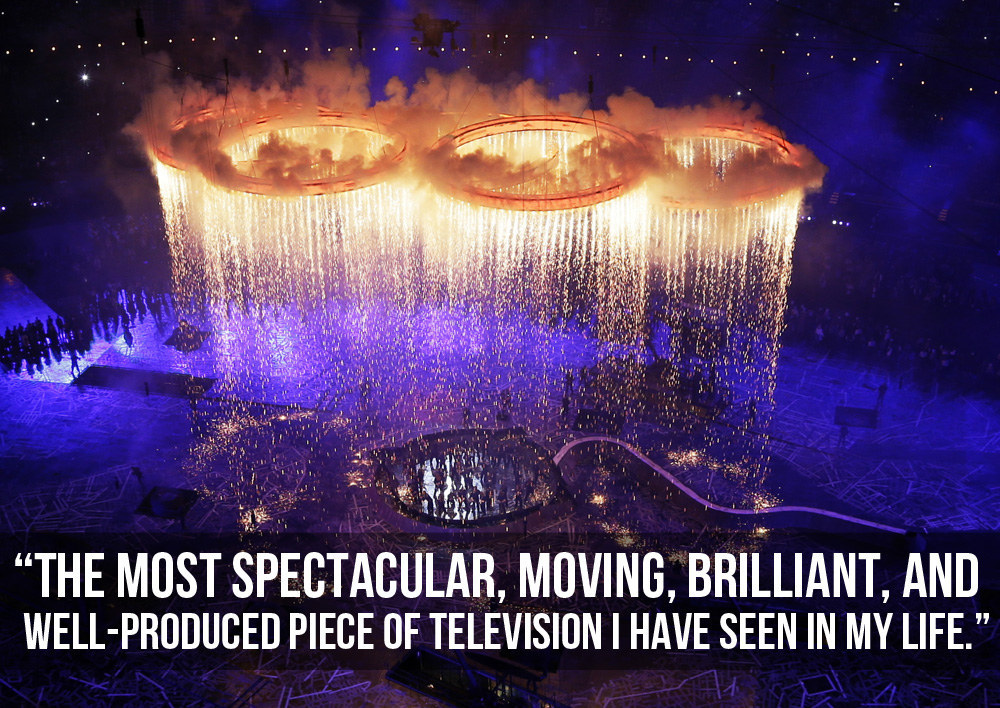 "I will say, without exaggerating, that it was the most spectacular, moving, brilliant, and well-produced piece of television I have seen in my life. The fact also that one opening ceremony changed the mindset of the entire nation, from This is going to be so fucking shit to This is the greatest, I'm so proud to be British, should not be forgotten."
Submitted by Scott
"Being really blown away by the opening music: I still regularly listen to the industrial revolution/drumming music. Thought the next generation being given torches and lighting the cauldron was so powerful."
Submitted by Tom
"Goosebumps, crying, laughing, tweeting, crying again. DAVID BECKHAM ON A SPEEDBOAT. The young people lighting the torch still brings a lump to my throat now."
Submitted by Kate
"When the bhangra started and all us British Asians were like, woop wooop 👳💃🙌. #ProudToBeBritishAsian"
Submitted by Rehana
"I was stunned and shocked at how utterly fantastic and emotional and involving and completely fucking wonderful it was."
Submitted by Hoskas
"I remember thinking, This could be it. The whole world is watching, and we're going to make a balls of it. And then that opening ceremony? Amazing. We nailed it and then some."
Submitted by Mathew
"I think London represented itself amazingly well and you can still see the legacy of it today. I was overwhelmed to see my capital city looking so beautiful!"
Submitted by Joolz
"I think it became much more of a community. Everyone was consumed with the electric atmosphere of the Olympics. I was lucky enough to live near the route of the cycling race and got to see them cycle by. There were more people out in my town than ever before, all gathered together, and we were all sharing in this once-in-a-lifetime experience of having the Olympics in your own home town."
Submitted by Francesca
"London became a really friendly place to be – everyone was smiling, chatting to people they don't really know, speculating about the games. It was just a great atmosphere, and the 'disruption factor' was not as high as anticipated, which was a bonus!"
Submitted by Jo
"The volunteers just made the games. I think people's perception of London and Britain was changed forever."
Submitted by Anonymous
"I just remember being on the tube and seeing strangers actually talking to each other for the first time ever. Discussing the big events of that day, what they were looking forward to etc. Everyone was just so happy and engaged with each other. The Games Makers were brilliant too – they really showed how welcoming us Brits are."
Submitted by Meg
"Everyone was so close and happy. It was a unifying experience for the whole of London and the whole of GB. Everyone had something in common, and it meant that people would stop to chat about it. People cared about something, and it created an atmosphere of shared enjoyment of life."
Submitted by Lucy
"Everybody loved each other for a month. Amazing. No one was a dick."
Submitted by Mathew
"I was a Games Maker based with the International Olympic Committee at their hotel assisting with the logistics of medals and certificates for the officials. On the second-to-last day of the games I was stopped by three separate people who all said the same thing: 'Thank you for making us proud.'"
Submitted by Lewis
"I think Londoners, who are notoriously unfriendly, really stepped up to the mark. I remember seeing members of the Russian team/entourage on the tube, and everyone wanted to speak to them and talk about the Olympics and brag (which isn't something we do well) about our athletes. It was like we all had one amazing common interest, so it didn't matter where you were from or who you were supporting, you were all in it together."
Submitted by Daisy
"The whole country lit up."
Submitted by Anonymous
"I felt like the whole city had a spring in its step. Everyone was happy, obsessed with results, desperate to get tickets, and the weather was good. A few months before the Olympics, my Canadian boss told me there was no experience on earth like living in an Olympic city – he was from Calgary. At the time I thought it was typical North American over-enthusiasm – but he was right. I feel sorry for anyone who wasn't in London for that summer."
Submitted by Eilidh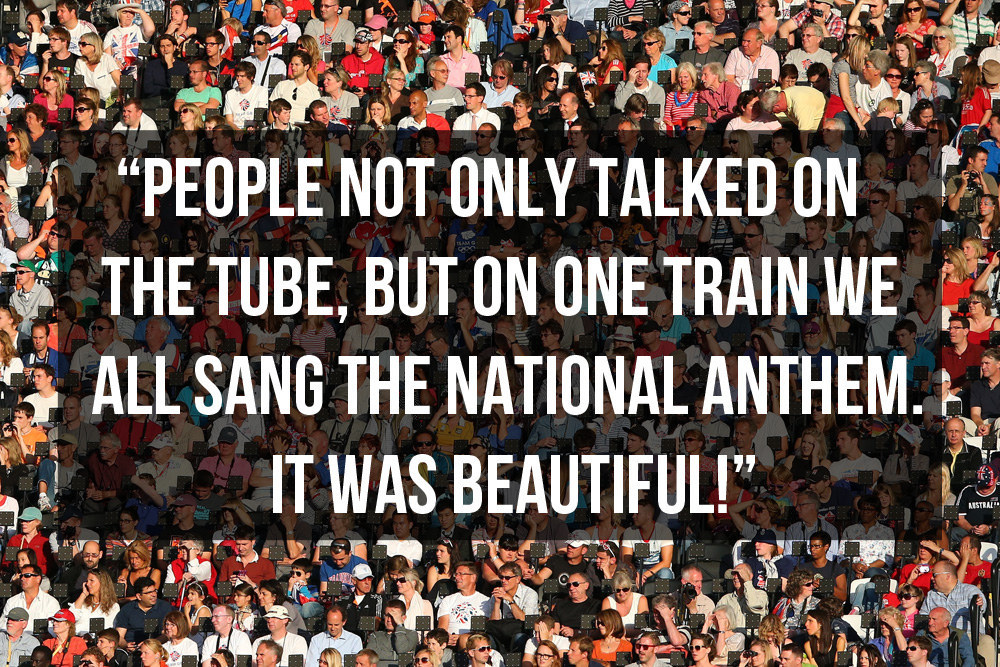 "I've been to London before but the atmosphere during the games was one that can never be duplicated. I was impressed that the city was able to handle the logistics. The volunteers were so friendly and helpful. I never had any issues travelling on the tube given the influx of people who had taken over the city."
Submitted by Jess
"Seeing the athletes out and about in London never grew old. London was nervous beforehand but once we realised we'd actually put on a great games, the atmosphere was just of constant celebration. Unique."
Submitted by Sarah
"People, not only talked on the tube, but on one train we all sang the national anthem. It was beautiful."
Submitted by OMT
"I would love to visit London now and had no desire to do it before."
Submitted by Amanda
"London's made to entertain. The Olympics brought out a side to London that no one outside of the city sees..."
Submitted by Kayleigh
"Everyone was so patriotic. I don't usually identify as British as I'm Welsh but for the first time I felt truly proud to be British!"
Submitted by Katie
"In particular, I remember the Games Makers, who deserve every bit of praise that they received during the games and have received since."
Submitted by Mark
"I feel as a nation we are very self-deprecating and go into most competitions or events thinking something along the lines of, Oh, here we bloody go, how are we going to fuck up this time, but that disappeared during the games. Everyone just seemed really optimistic and cheerful and just proud to be British."
Submitted by Martha
"I think people realised we can do something at a world-class level, and we're not always shit."
Submitted by Chloe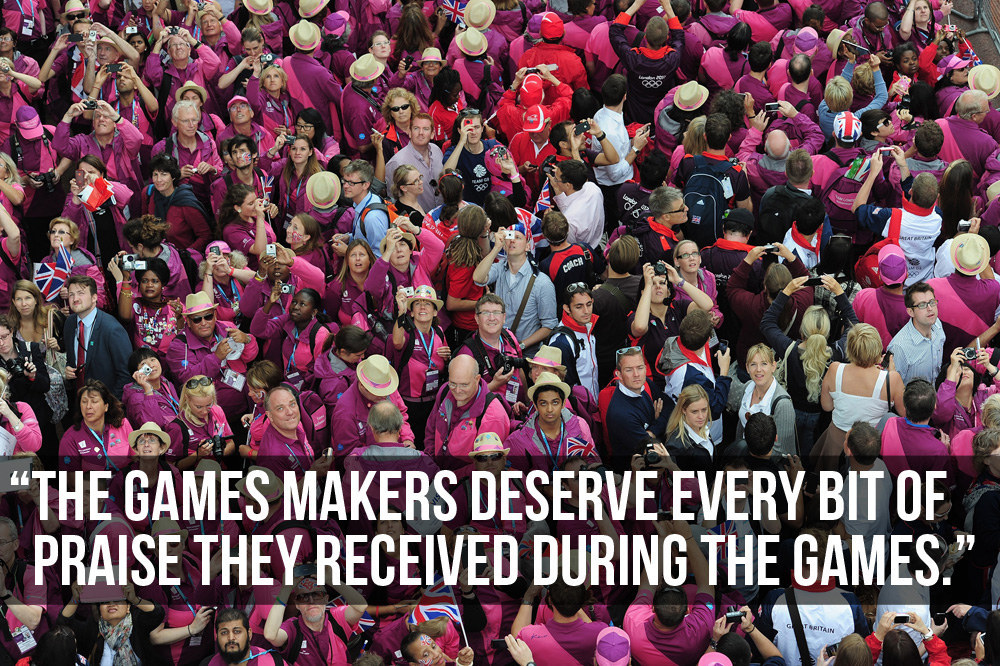 "London was a fantastic place to be during the games. Travelling on the tube you would just strike up a conversation with the person standing next to you. Conversations about the excitement of the opening ceremony, or about how Jess Ennis would fare in the heptathlon would suddenly strike up among people who wouldn't usually share eye contact. It was a lovely time to be around the city."
Submitted by Angus
"There was such a buzz in the air. I'm not sure it could ever be replicated."
Submitted by Michelle
"Rather than Londoners grumbling about tourists, it felt like the city was saying: 'Come and see us, come and be here.'"
Submitted by Nina
"As a northerner, London always felt like a big, scary place. Coming down for Games Maker orientation, training, uniform collection, and, *finally*, the games showed me that London could be a super-friendly place. I remember the trek back to my digs after a long shift – usually people are so knackered and won't dare to make eye contact, but in my Games Maker uniform I had wee kids, grown adults, and even TFL staff chatting to me about how my shift went and isn't it great that such-and-such won a medal. I had more conversations on the tube in one Olympic day than I have had in a year living in London!"
Submitted by Abi
"London was the most exciting, joyous, amazing place to be during those weeks."
Submitted by Kate
"The buzz around London was huge. I can honestly say I've never seen it so happy. I think the Games Makers helped, they were brilliant; they should have been permanently employed afterwards. Even the weather seemed to perk up for the games."
Submitted by Rob

"Personally it was the opening ceremony. Due to my low expectations I was blown away by it. The sort of memorial section to Freddie Mercury really got me. I've always adored him and it was done so well."
Submitted by Francesca
"Probably Andy Murray winning gold! I watched it on a big screen surrounded by around 1,000 people in the Olympic Park, and when he won the whole area erupted, with people cheering and smiling all around."
Submitted by Anonymous
"I was watching a men's hockey match, and we knew that the final of the men's 100 metre sprint was coming up. The whole audience knew it was coming, and we could hear the build-up from the stadium. As the whistle went for half-time and the two teams started to walk towards the changing rooms, the scoreboard switched to the 100 metre final. The audience went mad, but it wasn't just them – the two hockey teams stopped, and for that moment became part of the audience. We watched the race, we cheered and clapped, and the athletes on the pitch joined in, before heading in for half-time. It was so fantastic to see the athletes become fans just like the rest of us, just for that brief moment."
Submitted by Lucy
"TOM DALEY SHIRTLESS. 😍😍😍😍"
Submitted by Robyn
"Despite the fantastic, inspirational, emotional sporting achievements, the absolute highlight for me was the glowing Olympic rings coming together in the opening ceremony. I wept many, many times during the games but never more than at that unforgettable moment."
Submitted by Hoskas
"Mo Farah's 5000 metres. I was watching with friends and we were about 40 minutes behind so we all had to turn our phones off to prevent spoilers, and we completely lost it. We were screaming and swearing, and I don't think it was until that moment when I realised how patriotic I actually am. #GODSAVETHEQUEEN"
Submitted by Kaitlyn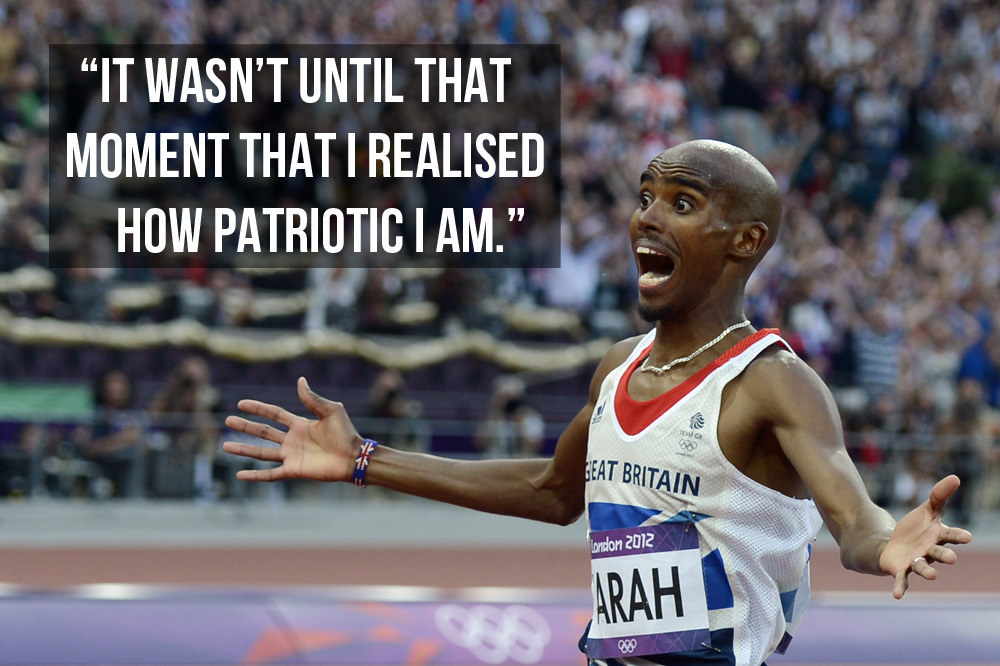 "Nothing will top the atmosphere in the stadium on Super Saturday. Three gold medals in the space of 45 minutes for Team GB was a spectacular feat and I was there in person to witness it. When the tannoy announcer started playing 'All You Need Is Love' into the stadium and everyone joined in and sang, that was a very very special moment indeed. On the way home from the stadium, I turned to my sister, who I had gone with, and I said that that was the best thing I had ever experienced. It remains so and almost certainly will be for the rest of my life."
Submitted by Mark
"The overwhelming number of medals for GB and the patriotism that went hand in hand with it. London was buzzing. The crowds were ecstatic. There was a generally very moving but entirely happy feeling. The opening ceremony announced something great, and the games did not disappoint."
Submitted by Anonymous
"GIANT PUPPET VOLDEMORT."
Submitted by Lauren
"I shed a tear when Katherine Grainger finally won gold."
Submitted by Angus
"I went to watch the rehearsal of the opening ceremony and it was by far the most amazing thing I have ever done. And the most amazing thing was everyone in that stadium for three nights managed to #SaveTheSecret. It still gives me tingles when I think about it!"
Submitted by Michelle
"Bradley Wiggins looking like a boss on his throne."
Submitted by Nina
"The opening ceremony. Washed away all scepticism and made me so pumped!"
Submitted by Andrew
"Yorkshire beating Australia in the medal table. ;-)"
Submitted by Rob
"As wonderful as my time in the Olympic Park, was it's how the games affected the normal things that stick with me. Stopping to watch Victoria Pendleton win gold on the TVs at a Tesco Express with a bunch of strangers, seeing Andy Murray win gold on a TV in a restaurant in Soho... Normal things made extra special by these talented folk, who, for at least a couple of weeks, brought all the country together."
Submitted by Lauren
"The night Britain won three gold medals. Three athletes of different genders, races, and backgrounds all stood representing Britain to the world while their home crowd cheered in support."
Submitted by Anonymous