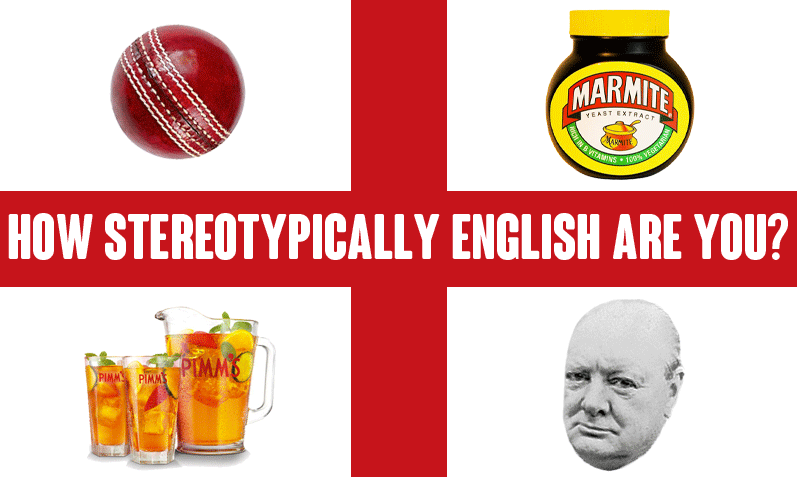 Eaten fish and chips by the seaside?

Taken teabags with you on holiday?

Got drunk and fallen asleep whilst watching a cricket match?

Got sunburnt on the very first day the sun comes out?

Met one of the royal family?

Been asked by an American tourist whether you've met the queen?

Owned an England football shirt?

Owned an England rugby shirt?

Argued about the correct pronunciation of the word "scone"?

Argued about the correct pronunciation of the word "bath"?

Been to a pub called The Red Lion whilst on holiday in Europe?

Silently judged anyone who puts sugar in their tea?

Complained about David Cameron?

Complained about Ed Miliband?

Wondered who Nick Clegg was?

Cried as a result of a failed penalty shootout?

Spent an entire Bank Holiday Monday in the pub?

Entered into a giant vegetable competition?

Been able to trace your family back to the aristocracy?

Apologized when something isn't your fault?

Got sunburnt and used an umbrella on the same day?

Played a bad guy in an Hollywood action movie?

Judged someone for drinking lager whilst you drink a pint of ale?

Said "thank you" when it really wasn't necessary?

Eaten a full English breakfast?

Bought Cadbury's chocolate whilst on holiday to see if it tastes the same?

Had an opinion on whether a Jaffa Cake is a biscuit or a cake?

Divided seasons by whether it was time to drink Pimm's or not?

Shouted "Come on, Tim!" in earnest?

Shouted "Come on, Tim!" in jest?

Moaned about people shouting "Come on, Tim!" in jest?

Judged someone for putting cream on their scone before the jam?

Fallen out of love with someone because they made tea incorrectly?

Been able to ask for "the usual" in a pub?

Moaned about the Daily Mail?

Read the Daily Mail's Sidebar of Shame?

Made a passive-aggressive comment at someone who's pushed in in front of you in a queue?

Worn a knotted hankie as a hat on the beach?

Had a tankard with your name on it in your local pub?

Morris danced (or similar)?

Called a fiver "five of your English pounds"?

Asked for chips in an Indian restaurant?

Thrown a piece of white plastic patio furniture at the window of a bar in a Mediterranean town?

Claimed that you love Marmite?

Claimed that you hate Marmite?

Thought about who your favourite member of Ant and Dec was?

Thought about who your favourite Chuckle Brother was?

Sung "Jerusalem" whilst drunk?

Gone to a non-English-speaking country and communicated by using the shouting and pointing technique?

Danced around in the mud at a music festival?

Had a barbecue in the rain?

Listened to Test Match Special?

Felt a little sick whenever your see "colour" spelt "color"?