If you've been to a Starbucks in the past month and a half, you may have noticed a special new section of the menu.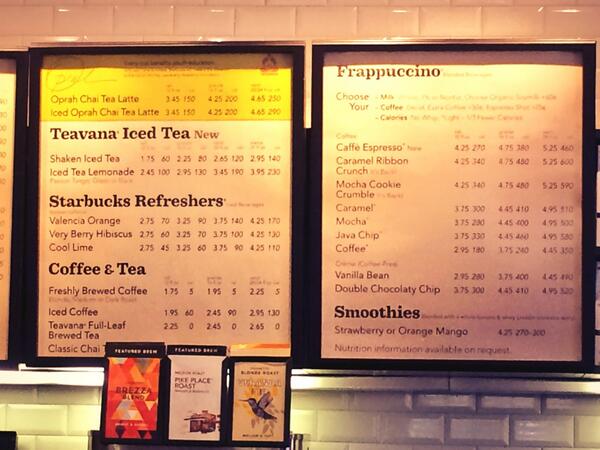 You were probably like, "Why is Oprah's face at Starbucks?"
Well here's why:
Oprah recently partnered with Teavana, a Starbucks-owned specialty tea retailer, and its leading teaologist Naoko Tsunoda to create a signature blend of chai tea, which Starbucks advertises as "a bold infusion of cinnamon, ginger, cardamom and cloves, blended with loose-leaf black tea and rooibos."
It launched April 29, 2014, at Starbucks and Teavana locations nationwide.
In a segment for OWN, Oprah explained her personal history with chai tea, having first tried masala chai during a 2012 trip to Mumbai.
The chai lattes and loose-leaf teas sold at Starbucks come in special coffee sleeves inscribed with inspirational Oprah quotes.
Sales of Oprah's chai products benefit youth education.
Starbucks and Teavana donate a portion of the proceeds to The Oprah Winfrey Leadership Academy Foundation: $0.25 USD per Teavana Oprah Chai prepared beverage; $1 USD per 2 oz. of Teavana Oprah Chai Loose-Leaf Tea, reusable storage tin, and small gift set; and $4 USD per large gift set.
The foundation also works to help at-risk students excel academically in the U.S.
Oprah also gives to four domestic organizations through her foundation: Girls Inc., National CARES Mentoring Movement, Pathways to College, and the U.S. Dream Academy.
Starbucks declined to provide BuzzFeed with an amount of donation proceeds generated by sales thus far.
And that's the story on Oprah's chai.