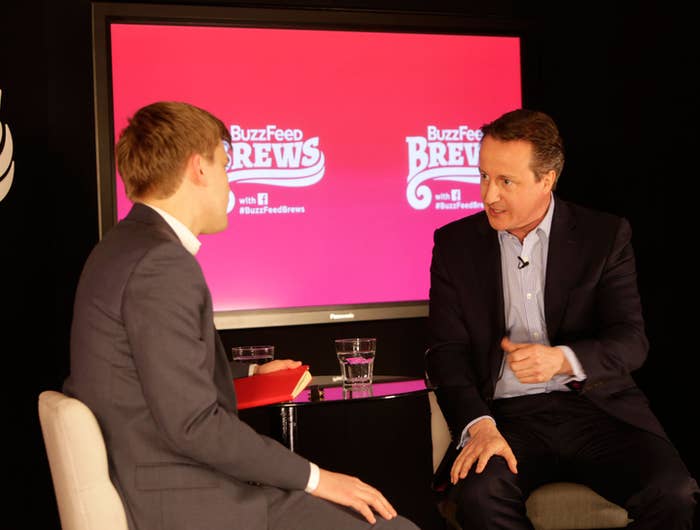 If you've never seen Game of Thrones, you don't want to watch the video below.
It's an interview with BuzzFeed News in which the prime minister not only revealed the fate of his favourite character – Sean Bean's Ned Stark – but touched on a wide variety of other topics.
Pressed about the government's record on housing, and on the fact that "affordable housing" in London can cost up to £450,000, he defended his government's policies.
Cameron insisted that "an affordable home is one someone who has a reasonable job can afford to buy".
He added that the government's Help to Buy scheme "is actually making [construction firms] build out faster". He also insisted: "I don't want house prices to accelerate out of control... I don't want to be a country where the age of the typical homeowner is getting older, and home ownership is in decline. I don't want that."
The prime minister also revealed that like Ed Miliband, he has two kitchens in his family home, although this was as a result of the need to care for his disabled son.
The prime minister also spoke out strongly in favour of trans rights, and LGBT rights more generally.
He said he was "very proud" that his government had introduced same-sex marriage, but accepted that more must be done to "end this idea that it's somehow fair to criticise people because of their sexuality".
"I think one of the most important things is what happens in our schools," he said, "particularly homophobic and biphobic bullying."
He added: "It's only when a society says marriage is there for everyone, whether you're straight or gay … you end this idea that it's somehow fair to criticise people or do down people because of their sexuality."
In terms of international affairs, he said that the best way to deal with Vladimir Putin was via economic pressure, not military action.
"Russia needs us more than we need Russia," he told Waterson. "We should make the power of our economic relationship play here."
Cameron also said the schoolgirls who have fled the UK to join ISIS were "deeply misguided".
When pressed on whether they should be welcomed home, he said: "We want to get them back and get this radical nonsense out of their heads."
He added that it was "unbelievable" that people would reject Britain in favour of "a death cult in Syria that believes in throwing gay people off buildings and cutting people's heads off in the desert".
This fed into a discussion of technology, in which the prime minister admitted he was "not a Snapchat user", to general laughter.
He also admitted that his comment that "too many tweets make a twat" was "not particularly advisable", but added that "the danger of Twitter is you just loose off your opinion, often late at night".
When asked what he thought of the feedback he received on Twitter, he said: "You've got to take the rough with the smooth in this job."
He added: "There is a danger with Twitter and I think it's been borne out with events. Some people have got themselves into the most unbelievable trouble by tweeting a picture or tweeting some words without thinking first what they're doing."
He also told the audience that he still used a government BlackBerry for email, that his children have his iPad password, and that his daughter used something called an "iTouch".
He also insisted that the government's efforts to crack down on explicit material online, in partnership with the internet companies, had been "genuinely groundbreaking".
He also insisted that even if he loses the election, he still wants to stay on as an MP.
"It's the country's choice," he said. "If they hoof me out and go for the other guy, I'll have to think of something else, but I hope I'll still be a member of parliament. I love serving my constituents. I love politics. I love public service. It's what I care about. It's a vocation.
"In the unhappy event I'm not prime minister on 8 May, the people of Oxfordshire I hope will stick with me and I will stick with them."
We also learned that:
– Cameron believes Tory party chairman Grant Shapps "made a mistake" by failing to be honest about continuing to act as internet guru "Michael Green" while still in parliament, but insisted he was doing "a great job".
– Despite having moved Michael Gove to the position of chief whip, Cameron still believes in his education reforms: "There's been no watering down of the agenda that Michael Gove and I worked on in the long years of opposition."
– He's happy to take part in a multi-party debate before the election campaign. "Where do I sign?" he asked.
– It would be "difficult" for the Tories to have a 50/50 split between men and women in the cabinet by 2020, but Cameron's hopeful of reaching a 2:1 ratio.
– No one on the Tory team is tasked with planning for a hung parliament and a new coalition, although he defended the record of the current one.
– His favourite footballer at his chosen club, Aston Villa, is Christian Benteke, as "he's playing really well".