Southwestern Chopped Salad With Avocado Dressing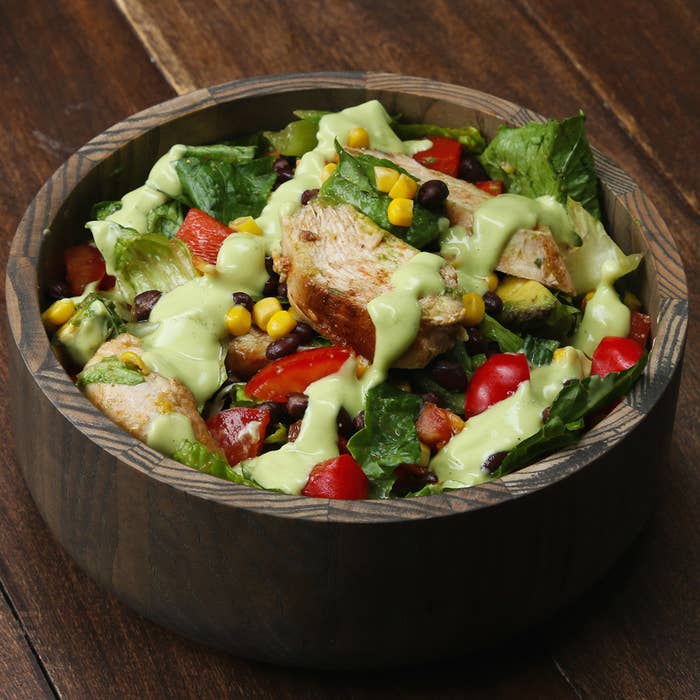 INGREDIENTS
For the salad:
2 chicken breasts
2 tablespoons olive oil
1 teaspoon salt
½ teaspoon cumin
½ teaspoon chili powder
1 head romaine lettuce, chopped
1 bell pepper, diced
2 medium tomatoes, diced
2 avocados, diced
15 ounces black beans, rinsed and drained
1 cup corn
For the avocado dressing:
1 avocado
1 lime, juiced
1 garlic clove
¼ cup olive oil
½ cup greek yogurt
½ teaspoon salt
¼ teaspoon pepper
3-6 tablespoons water, for desired thickness
PREPARATION
1. Season the chicken breasts with salt, cumin, and chili powder.
2. In a large skillet, heat olive oil, then add chicken breasts. Cook roughly 7-8 minutes each side, remove from pan, then let sit for about 5 minutes before slicing into strips. The juices should run clear and the chicken shouldn't be pink in the center.
3. In a large bowl, add lettuce, bell pepper, tomatoes, black beans, corn, and chicken. Toss until everything is mixed. Add avocados, then toss once more. Be careful to not overwork the avocados.
4. Add the avocado dressing ingredients to a blender and process until smooth. Add 3 - 6 tablespoons of water for desired thickness. The dressing can be stored in an airtight container and kept refrigerated for 1-2 weeks.
5. Toss the salad with the desired amount of dressing and serve.
6. Enjoy!
Inspired by recipe here.