BUTTERMILK-FRIED CHICKEN SANDWICH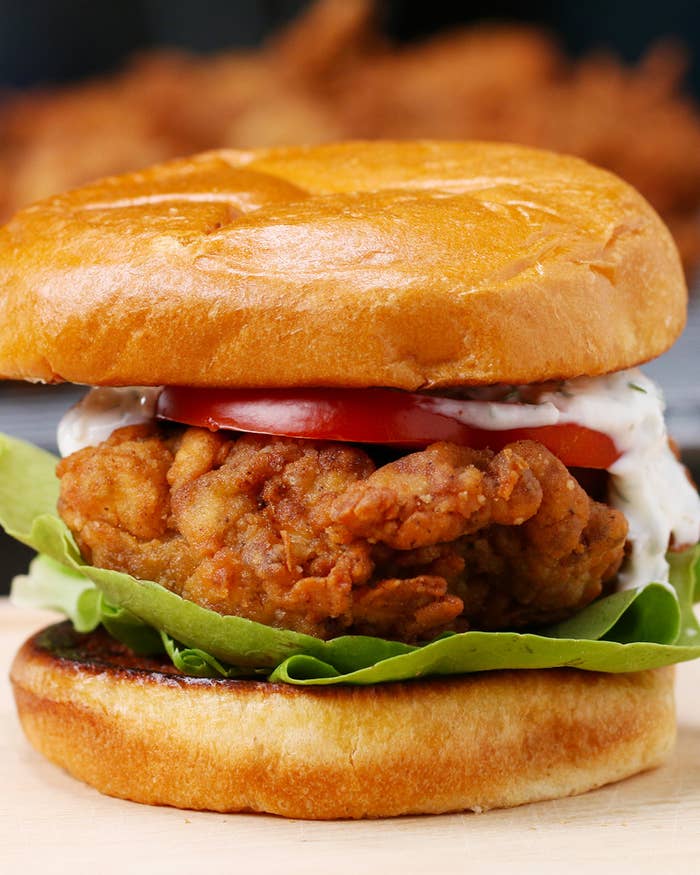 INGREDIENTS
Buttermilk Marinade
2 cups buttermilk
1 teaspoon salt
1 teaspoon black pepper
½ teaspoon cayenne pepper
8 boneless, skinless chicken thighs
Dill Dressing
1½ cups plain Greek yogurt
3 tablespoons chopped dill
1 teaspoon garlic powder
2 tablespoons lemon juice
¼ cup Parmesan, grated
Seasoned Flour
2 cups all-purpose flour
1 tablespoon salt
2 teaspoons black pepper
1½ teaspoons cayenne pepper
1 tablespoon garlic powder
Oil, for frying
1 head butter lettuce
2-3 tomatoes, sliced
8 burger buns (we used brioche buns)
PREPARATION
1. In a medium bowl, combine all the buttermilk marinade ingredients. Toss in chicken thighs and marinate for at least one hour in the refrigerator.
2. In a small bowl, combine all the ingredients for dill dressing. Cover and let sit for at least an hour in the refrigerator.
3. In a medium bowl, combine all ingredients for seasoned flour. Dip the marinated chicken in flour until chicken is completely covered.
4. Heat the oil to 350˚F/180˚C in a deep pot. Do not fill more than half full with oil. Carefully fry chicken for roughly 7 minutes, or until cooked through (internal temperature should reach 165˚F/75˚C) and the chicken is golden brown and crispy. Drain on a paper towel-lined plate, or wire rack.
5. Heat a large skillet. Butter cut sides of the burger buns, then toast on hot skillet until browned and crisp.
6. Build sandwich with bread, lettuce, fried chicken, tomato slice, and dill dressing.
7. Enjoy!