Chicken with Sun-Dried Tomato Cream Sauce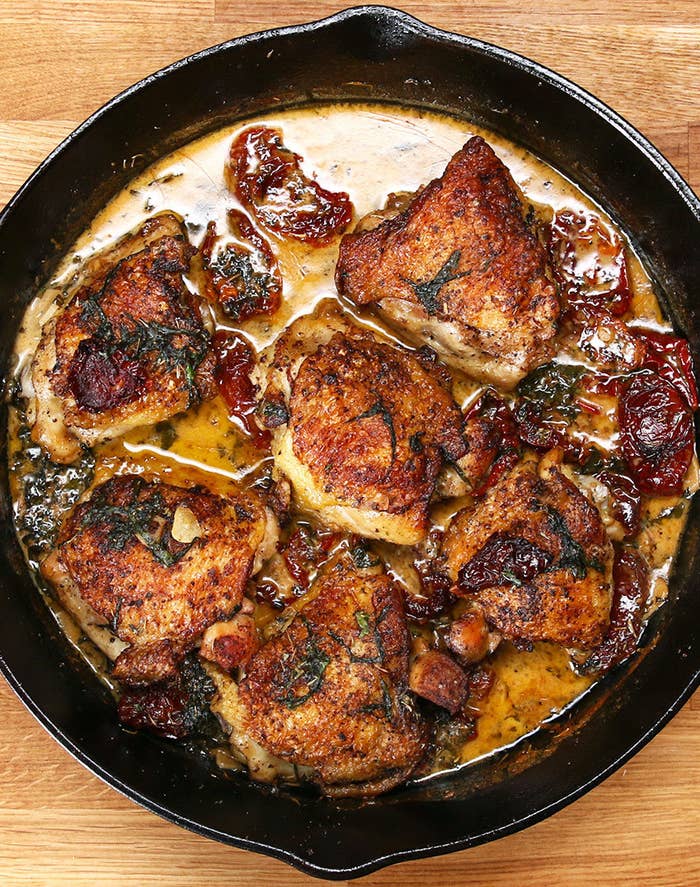 Here's what you will need:
* 6 bone-in, skin-on chicken thighs
* Salt and Pepper to taste
* 3 Tbsp. unsalted butter
* 4 cloves garlic, sliced
* 1 cup chicken broth
* 1/2 cup heavy cream
* 1/3 cup sun-dried tomatoes
* 1 tsp dried oregano
* 1 tsp dried thyme
* 1/4 cup fresh basil, sliced
Directions:
Instructions:
1. Season chicken thighs with salt and pepper.
2. Melt 2 Tbsp. butter in a large oven-proof skillet over medium high heat. Add chicken, skin-side down, and sear both sides until golden brown. Drain excess fat and set aside.
3. Melt 1 Tbsp. butter in the skillet. Add garlic. stir until fragrant, then add chicken broth, heavy cream, sun-dried tomatoes, dried oregano, dried thyme, fresh basil and reduce heat to low. Return chicken to the skillet.
4. Bake at 400˚F / 200˚ C for 25 minutes.
5. Serve immediately.
Inspired by: Damn Delicious.
Want BuzzFeed Tasty right in your inbox? Sign up for our newsletter!