You're Going To Want To Make This One-Pan Autumn Chicken And Veggie Bake ASAP
You can thank us later.
by
,
One-Pan Autumn Chicken And Veggie Bake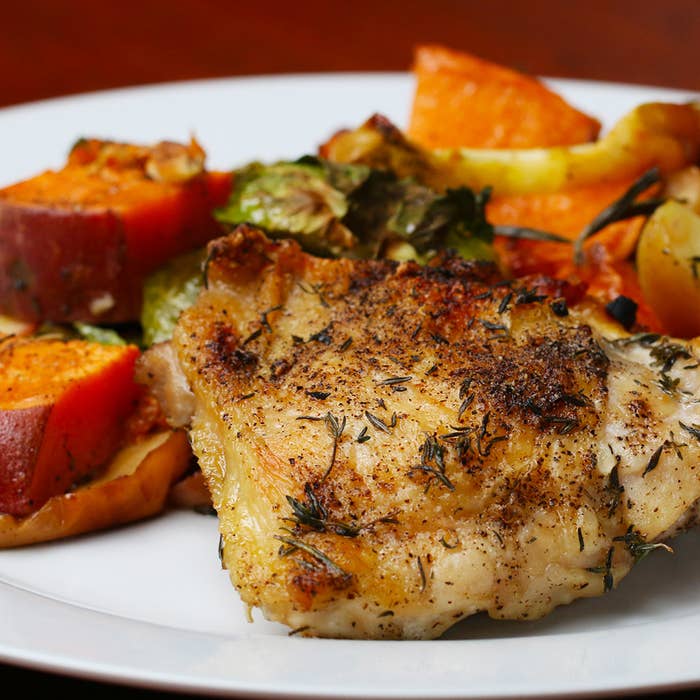 INGREDIENTS
1 large sweet potato, cubed
1 pound brussels sprouts, halved
2 apples, sliced
4 chicken thighs, skin on
4 tablespoons olive oil
Salt, to taste
Pepper, to taste
3 garlic cloves, minced
1 tablespoon fresh rosemary
2 tablespoons fresh thyme
PREPARATION
1. Preheat the oven for 400˚F/200˚C.
2. On a baking sheet, toss sweet potato, brussels sprouts, and sliced apples so they're evenly distributed. Lay the chicken thighs on top.
3. Drizzle olive oil over the chicken, fruit, and veggies, season with salt and pepper, then sprinkle with garlic, rosemary, and thyme. Make sure to season the chicken on both sides.
4. Bake for 30 minutes, then finish off in the broiler for 5 - 10 minutes so the chicken skin gets golden brown and crispy.
5. Serve immediately.
6. Enjoy!
Inspired by recipe here.