Açaí Meringue Cookies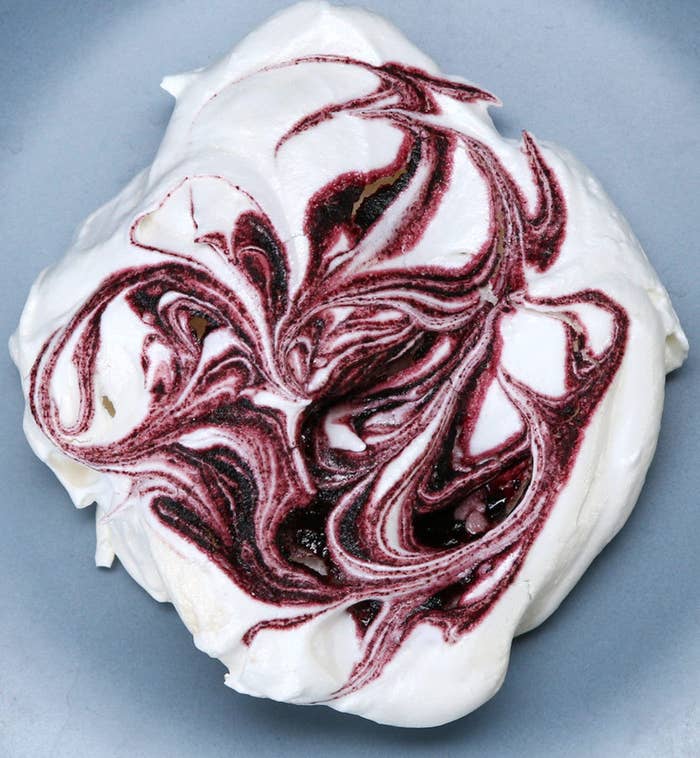 INGREDIENTS
Meringue cookies
3 egg whites, room temperature
Juice for 1/2 lemon
1/2 teaspoon salt
3/4 cup sugar
We used 1 Tbsp. acai syrup (you can replace it with any berry syrup)
Acai syrup
1/2 cup sugar
1 cup water
1/2 cup Acai puree (you can use any sort of berry puree)
PREPARATION
Acai Syrup
1. In a saucepan, boil 1/2 cup sugar, water, and ace puree.
2. Reduce heat to simmer and cook until mixture thickens into a syrup.
3. Let cool before using.
Meringue cookies
1. Preheat oven to 225˚F / 105˚C. Line a baking sheet with parchment paper and set aside.
2. In a bowl, using an electric mixer, beat the egg whites until they are foamy.
3. Add salt and lemon juice. Continue whisking.
4. Slowly add sugar while whisking and beat until glossy, stiff peaks form.
5. Spoon meringue mixture on the parchment sheet and smooth the top of the meringue with the back of the spoon.
6. Drizzle about 1/4 teaspoon of acai syrup on the meringue and swirl with a toothpick. Repeat for each cookie.
7. Bake for 90 minutes, until the outside shell becomes stiff and the meringue has gone from shiny to matte. The cookie should easily lift off the parchment. Enjoy!
Want BuzzFeed Tasty right in your inbox? Sign up for our newsletter!