Firecracker Shrimp Quinoa Bowl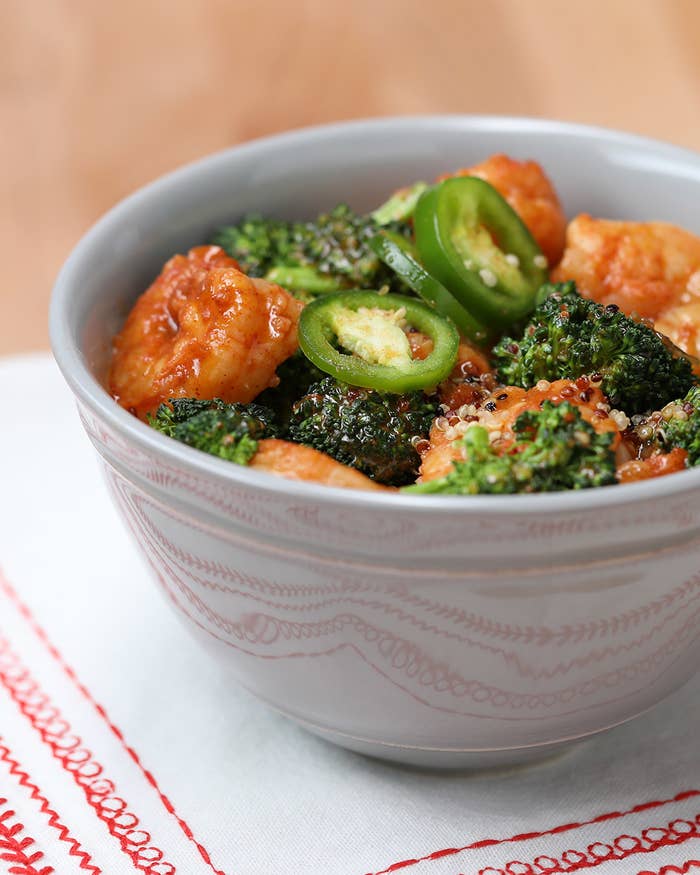 1 bag Success ® Tri Color Quinoa

1 large broccoli crown, cut into pieces
1 lb fresh large shrimp (16-20)
½ teaspoon seasoning salt
½ teaspoon paprika
¼ teaspoon cayenne
1 tablespoon oil
3 tablespoons orange juice
2 tablespoons soy sauce
2 tablespoons honey
2 tablespoons water
1 tablespoon cornstarch
1 large garlic clove
1 tablespoon freshly grated ginger
½ teaspoon red pepper flakes
Sliced jalapeno, optional garnish
1. Cook your Success ® Tri Color Quinoa according to box.
2. Toss shrimp with salt, paprika, cayenne, and 1 tablespoon of oil.
3. Lightly sauté over medium- high heat until just cooked (about 4 minutes; do not overcook). Remove from the pan and set aside, covered.

4. In the pan, add remaining ingredients (orange juice, garlic, ginger, soy, honey, and cornstarch slurry) and bring to a boil, stirring.

5. Lower the heat, add broccoli, and cover, steaming broccoli about 3-4 minutes over low heat. Add shrimp and toss in sauce.
6. Serve over Success Quinoa and enjoy!