Copycat Campfire Chicken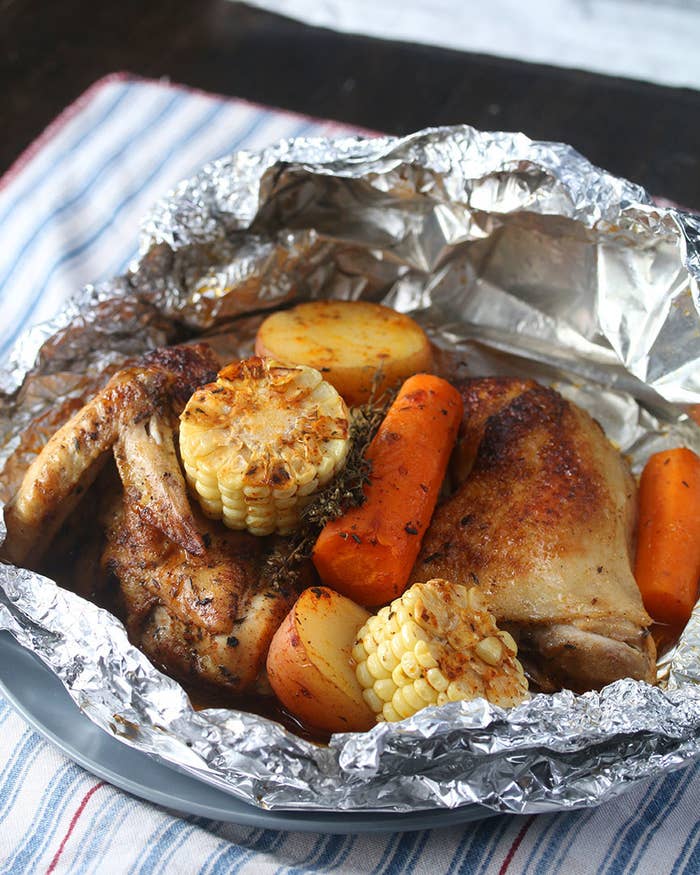 INGREDIENTS
1 tablespoons paprika
2 teaspoon onion powder
2 teaspoons salt
1 teaspoon garlic powder
1 teaspoons dried rosemary
1 teaspoon black pepper
1 teaspoons dried oregano
1 whole chicken, quartered
2 carrots, cut into thirds
3 red skin potatoes, halved
1 ear corn, quartered
1 tablespoon olive oil
1 tablespoon butter
5 sprigs thyme
PREPARATION
1. Combine paprika, onion powder, salt, garlic powder, rosemary, pepper, and oregano in a small bowl and mix well. Reserve 1 tablespoon of the spice mix and set aside.
2. In a large ziplock bag, place the quartered chicken and spice mix. Marinate for 1 hour or overnight.
3. Preheat the oven to 400˚F (200˚C).
4. Add the carrots, potatoes, and corn to a bowl and drizzle with oil and remaining 1 tablespoon of spice mix and toss until thoroughly coated.
5. Heat a large pan with oil and add the chicken pieces and cook until golden brown on both side. Set aside.
6. Place the chicken and veggies on a sheet of aluminium foil. Top with butter and thyme. Fold the foil over the chicken and vegetables and cinch the edge so that no air can escape.
7. Bake for 45 minutes, or chicken is completely cooked.
8. Enjoy!