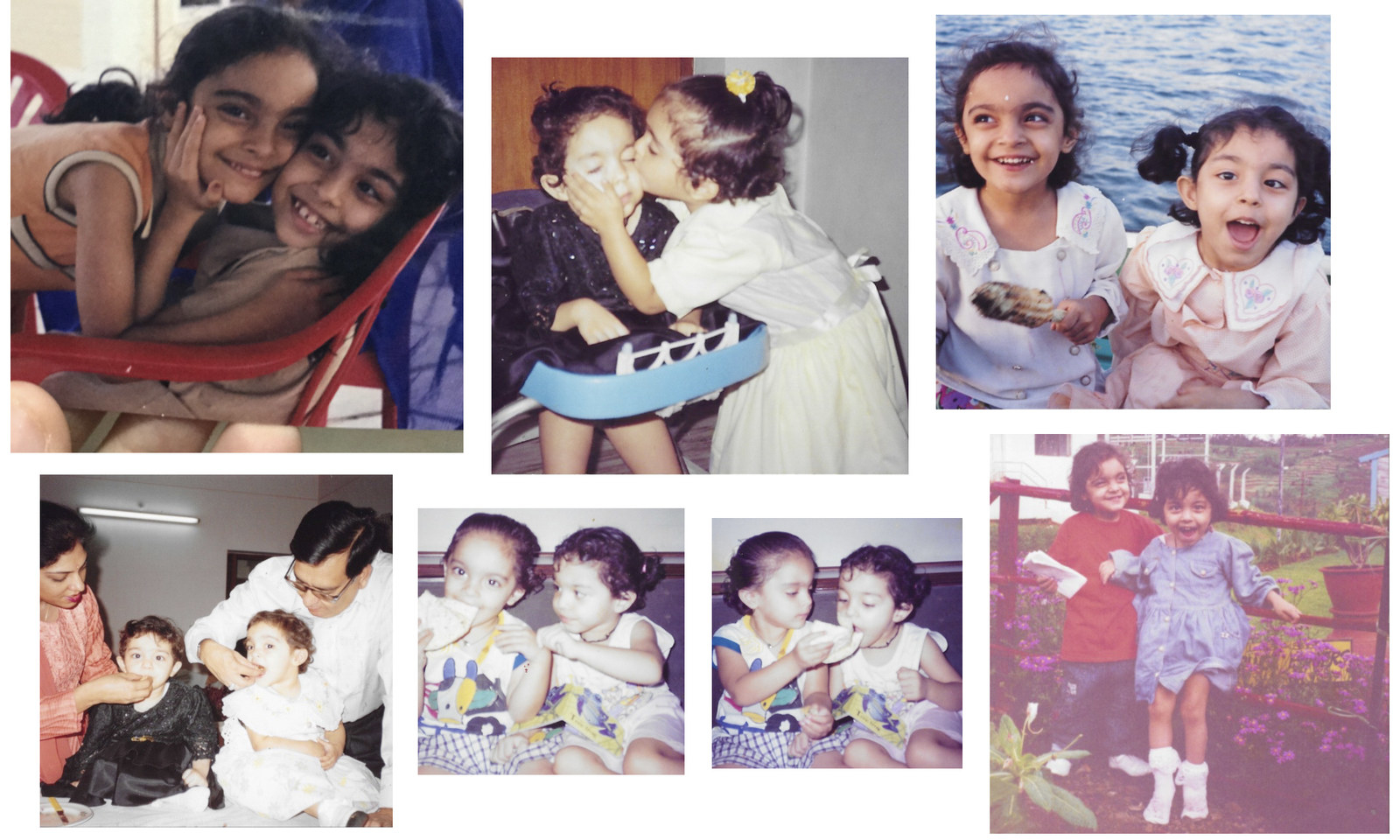 "Oh! You also love shopping like your sister? That is good."
"Sidhi, do you like doing your makeup too? Oh, good, good."
A few distant relatives and our family catch up on the sofa. Despite how often I've heard people ask my twin sister questions like that, they make me uncomfortable.
"I am learning French," Sidhi says.
She gives me a look I am acquainted with – she's dying inside and doesn't care.
Back in 1992, when I was born into this world of humans, so was my fraternal twin. Exactly seven minutes after me. We have a lot in common – similar thinking patterns, personality traits, taste in food. Sometimes we relate so strongly that we've called it telepathy. However, there is one difference that tends to loom large – she's differently enabled due to mild cerebral palsy. It isn't fully curable and leaves you with partial to full impairment of your limbs (in her case, her lower limbs).
People often express their wish that my sister was "normal".
One Saturday night, I'm headed out with my friends and she asks if she can come along. I say yes in an instant, only to then realise the bistro we're meeting at may not be wheelchair-friendly. Disability exists, in large part, because so much of our world is inaccessible to people with slightly altered needs.
People often express their wish that my sister was "normal". This makes me wonder what normal is.
As a child, a lot of questions went unanswered for me: Why couldn't I play a game if she couldn't? Why doesn't mom let us have separate wardrobes? Why can't I buy an outfit I like, just because she won't fit into it? With age, it dawned on me that my parents wanted her to experience inclusion at home, because the world outside would invariably go on to deny it.
It didn't take long for that fear to actualise. When we were in the third grade, our parents were called in to talk to our school head. This man believed that "students like her" need to go to special schools because they disrupt the "normal" classroom environment. My sister was only physically challenged. She was mentally fit and doing more than fine with her grades.
After that incident, we were lucky to have the school's ex-principal help her with an admission to another school. The new school allowed her the right kind of discrimination – freedom in terms of attendance and number of hours to finish her exams.
Disability can be so visual, and yet we see it rarely. Differently abled folks are invisibilized in the "regular" world, as Sidhi was from a "regular" school – you don't see them as your manicurists or your TV show hosts. Instead, a lot of ink is given to them when they "overcome adversity" to climb mountains or win competitions. Their achievements are considered revolutionary because we're taught to expect less of them. Implicit in our celebrations is some assumption that they don't "belong" where the rest of us do.
They are considered wholly "different" because of just one difference, and society has a talent for scripting stereotypes and check-box descriptions to deal with difference. All those who deviate from "norms" – of sexuality, ethnicity, ability, and more – know this well.
Disability can be so visual, and yet we see it rarely.
A fear of variety makes us attach labels. Oftentimes, people have doubts about my sister's mental capacities because of her physical challenges.

Sidhi has suffered pain and surgeries and exclusion, yes, but she's also struggled to pick outfits, like I have, and to learn how to highlight perfectly. She's the most compassionate person I know, but she's also indecisive and hormonal and trying to find out who she is. She gets angry if I get ready myself, and forego dabbing lipgloss on to her lips. She has snack-cravings in the wee hours, like I do, like everyone does.
She sees some of the world through me – a random sex fact, how to have a tequila shot. And I see some of the world through her – bravery when she reassures us before her surgeries, and silliness when she texts me when I'm out, reminding me to take enough selfies. Through her, I've seen the harshness of labels and the loneliness of exclusion. But I've also seen nurturers, healers, and selfless people who do all they do for others.
Some day, when her condition is better, she will adventure on her own, see the world through her own eyes only. Until then, I hope stereotypes start to fade. I hope my sister's eyebrows being on fleek won't make you raise yours.
---
Looks like there are no comments yet.
Be the first to comment!