Robert Redford: The Recession Saved The Sundance Film Festival
At the festival's open, Redford credits the downturn with driving away the Paris Hiltons and restoring the gathering to its roots. "Now we can focus again."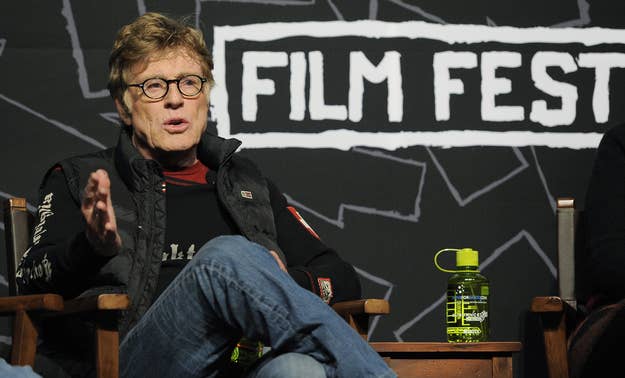 PARK CITY, Utah — Sundance is "not as fun" as it once was, actor–turned–festival impresario Robert Redford told a small group of reporters at the start of the annual independent film gathering on Thursday afternoon. But he credits the hard economic times with driving away much of the glitz that, he said, robbed the conclave of its grassroots origins.
Looking spry and still highly engaged at age 76, the actor/director waxed nostalgic for the festival's early "guerrilla" days "in the trenches. I liked that feeling because the odds were against us even surviving," he said. Redford went on to bemoan the price of success, saying that there are now "too many hands to shake with important people. There are too many people who come to the festival to leverage their own self-interest. Deals are made. That's all fine. But it clouds the fun of it. It's just not as much fun."
Founded in 1984 as a means to give exposure to alumni of Redford's Sundance Labs, which trains aspiring filmmakers, by the 1990s the festival had spawned an entirely new industry known as independent film. That industry in turn transformed the low-key gathering in the remote ski resort town into a Hollywood mega-event, complete with red carpets, paparazzi, and gifting suites.
Looking back, Redford reflected on the transformation. "We were suddenly besieged by the ambush mafia. Fashion houses would come in and they would take over the houses on Main Street and pay three times the rent to get the space. Then they bring celebrities in to give them free stuff. Pretty soon you had Paris Hilton, and she didn't have anything to do with the films. I said, 'What movie is she is in?'"
"We had remained the same," he continued. "Nothing had changed about what we did. It was just being overwhelmed by all the extra tiers that had formed around its success. And there was just so much I could do. I could talk about it. I could say, that isn't us. But what could you do?"
He paused. "Then," he said, with an ironic grin, "the recession hit and those people went away. And now we can focus again."
Redford surprisingly suggested it was not impossible that the festival will go away, from Park City at least. Asked whether Sundance was committed to staying in its home of nearly three decades, as the festival is currently in negotiations for future years with Park City officials, Redford was strikingly noncommittal. "I can't promise that. I don't think that would be a good idea," and suggested that festival growth had strained the local infrastructure to the breaking point — though he also dropped a not-so-subtle reminder of the $80 million Sundance pumps into the local economy every year, suggesting that this public declaration might be a negotiating tactic.
As an aside, he also shot down a rumor that a Sundance Brooklyn is in the works, terming the report "Wrong. Never true at all."
The conversation with Redford and his festival chieftains was lit up by the glow from the success of last year's breakout hit, Beasts of the Southern Wild, which exploded out of the festival and went on last week to earn Academy Award nominations for Best Picture, Best Director, and Best Actress. "That film," Redford said, "was exactly what this festival was formed to do."
Joining the conversation, Festival Director John Cooper recalled thinking before screening Beasts that "if we can't find an audience for this film, we're doing something wrong."
Over 4,000 feature films were submitted this year for festival consideration, Cooper said. Of those, 150 were selected, winnowed down by a staff of 25 screeners and 7 programmers. The winners will screen from now through Jan. 27 at locations across Park City.