The Next American Idol Will Not Be A White Guy With A Guitar
After five years, the collared Caucasian dynasty comes to an end as the competition's 10 finalists are revealed.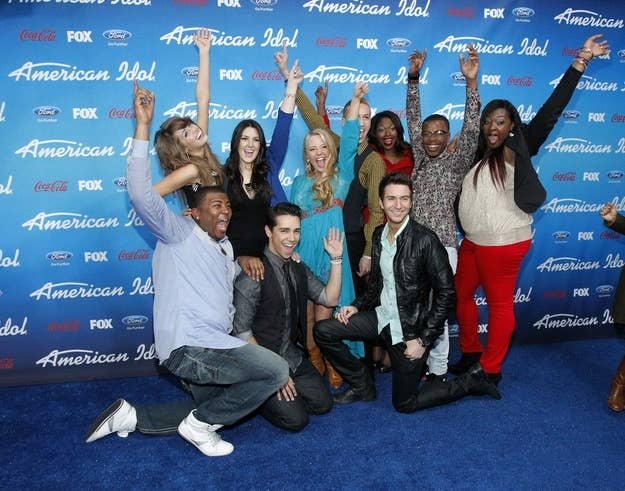 For half a decade, American Idol has been dominated by one group. In five consecutive competitions, the winner fit a certain mold: the White Guy With a Guitar (WGWG). But Thursday night, with the revelation of Season 12's top 10 finalists, that dynasty came to a sudden end. This year's group contains not a single WGWG.
For the first six years of the show, the Idol crown bounced around between a reasonably diverse mix of demographic backgrounds and musical styles, with champions Kelly Clarkson, Ruben Studdard, Fantasia Barrino, Carrie Underwood, Taylor Hicks, and Jordin Sparks. But in the seventh season, all that changed.
The winners from seasons 7 through 11 — David Cook, Kris Allen, Lee Dwyze, Scotty McCreery, and Phillip Phillips — were in many ways very different kinds of performers, in genres stretching from gritty rock to traditional country. But they were all WGWGs. These characteristics, it was widely speculated, made them appealing to the largely young and largely female voters who decided the show's fate. Each year for the past five, a somewhat diverse group of singers would make it to the finals, only to see the same pattern repeat itself: one by one, all those who were not male, not white, and who did not play guitars would fall by the wayside, leaving the one WGWG as the winner.
Of the five men advancing to the finals this season, two are African-American and two are Latino. The one Caucasian male in the group, Tennessee native Paul Jolley, who describes himself as a "powerhouse singer," is decidedly not a guitar player, falling much more into Idol's tradition of big-noted belters.
It remains to be seen whether the newly wide-open competition will help Idol's ratings, which have been down this season. But non-WGWG fans, at the very least, have a reason to keep watching until the end for the first time in years.