"Oz" Is 2013's First Blockbuster
The Sam Rami directed prequel blows away the competition with an $80.3 million opening weekend.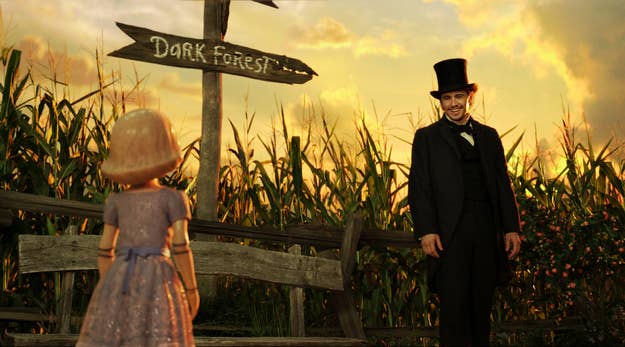 2013 was starting to look like the year that the box office forgot. Weekend after weekend, films disapointed, under-performed, or did even worse — weak fare dumped by their studios that played exactly as badly as anticipated.
But this weekend, Hollywood finally scored a hit. Sam Rami's Oz The Great and Powerful took in an impressive $80.3 million at U.S. box offices in its opening weekend, coming in on the high end of expectations for the mega-budget fantasy epic.
It was 2013's biggest opening weekend by a mile; the previous record holder, Identity Thief, grossed $42.7 million on the February 8th weekend.
The film is also well on its way to becoming the box office champion of 2013. That record currently sits in the hands of A Good Day to Die Hard , which has grossed $240.3 million worldwide to date. Oz, which supplemented its domestic total with $69.9 million from overseas, has already passed up Identity Thief, which has earned an impressive $116.5 million so far in its run but a mere $2.2 million abroad. That film has thus far opened only in five smaller countries — Bulgaria, Croatia, Hungary, Slovenia and the United Arab Emirates.
In terms of Hollywood's success/failure narrative, the contrast could not be sharper with last weekend's mega-bomb, Jack the Giant Slayer, which opened to a dismal $28.8 million. Both films were super-sized projects made for upwards of $200 million, and each met with middling to poor reviews. But the marketing campaign for Jack, playing off the film's overall direction, seemed tonally confused, struggling between the hard-edged teen/adult market and the family niche. Oz, while it may be no better a movie, sent a much clearer message of what it was and who it was for, projecting the face of a modern big-budget, family-friendly, effects-heavy, thrill ride that was so effective for Tim Burton's Aiice in Wonderland, among others.
Oz's feat this weekend looks less a little impressive when compared with Alice, which also had a March opening and debuted to an enormous $116.1 million in 2010.
Here are the full top-10 figures for Friday to Sunday, courtesy of Box Office Mojo.
1. Oz the Great and Powerful* — $80.2 million
2. Jack the Giant Slayer — $10 million
3. Identity Thief — $6.3 million
4. Dead Man Down* — 5.3 million
5. Snitch — $5.1 million
6. 21 and Over — $5 million
7. Safe Haven — $3.8 million
8. Silver Linings Playbook — $3.7 million
9. Escape from Planet Earth — $3.2 million
10. The Last Exorcism Part II — $3.1 million
*Opening weekend