What you need to know:
- Tony Abbott has said in a newspaper interview that Labor has a much better climate change policy than the Coalition
- The Liberal party is releasing its costings tomorrow, two days before the election
- Supporters of Liberal senator Jim Molan are causing waves within the Coalition as he tries to overcome his unfavourable position on the party ticket
- Bob Hawke has written a letter praising Bill Shorten's leadership and saying he is ready to be prime minister
- The Clive Palmer advertising blitz continues as the ad blackout looms
- Around three million people have already voted
It's Wednesday, which can only mean one thing — three more sleeps until the election! Fantastic news for everyone.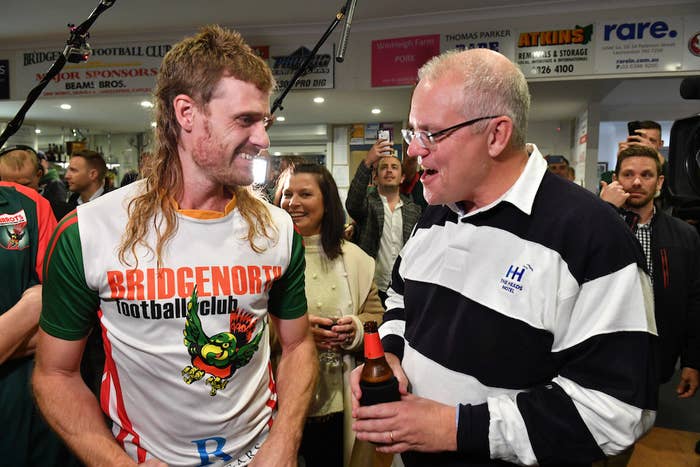 We've entered the frantic, manic stage of the election campaign where politicians are running around the country speaking to anyone who will speak to them and grabbing any photo opportunity possible.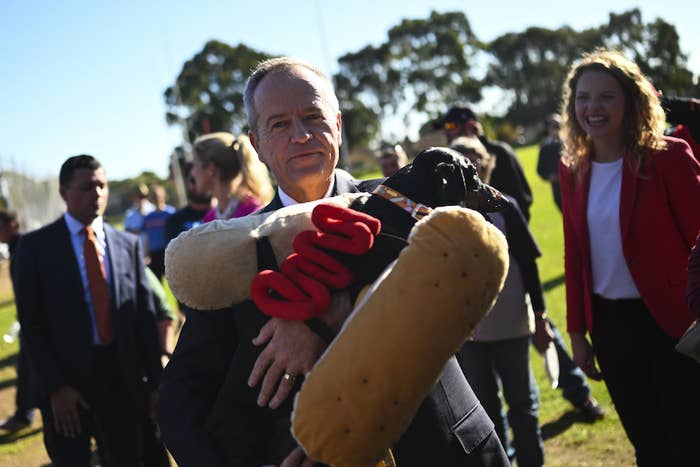 This morning the country, on Twitter at least, was much more interested in making it into the final of a music competition held on another continent than the looming election, but I'm sure that will all change soon. Let's go take a look at the campaign updates today: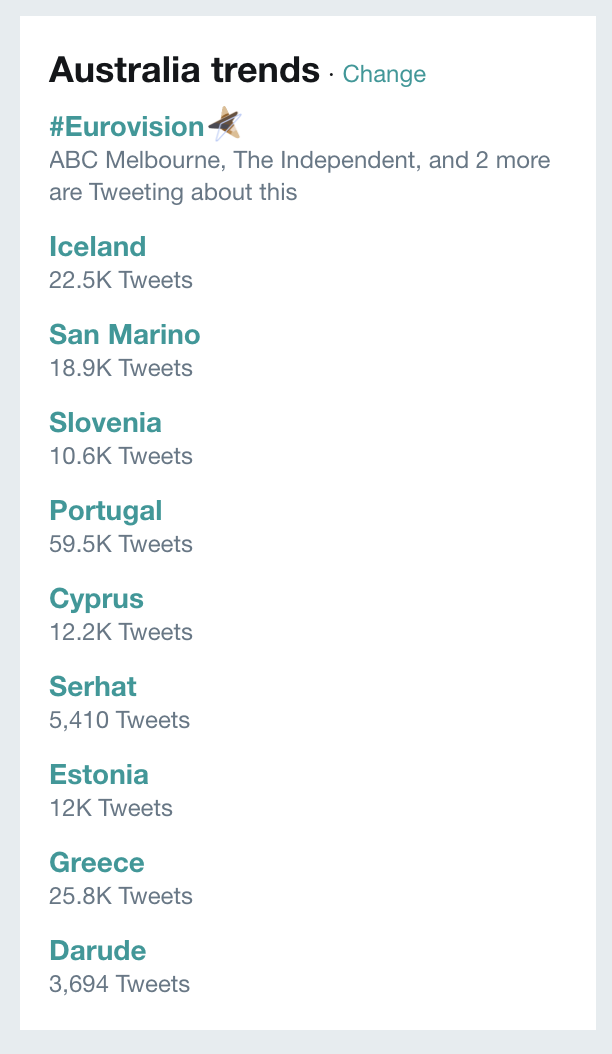 Abbott has campaigned on the claim a vote for independent Zali Steggall, his main rival in the seat of Warringah, would be a vote for Bill Shorten and the Labor party.
When it was put to him that Steggall had actually said she would support the Coalition, over Labor, in the event of a hung parliament, Abbott delivered this rather eye-catching response:
"She's not said that in writing or with any degree of conviction. I don't believe her, given that she's said her biggest issue by far is climate change and Labor has a much better climate change policy than the Coalition."
In response, Labor told BuzzFeed News: "Yes, we agree, there's no doubt that Labor has a much better [policy] than Scott Morrison's chaotic government."
The Coalition did not respond to a request for comment.
Abbott also revealed that after he read a doctor's letter in a newspaper advocating against Abbott, the Liberal MP promptly phoned the doctor and had a discussion.
"I'm not sure I persuaded him, but we had a good chat."
In a separate interview with the Daily Telegraph, Abbott also had this to say on multiculturalism:
"Before I got into parliament I was never a great fan of multiculturalism although my time working for the Australians for Constitutional Monarchy changed my view on that because I discovered that people from very different backgrounds had chosen Australia for our traditional strengths, including the crown, and that was a bit of an eye-opener for me," he said.
"It ... turned me from being a critic to a supporter of a mild version of multiculturalism."
Also in the papers today is the unrelenting advertising for Clive Palmer's United Australia Party. The adverts are plastered across many of the pages.
Prime minister Scott Morrison has said he isn't running for Pope after the party leaders criticised each other in a row over whether gay people go to hell.
Independent candidate Rob Oakeshott tried to extend some love to the Nationals after their rather bewildering tweets about his campaign in Cowper.
And former Labor prime minister Bob Hawke lavished praise on Shorten, saying: "Bill Shorten is ready to be prime minister of Australia. He will serve our nation well."
The fascinating trend of early voting shows no signs of slowing down, with another 400,000 people casting their votes yesterday, taking the total to around three million. If it continues at that rate, we could see around 4.5 million votes, out of 16 million, already cast by election day.
Not that the prime minister seems to mind.
Supporters of Liberal senator Jim Molan are causing waves as he tries to overcome his unfavourable position on the party ticket.
Molan is currently in an unwinnable fourth position on the Liberal Senate ticket and so is urging people to vote below the line for him, in an attempt to be re-elected.
Volunteers are being urged to hand out how-to-vote cards for Molan which, the Sydney Morning Herald reported, has upset some Abbott supporters who think it will undercut the Warringah MPs campaign for re-election.
The New Daily has also reported that the Nationals in NSW are upset at the Molan campaign as it could affect the chances of its candidate in the third position on the ticket.
Treasurer Josh Frydenberg was asked the eternal question: Why was Malcolm Turnbull ditched?
And TV host Kerri-Anne Kennerley declared if Shorten was elected it would be "the end of life as we know it".
Comedian Michael Hing's campaign for the Senate is over, because, you know, he works for SBS. Here's his video announcing the news:
And The Feed has come up with a novel tactic — campaigning with a cardboard cutout of Chloe Shorten.
Mrs Shorten was on the campaign trail today, showing her husband how it's done.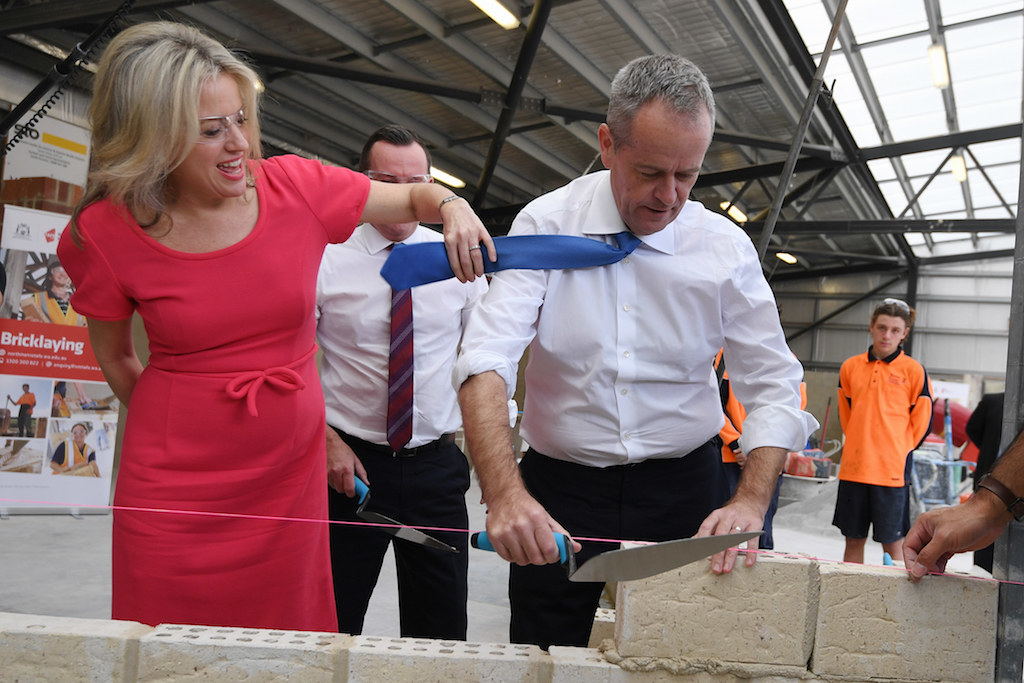 Oh and Burt the crocodile has picked Shorten as the winner ahead of the big vote.
Come back tomorrow to find out what other mad, and important, developments have happened on the election campaign. Not long to go now!