I've always wanted to run a marathon. Why? I'm not sure. Perhaps it's the absurd length of the race, the fact it represents the ultimate physical test, or just the way everyone looks so bloody happy when you watch them on the TV every year.

Years ago, when I was still exercising relatively often, I regularly entered the ballot for the London marathon. I genuinely wanted to run 26.2 miles around the capital – I thought it would be a great way to spend a day.
Unfortunately my knees gave up on me long before I ever managed to secure a place. Doctors and physios have never been able to truly work out what is wrong with them, but for the last decade I haven't run very far at all.
Which made my announcement in December last year a bit of a surprise to most people who know me. I had received an email from Cancer Research asking if I'd be interested in running the marathon for the charity in four months time. It was quite obvious to everyone I wasn't fit enough, that my knees were not up to the task, and clearly there wasn't enough time to train.
So I said yes.

It's fair to say the start of my training was a lot like my exercise regime before I was offered a marathon place. I decided I would not be doing any meaningful running in December, because it was cold and Christmas was approaching. I then decided that what I really needed to do to help train was to book a two-week holiday in January where I would return to the Christmas regime of doing no exercise and overeating.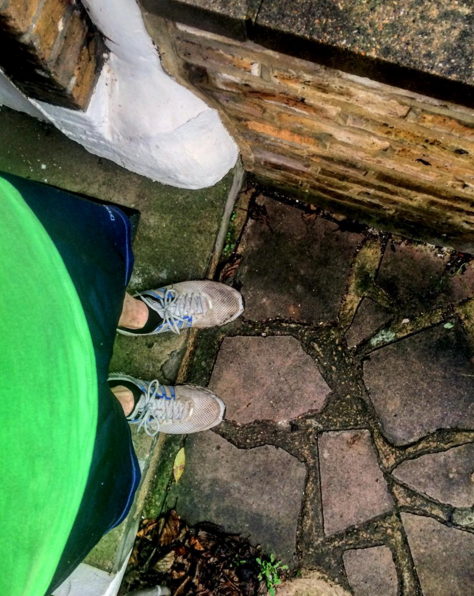 When I announced to friends and family that I had a place in the marathon, I was faced with laughter and a Christmas dominated by gifts of running gear.

And I was given a lot of advice. Oh, so much advice. It turns out everyone is an expert on running marathons, especially those who have never run one.
People loved to tell me that shoes are really important. Like, really, really important – like, the most important thing that you could possibly think of. But then, so are socks, apparently, and gels, and protein drinks, and diet, and your running style. The advice was endless.
Before my well-earned break from exercise in January though, I started running a couple of times a week in the new year. And to protect the knees I took it slow, real slow.
The initial runs were actually OK. I was following the official training programme provided by the marathon organisers, which meant I was running a lot more frequently than I had in years.
What became obvious though, especially after I returned from my holiday, is that training in winter sucks. It's dark. It's cold. It's miserable. The last thing you want to do when you get home after work, when you're hungry and tired, is put on running gear and go back out into the freezing cold.
Also, according to my training plan, I had to run three times a week, and that involves some rather large sacrifices to your social life, especially at the weekend.
Unfortunately, not training was not an option. All I had to do was glance at the wall planner to be reminded just how few days I had till the marathon in April.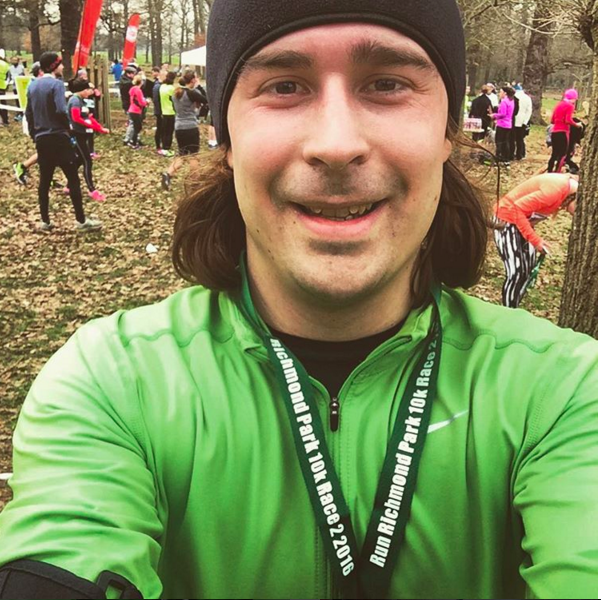 On 27 February I ran my second-ever 10k and it went well. I mean, it was utterly freezing and a tad lonely waiting around by myself. But once we were off and I chased down my preferred time, it was invigorating.

Over the next few weeks I extended my distances up to 10, then 12 miles, and then I registered myself for a half marathon. It was all going surprisingly well.
And then it all went completely wrong.

It was the knees that failed me – of course it was. They'd done so well, I had almost started to believe.

I completed the 13-mile half marathon along the Thames in southwest London in just over two hours, a time I was pretty happy with. But there is an odd sensation when training for a marathon – you always feel slightly flat after running any distance, because you know there will be so much more to do on the actual day. So having completed my first half marathon, a feat that shouldn't really be dismissed, my overwhelming thought was, "Well, in a few weeks' time this will only be halfway."
The real problem though came the following day. Towards the end of the half marathon my knees had started to cause me pain – not so much pain that I couldn't finish the race, but I was very aware of them for the final three miles. I had expected this to happen and, naively, I had expected the pain to ease. It only got worse. It became very obvious that I wouldn't be running anywhere any time soon, so I took myself off to see a physio, who promptly told me to stop all training immediately.

Over the next couple of weeks, Hugo, my enthusiastic Spanish physio, went to work on helping me recover. The main problem appeared to be how tight my leg muscles were and the strain that in turn was putting on the tendons in my knee.

He set me a series of daily stretches and brutally massaged me every week. He then asked, "Can you save your knees for me?" To which I replied, "Yes, of course."
But what he had actually said was, "Can you SHAVE your knees?"
So I did.
The shaving was so my knees could be continually taped-up week-by-week to try and alleviate some of the pressure on them. For two weeks and three weekends I did no running. It was hell. Being so close to the marathon and having to take so much time off running was putting me further and further behind. This was the time when I was supposed to be significantly upping my distances to 16, 18 miles etc. Instead I was doing nothing.

Eventually, after weeks of stretching and excruciating physio, Hugo told me I could try training again. It started with an agonising 20-minute jog, but thanks to Hugo's beatings and taping I slowly upped my distances once again, culminating in a 20-mile run two weeks before the marathon.
The training hadn't gone as I'd have liked – having to take time out at such a crucial period had clearly set me back. But overall I was happy. Hugo had done wonders – I went from thinking I'd have to walk the whole marathon to feeling in relatively good shape for race day.
By the end I was stretching three times a day and eating upsettingly healthily. Somehow I hadn't had a drink for two weeks.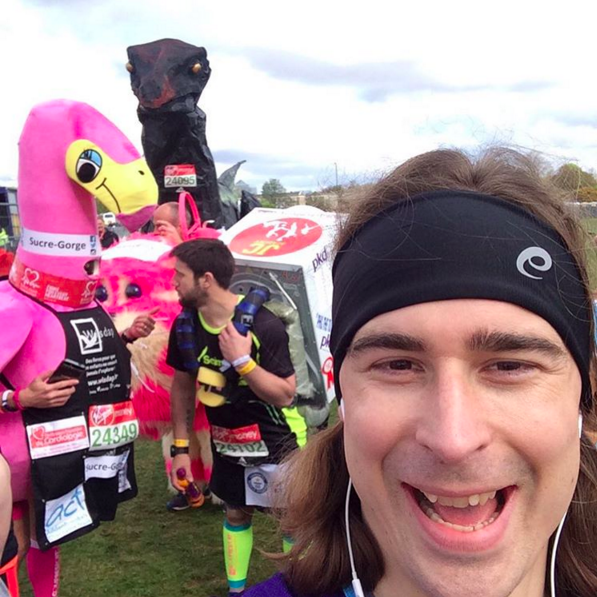 Race day itself is a truly magical experience. At the start you're surrounded by so many different people and so many wonderful outfits. Everyone is in such good spirits, it completely removes any fear you may have about the daunting task of running 26.2 miles.

Everyone tells you the atmosphere and crowds will help carry you around the course, and you don't really believe it until you experience it first-hand. Within 50 metres of the start line there were people already cheering me on and shouting my name (having your name printed on whatever clothing you are wearing makes such a difference). It was incredible.
For the first few miles, the camaraderie between the runners was electric too. Everyone was slapping each other on the back, taking selfies with the wackiest costumes they saw. It was pretty damn cold at the start of the London marathon this year, yet the roadsides were packed with spectators, people offering sweets, bananas, high fives. All were hugely welcomed.
I met my family and partner at three different points around the course, and each time it was a huge boost. When I knew they were coming up in a mile or so it would spur me on to reach them as quickly as possible, and the joy of seeing them helped me afterwards, too.
The first half of the marathon was, believe it or not, immense fun. The crowds were excellent, I saw my loved ones at miles 5 and 11.5, and I was making OK time. Crucially, too, the knees were holding up to the strain of running on roads.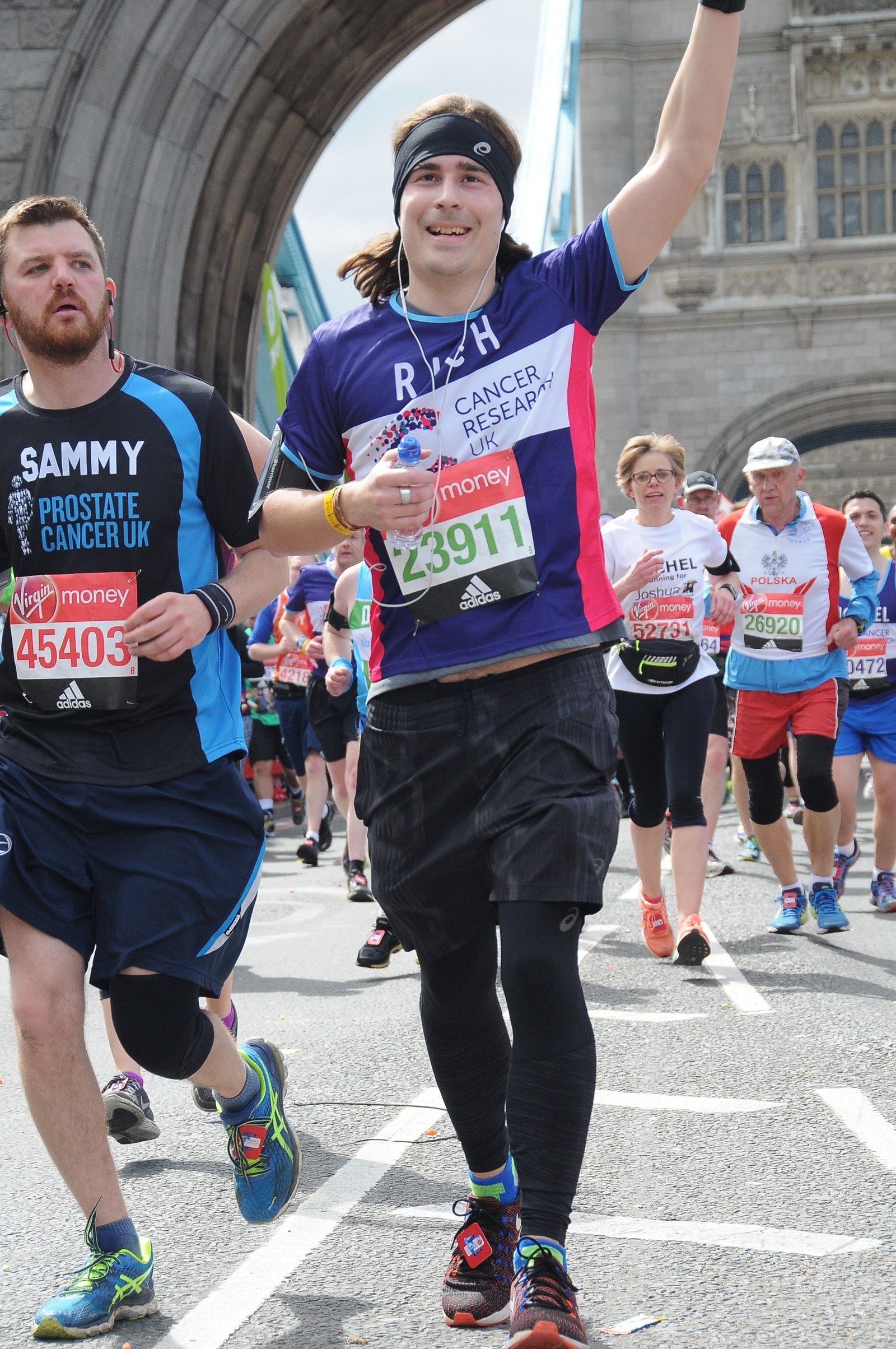 Running over Tower Bridge was a wonderful experience. The crowd seemed to swell, and every TV camera was met with an enthusiastic wave. People had warned me that it was on the other side of the bridge that it all goes wrong. As soon as you're off the bridge you head towards to the Isle of Dogs, while on the other side of the road you can see other runners already 10 miles ahead of you heading towards Westminster and the finish line.

But I actually didn't find that too upsetting. What I found hard was what happened to my legs not long after that point – they started hurting, a lot. And then, deep in the Isle of Dogs, where the crowds are much sparser and the view not as inspiring, my right knee gave up. It was the running equivalent to a burst tyre – it happened suddenly and caused me to veer off to the side of the road. What followed was a lot of limping, stretching, and swearing. But I hobbled, then ran on.
For the last few miles I had been using a person running in front of me as a pacesetter. She didn't know she was my pacesetter, but I had been focusing on her shoes in front of me and managed to fall into her pace. She dragged me mile after mile around the course and I was convinced she would lead me to the finish line.
But it was not to be. When my knee went I had to wave her off and she disappeared into the crowd of runners ahead – my body was no longer able to keep up with her desired pace. I hope she had a good race.
Miles 19 to 22 were the hardest. My knee was causing me serious pain and I struggled to keep an even pace; when you're running around Poplar, The Mall seems an awful long way away.
Also my phone was buzzing with friends watching my progress on the marathon app's tracker. I got inspiring messages such as these as I struggled to put one foot in front of another: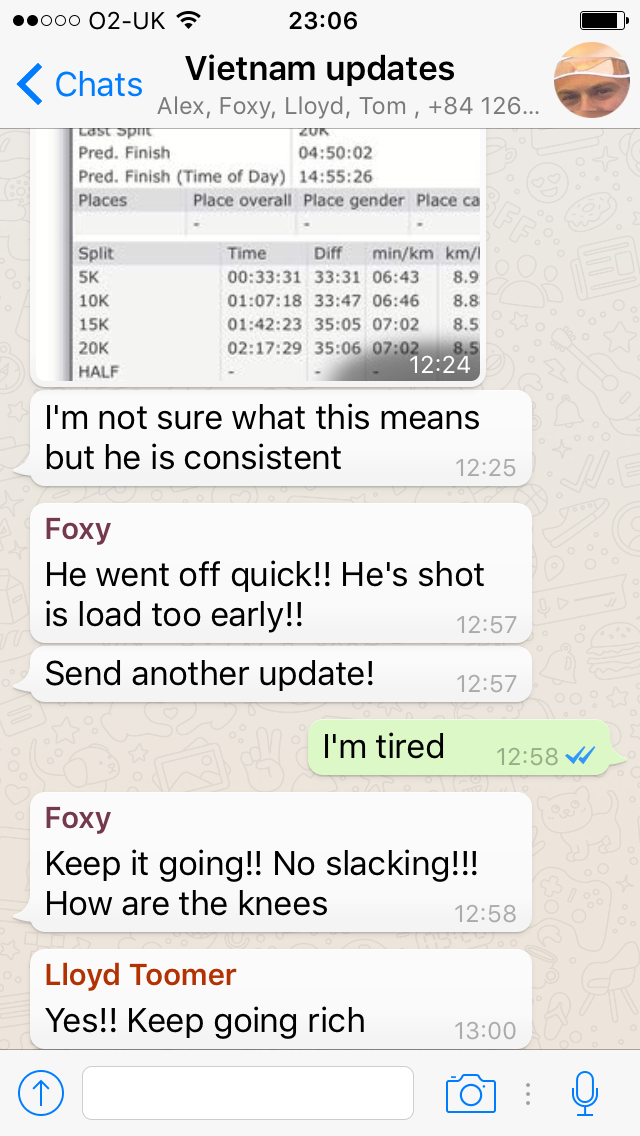 Once I passed under the mile 22 balloons though, I found a second (or, more likely, 17th) wind. The prospect of seeing my supporters again at mile 24 spurred me on.

Also, I found that when I was experiencing a low moment, looking around at the other runners was a huge source of strength. A large number of people had personal messages on their tops, explaining who they were running the marathon for, with some documenting their own personal experiences – such as overcoming potentially fatal diseases. All the money people had donated towards my run for Cancer Research also helped drive me on.
In the final six miles, the road was littered with people in serious pain, runners being tended to by the ambulance crews, people in tears. Running a marathon is a huge physical exertion, putting the body under the most intense pressures. Once my knees had flared up back in March I had given up chasing a particular time for it, it was simply a case of getting to the finish line.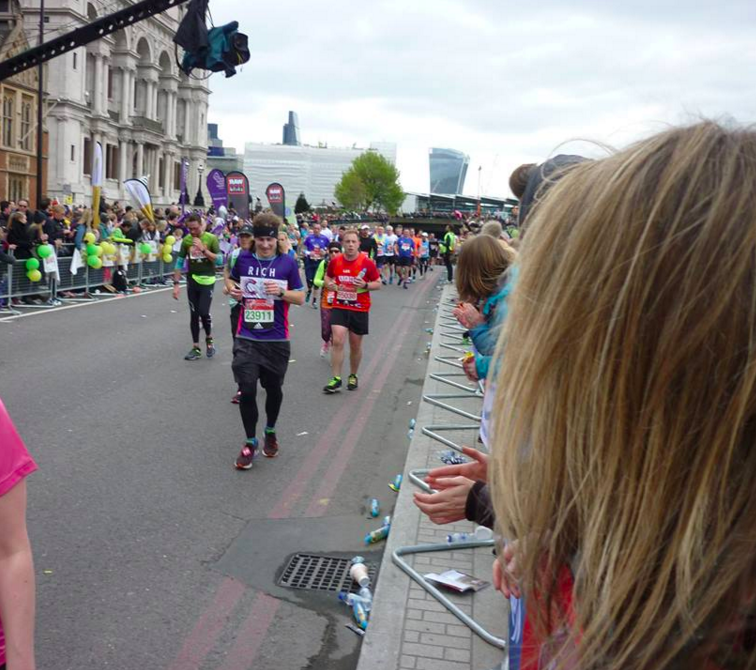 As I approached it, I discovered that there is no distance longer than the final mile in a marathon; despite the crowd screaming and shouting and the houses of parliament providing a dramatic backdrop, it seemed to take forever.

When I eventually crossed the finish line, just over five hours after I started, my main emotion was relief, almost immediately followed by the belief that I could have run it faster if only my knees hadn't failed me.
I reminded myself that a few weeks prior it wasn't guaranteed I would even make it to the start line. To run a marathon is itself an incredible achievement – for me, the time it took to run it was irrelevant.
Despite the pain, I enjoyed every minute of the race. I think I even enjoyed all the training. It was an incredible experience, and rather worryingly seems to have had quite an impact on me – the next day, I spent the afternoon googling upcoming marathons, plotting my next big run...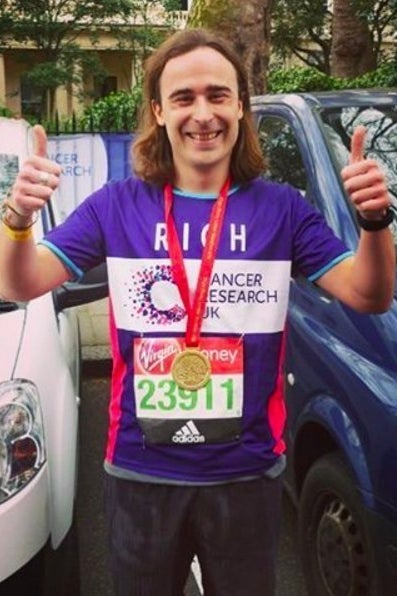 What I learned:
– Stretching was even more important than I already thought it was. My foam roller became the most important thing in my life in the days before and after the race.
– Eating properly before, during, and after long runs is essential. During the period of my first few long runs I made no effort to watch what I was eating and drinking, regularly running hungover and with no proper fuel in me. It made such a difference when I started eating proper meals before running and consuming jelly beans and energy blocks while training.
– Go at your own pace. Once I suffered issues with my knees I knew there would be no point trying to beat a time pulled out of thin air. A marathon is a huge physical exertion – run it for yourself.
– Don't underestimate the crowd. They make a huge difference. If you get your name printed on your top, random people will shout it out in encouragement – a wonderfully uplifting experience.
– Take it all in. I had to regularly tell myself to look up from the road and take in the crowds, colour, and noise. Running a marathon is like nothing else you will ever do, so make sure you take the time to soak it all up. And enjoy it!
Richard ran the Virgin Money London marathon for Cancer Research UK to help raise vital funds to beat cancer sooner. For more information on joining or supporting Cancer Research UK's 2017 London marathon team, visit cancerresearchuk.org/marathon.